An interview with Noam Murro, Director
Airing this Christmas as two special feature-length episodes, BBC One's Watership Down uses Richard Adams' bestselling novel as its source to bring an innovative interpretation to the much loved classic.
Published: 16 December 2018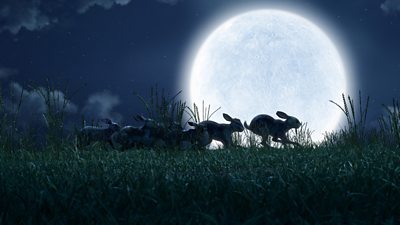 It's a universal story that is still relevant today, touching on timeless themes: the meaning of home, migration, who we are and how the stories we tell shape our society.
You've been developing this project for a while. What is it you love about Watership Down?
A friend actually introduced me to the novel. I wasn't familiar with it, but after reading the book I immediately connected with its themes and characters. Watership Down began as a story Richard Adams told his daughters on car rides through the English countryside. What strikes me is how something that started out so simply was able to have such a lasting influence. How something that was never meant to be anything grand or thematic became both of those things. It's a universal story that is still relevant today, touching on timeless themes: the meaning of home, migration, who we are and how the stories we tell shape our society. It's rare to work on a project that is so beloved and held in such high esteem by an entire culture. I am grateful for the opportunity and excited to reintroduce the classic story to modern audiences.
Why adapt it via the medium of television rather than film?
Adapting such a seminal book is always a challenge. Audiences have a profound relationship with Watership Down, especially in the UK, so it was important that we protected the integrity of the story and people's relationship with it. Narratives for adults have largely moved onto the small screen where they're allowed to dive deeper and play to a broader attention span. The story itself is dark and complex, but we were never asked to sterilize it. That freedom allowed me to create a truthful account of a novel that was originally intended for children but championed by adults. It operates on both levels.
What makes our adaptation of Watership Down different to previous version?
Watership Down is a story that has always been told with a gravitas and a maturity that is inherent within its text. What they didn't have before is the platform to investigate the text on a deeper level. And they didn't have the technology that allows us to blur the line between what was once only possible in live action films, but is now achievable in the world of animated storytelling. With this adaptation I wanted to create a dramatic, cinematic experience for the series with its own original aesthetic. Working in this medium with an incredible group of artists provided the tremendous opportunity to do just that.
What makes the story Watership Down still relevant to a 2018 audience?
Watership Down will always be relevant. Turn on any news channel and you'll find the answer. The brilliance of Watership is that it uses a tale about migrant rabbits to hold a mirror up to the human experience, which is a cyclical journey that we can all relate to.
How does directing a voice cast differ to directing a cast who'll appear onscreen?
For one, you can wear pyjamas to work! But whatever you're dressed in you're always looking for the emotional truth of any given moment - whether that truth is delivered by a voice or a live action performance doesn't matter. The tremendous talent of our cast and their personal connection to the source material allowed them to transcend the perceived limitations of any medium.
Related Media Centre Links
Related Programme Information