War And Peace
Widely regarded as one of the greatest novels ever written, War And Peace is a timeless story of three young people set against the epic backdrop of Russia's wars with Napoleon.
Published: 4 December 2015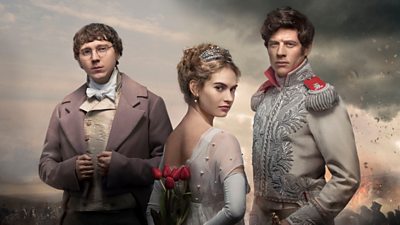 At the centre of it all stands Pierre Bezukhov (Paul Dano), a hot-headed newcomer in Russian society, brimming with ideas but hopelessly lost as he seeks meaning in his life. His sincere good nature is a comfort to his friend Andrei Bolkonsky (James Norton), a cynical prince who is sick of his stifling marriage and longs for glory on the field of battle.
Both their fates are bound to the beautiful, captivating and kind-hearted Natasha Rostova (Lily James) – only a teenager when the series begins, but desperate to grow up and experience the world. Over eight years of peace and war that will change Russia and its people forever, we meet a vast cast of unforgettable characters, from peasants and soldiers to society hostesses and even Napoleon himself. But again and again, through marriages and affairs, battlefields and ballrooms, births and deaths, we will keep returning to Pierre, Andrei and Natasha as they confront life's great questions of love and destiny.
Notes to Editors
The full War And Peace media pack, featuring Q&As with cast including Jim Broadbent, Gillian Anderson, Adrian Edmondson and Greta Scacchi, is available to download the here (PDF).
CK
Character Biographies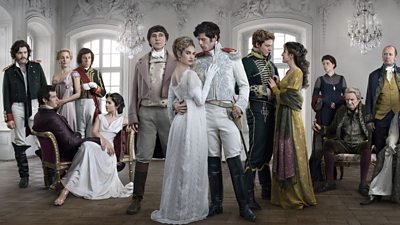 Pierre Bezukhov (Paul Dano)
Pierre is an outcast. The awkward, illegitimate son of a dazzlingly wealthy Count, he was educated abroad but returns to Russia now his father's health is in decline. Polite society shuns him for his hero-worship of Napoleon and enthusiasm for the politics of revolution. But his blundering sincerity charms Andrei, his truest friend, and Natasha, who delights in his presence.
Andrei Bolkonsky (James Norton)
Prince Andrei is a brilliant young man from a noble family. His beautiful wife, Lise, is pregnant with their first child. Yet he despises the silly, shallow world of St Petersburg society. When war breaks out, he enlists as an adjutant on General Kutuzov's staff and leaves his wife at his fierce father's remote country estate. For Andrei, it's the chance he has been waiting for to find glory and purpose.
Natasha Rostova (Lily James)
Natasha is a breath of fresh air and laughter who knows instinctively that life is for living. As the beloved only daughter of Count and Countess Rostov, she has been raised in Moscow with all the love of a close family. Now, though, she is growing into a spirited teenager. When she sees romance blossoming between Nikolai and Sonya, she knows at once she must experience it for herself.
Prince Nikolai Bolkonsky (Jim Broadbent)
Prince Nikolai was one of the most celebrated army generals of his generation. But that was a long time ago – and for many years now he has shut himself away on his remote country estate of Bald Hills. He is a demanding father to Andrei, who he wishes to see carve out a brilliant military career of his own; and his daughter Marya, who loves him but lives in terror of his sudden, nasty temper.
Anna Pavlovna (Gillian Anderson)
Anna Pavlovna is a glittering society hostess. Her salon in St Petersburg is the place to be for gossip, scandal and speculation. Unmarried herself, Anna is much more interested in other people's affairs. She knows everything about everybody – and is more than happy to help her friends and allies Vassily and Helene in their schemes.
Prince Vassily Kuragin (Stephen Rea)
Prince Vassily is a rich and influential player in society, and expected to become wealthier still on the death of his relative Count Bezukhov. He will go to great lengths to secure the inheritance, even allowing Pierre to stay with his family as a favour to the dying old man. But his other priority is his own children, Helene and Anatole – not so much to see them happy, as to see them marry into vast amounts of money.
General Kutuzov (Brian Cox)
General Mikhail Kutuzov is a celebrated military leader with many decades' experience. He has been chosen by the Tsar to lead Russia's army against Napoleon. Kutuzov is wise and battle hardened and knows that no amount of glory is worth needlessly risking the lives of his men. An old friend of Prince Bolkonsky, he happily accepts Andrei on to his staff for the campaign in Austria.
Napoleon Bonaparte (Matthieu Kassovitz)
Napoleon is one of the most famous military commanders in history. He used the chaos of the French revolution to rise through the ranks of the army and seize political power in France. After defeat against Britain at the Battle of Trafalgar, his thirst for military expansion sends him east into Austria, and towards Russia – where the aristocratic establishment fear and hate him.
Marya Bolkonskaya (Jessie Buckley)
Marya is Andrei's kind, gentle sister, living with their father on his remote country estate. Unlike other wealthy young women her age, she has never gone out into society; and her only companion is a young French woman, Mademoiselle Bourienne. She lives in terror of angering or upsetting her father, but takes great comfort in her strong religious faith and deep love for her brother.
Nikolai Rostov (Jack Lowden)
Nikolai is the headstrong oldest son of the Rostov family. Eager to get out and see the world, he is excited to join the Russian army against the French and show he is a man. Along with the rest of the family, Nikolai has grown up with his impoverished cousin Sonya. Now they are older and falling in love, his attachment to the poor young relation is a growing concern for his mother.
Sonya Rostova (Aisling Loftus)
Sonya is good-natured and endlessly patient. As a young girl with no money, she was taken in by the Rostov family and has grown up with her cousins Nikolai, Natasha and Petya. Over time, she has fallen in love with Nikolai. But she knows that without a fortune behind her she is far from Countess Rostova's first choice to marry her son.
Count Ilya Rostov (Adrian Edmondson)
Count Rostov is a warm-hearted, genial man more comfortable with his family in Moscow than in glittering Petersburg society. The only thing that could be said against the Count is that he is generous to a fault: with so many people to look after and entertain, he isn't always as careful as he could be about the family finances.
Countess Natalya Rostova (Greta Scacchi)
Countess Rostova is a devoted mother to her three children Nikolai, Natasha and Petya. She wishes to see them all happy, but the Countess is more hard-headed than her husband, and understands that financial security is important too. Perhaps that's why she is not fond of cousin Sonya – whose love for Nikolai threatens difficult choices ahead for her son.
Helene Kuragina (Tuppence Middleton)
Helene is the toast of society: a beautiful, witty and charming young woman from a great family. She is not yet married, but her father Prince Vassily intends to find her a brilliant, wealthy match. Helene is grudgingly willing to help him – but will still happily make the most of the male company around her.
Anatole Kuragin (Callum Turner)
Anatole is a dashing, wealthy young man at the centre of a set of drinkers and womanisers with a very bad reputation. His father's influence has always kept him out of trouble, but Prince Vassily is now determined that his son should find a young heiress to marry. Anatole is happy to play along, although he might not yet be ready to settle down …
Fedya Dolokhov (Tom Burke)
Dolokhov is a wolfish young man with a dangerous glint in his eye. His family is not hugely distinguished, but he makes up for it in Anatole's hard-living set by being the most extreme and reckless member. He can cause plenty of trouble for the people around him, but nothing seems to stick to Dolokhov himself. He makes his own luck.
Anna Mikhailovna (Rebecca Front)
Anna Mikhailovna wants the best of everything for her beloved son, Boris. Unfortunately, she isn't the wealthiest or best connected member of Petersburg society. But Anna Mikhailovna is a great opportunist, and by keeping her eyes and ears open and applying the right pressure to the people around her, she hopes to secure a brilliant future for her son.
Boris Drubetskoy (Aneurin Barnard)
Boris is the only son of Anna Mikhailovna and the apple of her eye. While he winces at her schemes for his advancement, he also reaps the rewards – winning an impressive position on the Russian Tsar's staff in the campaign against Napoleon. A distant cousin of the Rostovs, Boris has grown up around the family as a friend for Nikolai and perhaps even a suitor for Natasha.
Mademoiselle Bourienne (Olivia Ross)
Mlle Bourienne was taken in by the Bolkonsky family as a penniless orphan and has lived ever since on the old Prince's remote country estate as a companion for his daughter Marya. In many ways they are an unlikely fit – where Marya is shy and devout, Mlle Bourienne is girlish and eager to socialise, with a flirtatious streak that soon catches the attention of the men in her life. 
Related Downloads
Related Media Centre Links
Tagged: