Nick Payne - writer and creator
Is monogamy outdated? Can you love more than one person? After years of respectable marriage Joy and Alan are going to try doing what's right for them.
Published: 27 August 2018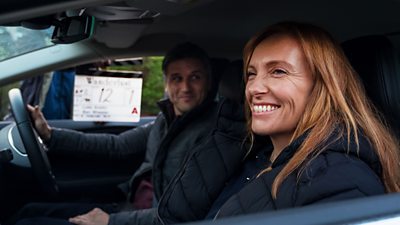 I think I just wanted to write about sex and relationships.
Where did your idea for Wanderlust originate from?
I honestly can't remember.  It was years ago now that I started writing it as a play for the Royal Court Theatre, maybe 2009 or so? I think I just wanted to write about sex and relationships.
Wanderlust was originally a theatre play. How did you find writing for TV?
I found writing a TV show exhausting and thrilling in equal measure. Wanderlust for TV came about after a discussion, years ago, with the show's two executive producers, Roanna Benn and Jude Liknaitzky, after they had read the play and said they were looking for, or interested in finding, a show about sex and relationships.
What are the main differences between the TV programme and the theatre show?
The differences are huge. Theatre is a comparatively small, or intimate, endeavour; a relatively small number of people working together to make a show that only a finite amount of people will ever get to see. And then it's gone. Making a TV show seemed to be a huge undertaking; it takes years, hundreds of people are involved, and so on. And I guess unless there's some kind-of archiving issue, a TV show will 'live' forever.
What did you think when Toni Collette was cast as Joy and Steven Mackintosh was cast as Alan? Did you have any involvement with casting?
Yes, I was involved in casting. I think they're both brilliant, so I was delighted when they both said "yes".
Did you visit the set to see filming at all?
Not really very much and not as much as I would have liked. My daughter was very young at the time of shooting, so I didn't want to be away for too long. There's a gig in episode two, I went along to watch that. Also I saw a really beautiful scene being filmed in a church in Bury for episode six. But that's about it!
Related Programme Information
Related Media Centre Links
Related Web Links