Ophelia Lovibond Q&A
It turns out that there was film in the camera after all, therefore W1A is set to return to BBC Two for a third series of the award winning comedy written and directed by John Morton.
Published: 12 September 2017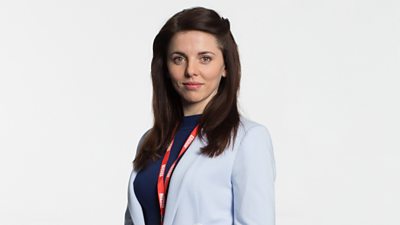 Lots of people who comment on the show, none of them work at the BBC, but they have adopted some of the W1A speak because it has given them a way of articulating how ridiculous big offices can be.
What can you tell us about your character and this series of W1A?
I guess the main thing about this series is that at every level everyone is changing job. Izzy has gone up in the food chain slightly and she is now working in development, which is what she was always very good at, but the same things are still happening so she is having her ideas repeatedly nicked by people who are further up the food chain and there's not really much she can do about it.
You've played this character for three series now, does it take a while to get into character or do you feel like them again as soon as you're back on set?
The latter, she is not a million miles from me. It's the dynamic of all the other characters, once all the other actors are in character as well it's just there and it's very much in the writing.
John Morton is known for his meticulous dialogue, how did you find learning your lines?
It definitely takes longer! But it's really satisfying. For the scene we are doing today, I was trying to learn the lines at home and I just knew it was going to take much longer than if I came in and ran it with the other cast members as the words are locked to those people.
Because a lot of my scenes are with Hugh Skinner a lot of my cues are the same, but it's so satisfying when you get it right!
What's Izzy's relationship like with Will this series?
Not maternal because that's weird but he is being used a lot and she just doesn't agree with it. This series you see more explicitly Izzy trying to manage what she feels is a moral obligation to do the right thing but also balancing that whilst she is being stepped over and she shouldn't be - they're her ideas, it's her work - but in order to get ahead like the others have she'd have to relinquish her moral code and she's not cut from the same cloth to be able to do that. In her relationship with Will you see that developing, you see her feeling responsible towards him and that it's not fair it keeps happening.
Is it difficult filming in New Broadcasting House?
No it's great! The only thing that is funny is that we have our prop ID cards and lanyards around our necks so each time you come in with your temporary pass, even if you have been filming a scene in reception at the revolving doors all day, every single time the security guards are like what is this pass?! I prefer filming here than in Pinewood for this particular show because of the energy and atmosphere in the building and the hustle and bustle, it's very suited to the tone of the show so it helps buoy you along.
Do you have a favourite scene this series? Is there anything that has been very fun to film?
There is a scene where Izzy realises something amazing that Will has done for her, and you just see that moment when a real act of kindness completely floors her.
Is there anyone you particularly enjoy playing opposite or watching them work?
Hugh Skinner! I think he is fantastic, he has got funny bones. He can just be standing there and it is arresting, he is just funny.
We all came in one day and Hugh Skinner had set up this long lunch table and we were like this weird family, we were all sat around at odd height chairs sharing sandwiches. The weirdest Last Supper I have ever seen!
Why is W1A so popular?
I think it is hugely down to John's writing and people assume a lot of it is improvised because it is so rapid so it's quite unlike any other comedy. I think it's so close to the truth that I think people find that alarming so that's just funny. Lots of people who comment on the show, none of them work at the BBC, but they have adopted some of the W1A speak because it has given them a way of articulating how ridiculous big offices can be.
Related Media Centre Links
Related Web Links