Interview with Phoebe Dynevor
Interview with Phoebe Dynevor who plays Phoebe in BBC One drama The Village.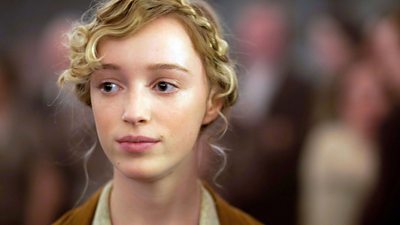 HOW DID YOU AUDITION FOR THE VILLAGE?
I went for one audition with the casting director Beverly Keogh and I got the part! When my agent called to tell me I was thrilled and surprised as they hadn't cast Bert yet. Then I was called to London to read with some actors up for the role. Tom (Varey) definitely had something special.
TELL US ABOUT PHOEBE?
Phoebe is the station master's daughter. Her mother died some years back and so she has had to become a mother to her two younger brothers whom she adores. Phoebe is very much in love with Bert Middleton, I think he brings back that childish spark that she lost when her mother died and she had to quickly become an adult. She has a very kind soul and she sees the good in people, she's a lovely character to play.
IS THIS YOUR FIRST ADULT ROLE?
It is and it's amazing. I've never played such a big role before so it's a challenge and I really wanted to do well. Peter Moffat's writing is so brilliant and honest so I found it really easy to connect with the character (besides sharing the same name).
DID YOU KNOW MUCH ABOUT THIS PERIOD BEFORE?
I was really into History at school and remembered quite a bit from the things we learnt about that period. I did an AS level exam on Churchill and remembered reading up lots about the aftermath of the First World War and its impact on Britain's economy as well as the political parties of that time. So it seems History did come in handy after all.
HAVE YOU ENJOYED FILMING A PERIOD DRAMA?
It's always been my dream to do a period drama and I couldn't have asked for a better role. I've never spent so much time filming outside before which is lovely, especially in the sunshine. It's also a lot of fun to dress up and your costume really helps you find your character.
WHAT DO YOU LIKE BEST ABOUT THE PERIOD?
The clothes are obviously amazing. I sometimes wish that 21st century women could wear skirts and dresses every day without looking overdressed. I also love how close people were living in a village in the 1920s. Everyone knew everyone and helped each other. There was a real sense of community that I don't think we have these days with everything being so readily available and electronics taking us away from the people around us.
HOW DO YOU LIKE YOUR COSTUMES?
I think that a costume can really help in embodying a character. So dressing up in something completely different to what you would usually wear is so new and refreshing. It really helped me to take on the role of a young woman in the 1920s and I have lots of beautiful skirts and floaty dresses.
DID YOU LEARN A NEW SKILL FOR YOUR CHARACTER?
In episode six my character builds a dry stone wall which is quite a skill that I've definitely never had to do before. I also had to learn to dance the Charleston which was a lot of fun.
WHAT WAS THE MOST MEMORABLE SCENE FOR YOU DURING FILMING?
The scene where Phoebe climbs to the top of a hill and lets out a really primal scream to try and deal with all her pain and frustrations was pretty challenging. I'd certainly lost my voice by the end of the day.
HOW WAS IT COMING INTO SUCH A BIG BBC DRAMA SERIES?
It was quite surreal, especially after loving the first series as much as I did, to now be a part of it is amazing. To be in scenes with characters and actors I really admire is incredible. The Peak District is an insanely beautiful location to work in, the views are just wonderful.
ARE YOU NATIVE TO THE PEAK DISTRICT?
I live pretty close by but never saw much of the Peak District growing up. We did have a beautiful cottage in the Lake District which we spent lots of time in when I was younger. Filming on The Village in the countryside does take me back to those wonderful times and all those walks in the hills.
ONE ITEM THAT YOU WOULD TAKE BACK FROM 2014 TO 1923?
It has to be a pair of Ugg boots. I definitely wished a couple of times that I could keep them on for the scene, as I used to rehearse in them, but was reminded that they're not very period!