Matthew Beard (Max Liebermann)
Vienna Blood (3x90') is written by acclaimed screenwriter Steve Thompson (Sherlock, Deep State). Based on the best-selling Liebermann novels by Frank Tallis, the series will air on BBC Two this winter.
Published: 7 November 2019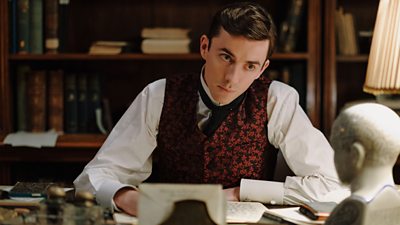 I think I would be good at solving murders… I think my friends would probably say more likely to have done the crime than solve the crime but yes, maybe… I don't know.
What do you have in common with Max?
We're a similar age. I didn't study medicine, I studied English Literature, but a disproportionate amount of my thesis had a Freudian tilt - or at least a psychoanalytical angle. So it's something I've been interested in for a long time. I actually did it at school, I did Psychology, so I am fascinated by that world. I had already read quite a lot of Freud - so we share that. And I think we share a sense of humour - I find the things that Max finds funny, funny too. And I guess a curiosity, I'm very nosy - I get told off when I go to people's houses and start looking through their bookshelves and asking them lots of questions.
How did you prepare for the role?
The first thing I did was to sit down with the scripts but then to sit down with Freud also as it's a crucial part of the show and what Max is interested in. I got to Vienna a bit earlier, I think it was two weeks before we started shooting, which gave me a chance to soak up the city because obviously Vienna is another central character in the films. So I had time to explore that and that was really valuable - I went to a lot of the art galleries and I watched a lot of documentaries about what was going on at the time because in 1906 there was huge burst in architecture, art and science so I tried to explore all of that. I went to see the Egon Schiele, I went to visit the Adolf Loos buildings and tried to get a feel of what was going on in 1906.
What is your favourite scene?
I have so many favourite scenes - today has been pretty special we're in the Volkstheater which is doubling as an opera house and getting to set and watching a free version, and a very unique single version of The Magic Flute is pretty special. Hanging from the Riesenrad ferris wheel was pretty good fun. Every day we go to a new location and you get out of the car and you're like: "Wow this is so great" and you spend the first five minutes taking pictures of everything. We've been very lucky with the places that we've been filming.
How would you describe Max's relationship with Oskar?
I think Max and Oskar's working relationship is a classic buddy relationship that you see in many films throughout history. I suppose what is an interesting twist on it is that I'm an English actor and Juergen is an Austrian actor and sharing a sense of humour or sharing a joke - these things which are supposed to require a really sophisticated level of language, but actually I think we've found ways to enjoy each other's company and we really enjoy the banter with each other on screen and I hope that comes across. Juergen is such a joy to work with that it was so easy pretty much from about minute one I knew I was going to love our scenes together.
How did you get on with your on-screen family?
I was very blessed with my on-screen family, I was really excited when I found out who they were going to be. I already knew of Conleth through mutual friends, so I was really excited to be working with him because he's such a fun person to work with, and he is, although he's dangerous - it's very hard to keep a straight face! Amelia, I had been a fan of for a really long time, and I was very excited and looking forward to her being my mum, so I was very lucky there. And then Charlene was just the cherry on top, I didn't know her but she's a real laugh. It was fun because we filmed all the family scenes together in one week, so it felt like we were making another film for a while when I was just with the family and nice to have familiar faces around, shipped in from England and Ireland, and to talk to after being in Vienna for so long.
Would you be good at solving murders?
I think I would be good at solving murders… I think my friends would probably say more likely to have done the crime than solve the crime but yes, maybe… I don't know.
Related Media Centre Links
Related Web Links