Juergen Maurer (Oskar Rheinhardt)
Vienna Blood (3x90') is written by acclaimed screenwriter Steve Thompson (Sherlock, Deep State). Based on the best-selling Liebermann novels by Frank Tallis, the series will air on BBC Two this winter.
Published: 7 November 2019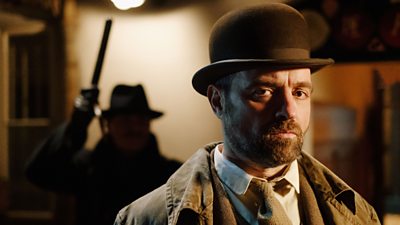 Everything in my life is so much easier than it was or is in Oskar's life but I have lots of compassion with him.
Who is Oskar Rheinhardt?
Oskar is a good police officer who comes from a modest background, from proletarian roots. He made his career after he served in the army in one of the last wars in the 19th century. And now he's at a certain point of his career where he might reach a higher position.
Is Oskar a family man?
He's married but living apart from his wife who could not cope with the death of their daughter who died when she was six years old. At that point, he meets Doctor Max Liebermann which gives him a new perspective and a new field of experience and interest and knowledge - and he is exploring all of those things.
What do you have in common with Oskar Rheinhardt?
I feel a lot towards this man and his character. Everything in my life is so much easier than it was or is in Oskar's life but I have lots of compassion with him. I think he's a good man, he's troubled and a sad character but I like his convictions. I like the way he thinks about justice and social justice, especially the way he has a problem with authority is something I feel connected to, so I think we stand quite near to each other!
How would you describe the show?
From looking at the screens whilst shooting the show, the sets and the scenes are extremely picturesque and beautiful, it's Vienna in 1906 at its best. And the content of the story is psychologically, and also in terms of the thrill and action, really outstanding. I love the books they are intelligent, they are thrilling, and they have a certain twist of humour every now and then. I think there is everything in there that you could demand of a film and I definitely would want to see it!
How was the shoot for you?
Shooting this series is definitely different to the work I am used to doing in Austria and Germany as a film actor. It's the first production that I've shot in the English language which is very special and I definitely wouldn't mind becoming familiar to an international audience!
Related Media Centre Links
Related Web Links