Hilary Bevan Jones (Producer)
Vienna Blood (3x90') is written by acclaimed screenwriter Steve Thompson (Sherlock, Deep State). Based on the best-selling Liebermann novels by Frank Tallis, the series will air on BBC Two this winter.
Published: 7 November 2019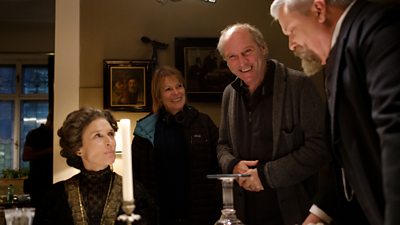 Together they are an unlikely pair, but they solve murders and mysteries and they drive each other mad but they're fun.
Can you describe the show?
The Liebermann films come from the novels by Frank Tallis who is a wonderful British author. They are set in 1906 and tell the story, partly of a relationship between a young Jewish doctor who's just qualified and is now specialising in the mind and psychiatry, and his friendship with an Austrian policeman who is he following to learn from and he ends up helping solve the crimes. Together they are an unlikely pair, but they solve murders and mysteries and they drive each other mad but they're fun.
How do you recreate 1906 Vienna?
We have wonderful locations which you would not know were not 1906. Occasionally we have to hide something of now but most of the time the natural authenticity is very good. And we have fantastic costume and make up designers so together we can step back into this time in history.
What are the challenges of being a producer?
There are always different challenges with producing drama. Obviously when you're filming in another country you have to very quickly learn the customs of that country. But it's been an absolute privilege to work with the crew from Austria because they're all very professional, fast and very good humoured and very good at their work.
How does production design bring the show to life?
For us the authenticity is very important and our production designer Bertram is a genius! He will go into an empty room with the correct architecture for 1906 and will build and create, and bring in furniture and props from the period and before you know it, you've stepped back over 100 years.
Can you tell us about the actors?
Our two leads are Matthew Beard from the UK and Juergen Maurer from Austria. We also have Jessica de Gouw who is originally from Australia; Conleth Hill, Amelia Bullmore and Charlene McKenna who make up Max's family. And we're lucky to have a lot of other brilliant Austrian and German actors as well including Luisa von Finckh who is plays Clara.
How did you finance the project?
The project has been in development for quite a long time. But eventually my production company Endor Productions who were developing the scripts teamed up with Andreas and Oliver from MR Films and myself and my co-producer Jez Swimer came together to raise the finance through ORF and ZDF as well as Austrian institutions and Red Arrow Studios, who are a distributor and have also helped finance the show.
Are co-productions becoming more popular?
There is a growing appetite for co-productions from around the world. This co-production has been a great success with Austria. I think that with the growing interest in films from around the world it's fantastic to join up with other international producers and become a stronger team.
What have you enjoyed the most about the show?
I have enjoyed a lot about the making of this show, from the script which of course is the foundation of everything, to the collaboration with the Austrian partners and the cast from all around the world.
For me, at a time where around the world there are fractures, Vienna Blood is a coming together of different countries and that is really important.
Related Media Centre Links
Related Web Links