Vienna Blood
Vienna Blood (3x90') is written by acclaimed screenwriter Steve Thompson (Sherlock, Deep State). Based on the best-selling Liebermann novels by Frank Tallis, the series will air on BBC Two this winter.
Published: 7 November 2019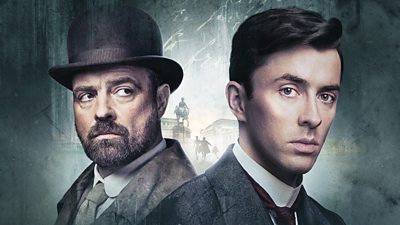 Vienna Blood is a unique, ambitious and compelling crime drama, set in glorious Vienna during an extraordinary period in its history. We are excited to be bringing it to BBC Two.
Starring Matthew Beard (The Imitation Game, And When Did You Last See Your Father?) and Juergen Maurer (Vorstadtweiber, Tatort), Vienna Blood is set in 1900s Vienna: a hot bed of philosophy, science and art, where a clash of cultures and ideas play out in the city's grand cafes and opera houses.
Max Liebermann (Matthew Beard) is a brilliant young English doctor, studying under the famed psychoanalyst Sigmund Freud. Max is keen to understand the criminal mind and begins to observe Oskar Rheinhardt (Juergen Maurer), a Detective Inspector in the Vienna Police Department, who is struggling with a perplexing case. Max's extraordinary skills of perception and forensics, and his deep understanding of human behaviour and deviance, help Oskar solve Vienna's most mysterious cases.
The series, filmed in English and on location in Vienna, also stars Conleth Hill (Game Of Thrones), Charlene McKenna (Ripper Street, Peaky Blinders), Amelia Bullmore (Gentleman Jack), Jessica De Gouw (Dracula) and Luise von Finckh (Gute Zeiten, Schlechte Zeiten). Vienna Blood is produced by Endor Productions, a Red Arrow Studios company and MR Film (Austria).
Sue Deeks, BBC Head of Programme Acquisition, says: "Vienna Blood is a unique, ambitious and compelling crime drama, set in glorious Vienna during an extraordinary period in its history. We are excited to be bringing it to BBC Two."
Hilary Bevan Jones, Managing Director of Endor Productions, says: "We are delighted BBC Two has acquired Vienna Blood. We are proud to have brought Frank Tallis' outstanding novels to life in the historic and beautiful city of Vienna. The chemistry between the lead actors Matthew Beard and Juergen Maurer creates a fresh and unique TV partnership which is wonderfully complemented by an exceptional international cast."
Bo Stehmeier, President of Red Arrow Studios International, says: "Vienna Blood is a great example of the kind of bold, ambitious drama we are passionate about at Red Arrow Studios International. With its combination of gripping storylines, compelling cast and talented creative team, I'm sure the series will be a hit with viewers in the UK."
Oliver Auspitz and Andreas Kamm, co-managing directors of MR Film, say: "Vienna Blood is no longer just a best-selling novel, it's now a TV drama with global appeal. Produced in the heart of Austria as a UK-German-Austrian co-production, we are thrilled to be part of the story and looking forward to seeing the series make its debut on BBC Two."
Red Arrow Studios International has led the co-financing of the series and is the international distributor. Germany's ZDF and Austria's ORF are co-production partners and will premiere the show in their respective territories. Other funding partners are Televisionfund Austria, TV-Filmfund Vienna and Niederoesterreich Kultur.
Vienna Blood (3x90') is directed by Academy award and Emmy nominee Robert Dornhelm (Anne Frank: The Whole Story) and Umut Dağ (Cracks In Concrete). The producers are Hilary Bevan Jones and Jez Swimer for Endor Productions and Andreas Kamm and Oliver Auspitz for MR Film. Executive Producers are Steve Thompson, Klaus Lintschinger (ORF), Wolfgang Feindt (ZDF) and Bo Stehmeier and Carlo Dusi (Red Arrow Studios International).
KB3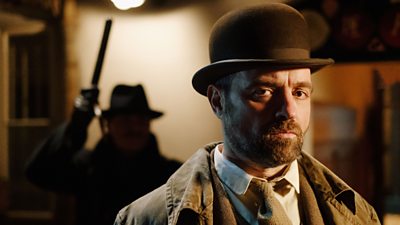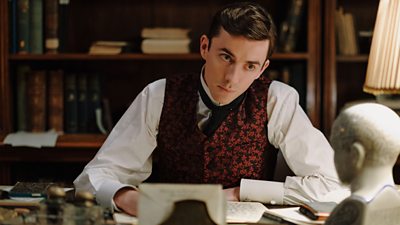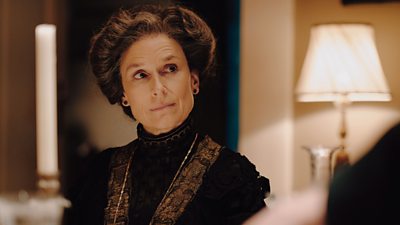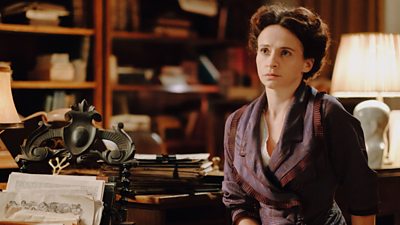 Character profiles
Max Liebermann (Training Neurologist)
Matthew Beard
"Traumatic memories are pathogenic - they create disease. They don't vanish - they remain an invisible force - affecting our behaviour."
Max (20s) lean, attractive, is a middle class British-Jew who moved to Austria in his teens. Max is now a junior doctor but has fallen under the spell of the new science of the day and is studying neurology. Fixated by the idea of analysing psychopaths at close hand, Max convinces the Viennese police to let him observe their work.
When we meet him, Max is on the path to marry vivacious Clara who has a chatty, light personality. But Max's attraction to the dark side of the human brain impacts on his interest in Vienna's criminals and his relationships. The deeper Max journeys into other people's madness, the less he'll know himself.
Oskar Rheinhardt (Police Inspector)
Juergen Maurer
"I've got a suspect in custody downstairs with blood sprayed around his damned apartment! We know he was on the scene. Why are you so keen to let him go?"
Oskar Rheinhardt (40s) is a half-Slovak Police Inspector with something to prove to his superiors. Oskar has a strong physical presence, he's more a doer than a thinker. Despite being occasionally irritated by Max's discursive approach to crime solving, Oskar is savvy enough to know that Max's intuitions will help his career prospects.
When we first meet Oskar, he is estranged from his wife Else. Oskar's family troubles weigh heavily on his mind.
Mendel Liebermann (Max's Father)
Conleth Hill
"Talking cures and hysterics - exploring the darkness of men's souls. Are you really sure what you're getting into, Max? Is it really the career for a gentleman?"
Max's father, Mendel, brought his family to Vienna at the end of the 18th Century attracted by a burgeoning city with a large Jewish population and vast business potential.
Mendel and his wife Rachel, have two children. Mendel had once hoped that his son Max would enter the family business and that there'd be a 'Liebermann and Son' sign above his drapery emporium. But Mendel has long got over Max's disinterest in commercial matters and is proud that his son became a doctor. That said Mendel is keen to see Max settle down into family life and is unnerved by Max's chosen field of neurology.
Mendel was once religious but has become more secular in his outlook. Most of his friends have been Jewish and he's keen to expand his business and move in more influential social circles. However, Mendel's powerful 'friends' are nationalistic and when it suits them, anti-semitic. Is Mendel dancing with the devil?
Leah Liebermann (Max's Older Sister)
Charlene McKenna
"You're deceiving her. And you're deceiving yourself. Is there a name for that in your fancy science books?"
Leah is Max's older sister. Since Leah's husband died, she has been left to bring up their son, Daniel, alone.
Fiery and defensive, Leah is particularly protective of her close friend Clara. Leah has a tendency to deliver criticisms of Max's behaviour with lashings of sarcasm.
Rachel Liebermann (Max's Mother)
Amelia Bullmore
"We have everything we need. And we're strong as a family. We don't need anyone."
Rachel is Mendel's wife and Max's mother. She lives for her family and has no ambitions beyond her children. The Liebermanns live well, they have a lavish home and regularly attend the cultural highlights that Vienna has to offer.
Rachel is proud of her son but finds his work with the police distasteful. Rachel expects Max to marry Clara very soon.
Clara Weiss (Max's girlfriend)
Luise von Finckh
"If I begged you to cure me, Doctor, would you find that alluring? Do you want to play that game?"
Clara is engaging, vibrant and sociable. Her parents were great friends of the Liebermanns so both families were delighted when Max and Clara started going out together. But two years, four months and a week later Clara's patience is beginning to wear thin.
Clara is more interested in people than ideas and enjoys Vienna's bustling social scene while Max prefers abstruse research.
Clara's father has passed away and she lives with her mother.
Amelia Lydgate (Scientist)
Jessica De Gouw
"I came to Vienna to study science. I was told this city was more enlightened. I see little evidence in the way I've been treated here. I ask you plainly - do you think I'm insane?"
Amelia is an English scientist who came to Vienna to further her career. She works at the Natural History Museum where she restores archaeological finds.
Amelia has a dark and intense presence. There are traumatic experiences in her past. Though Amelia can be passive and cool she has a lively intelligence and a quick wit.
Related Media Centre Links
Related Web Links
Tagged: