The Victorian House Of Arts And Crafts
Anita Rani is joined by potter and ceramic designer Keith Brymer Jones and Arts and Crafts expert Patch Rogers to present a new four-part series for BBC Two, The Victorian House Of Arts And Crafts.
Published: 12 December 2018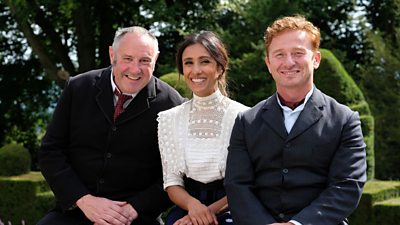 This new four-part series from Lion Television Scotland for BBC Arts will air on BBC Two in January 2019 and transport six modern-day craftspeople - three men and three women - back in time to live and experience first-hand the ideas and practices of Arts and Crafts visionaries William Morris, John Ruskin and Gertrude Jekyll.
As a response to the industrial revolution the Arts and Crafts movement was a stand against the dehumanisation of workers and mass-produced goods. These pioneers believed that working collectively, a pride in the hand-made and a return to nature would enhance the lives of many and create a better society.
But will it work today and what, if anything, can the six crafters take from the experience that might enrich their lives in the modern world?
Cut off from 21st century life, the group of six artisans will be transported back into a remote Victorian Arts and Crafts bubble where they must lovingly breathe life back into an original Arts and Crafts property.
Forming a community and living and working collectively, they must decorate and furnish four key spaces, one per episode, making everything from scratch, inspired by nature and in keeping with the rules of the movement.
They'll make hand-printed wallpaper, bespoke craft furniture, furnishings and ceramics using archives and original source material related to the home and community, transforming it into a spectacular Arts and Crafts showcase.
AM
Related Web Links
Related Programme Information