Trust Me
Dan Sefton's new psychological thriller starring Jodie Whittaker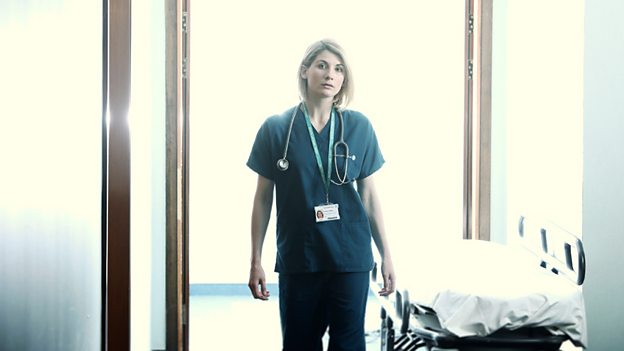 Trust Me
Date: 26.07.2017
Last updated: 28.07.2017 at 17.01
New psychological thriller Trust Me, penned by Dan Sefton (Good Karma Hospital, Delicious) and starring Jodie Whittaker (Broadchurch), premieres this August on BBC One.
Cath Hardacre is a good nurse. Caring and hard-working, she does her best for everyone in the cardiology ward she works on. However, when she raises her concerns about the standards slipping at the hospital her world takes a turn for the worse.
After being sacked for whistle-blowing, Cath turns to her best friend Dr. Ally Sutton, who is leaving her life as an A&E doctor and emigrating to New Zealand with her new husband. At a drunken party Cath finds Ally's discarded paperwork and makes the desperate decision to take a second chance at life - by stealing her best friend's identity.
Cath, now calling herself Ally, accepts a job at a failing emergency department in Edinburgh and embarks upon a new life with her young daughter Molly. However, with her good-for-nothing ex-partner Karl trying to spend time with them and a journalist chasing her about the issues at her former hospital, how will Ally cope with leading a double life?
Cath Hardacre/Dr Ally Sutton is played by Jodie Whittaker, Dr Andy Bennett by Emun Elliott, Dr Brigitte McAdams by Sharon Small and Karl is played by Blake Harrison.
Trust Me is created and written by Dan Sefton, directed by John Alexander and Amy Neil produced by Emily Feller and executive produced by Nicola Shindler for RED Production Company and Gaynor Holmes for BBC Scotland.
Character biographies
Cath Hardacre/Dr. Ally Sutton (Jodie Whittaker)
Everything about Cath says that she is honest, hardworking and uncompromising. In a well intentioned meeting with the hospital board Cath loses her job - and with that the means to provide for her daughter. In a moment of desperation, Cath steals her best friend's identity and applies for a job in Edinburgh, adopting the persona Dr. Ally Sutton. As Ally, she becomes a trusted member of the emergency department and against her better judgement falls for her colleague, Dr Andy Brenner.
Dr. Andy Brenner (Emun Elliott)
Andy is a consultant in the emergency department, a doctor whose professional and charming manner puts even the most nervous patient at ease. Tired of playing second fiddle to his career, Andy's ex-wife ended their marriage, taking their children with her. To his surprise, Andy soon finds himself falling for Ally, who is his intellectual counterpart. She represents the light at the end of the tunnel after his painful separation and he finally feels he's getting his life back on track after the acrimonious split from his ex-wife. But Andy doesn't know Ally as well as he thinks he does...
Dr. Brigitte Rayne (Sharon Small)
If anyone is going to survive the sinking ship of the emergency department, it is Brigitte. She is the clinical lead in the department but she considers it a poisoned chalice of endless paperwork. Openly admitting that she is only in the profession to keep her daughters in private school, Brigitte has fallen out of love with treating patients and lacks confidence when she must take care of a serious medical case. Brigitte's slightly bonkers approach towards medicine means that her team rally around her when they sense that she is losing her nerve.
Karl (Blake Harrison)
Karl was on the path to making something of his life, but it all came crashing down after he lost his job. With his contract severed and his debt increasing, Karl found himself in the throes of alcohol addiction. His relationship with Cath suffered as a result and they separated shortly afterwards. Since then, Karl has been in a constant cycle in and out of alcohol rehabilitation. When Cath moves to Edinburgh, it gives him the push to change his life for the better. Karl realises how much he misses his daughter Molly being present in his life and vows to do all that he can to be closer to her. But will Karl's good behaviour be rewarded with the family reunion he longs for?
SJP

Search the site
Can't find what you need? Search here
Related Programme Information