Troy: Fall Of A City
The story of a love that threatened to bring an empire to its knees
Troy: Fall Of A City
Date: 14.02.2018
Last updated: 19.02.2018 at 16.48
A visceral retelling of the fall of Troy in eight parts, written by David Farr, whose award-winning adaptation of The Night Manager aired on BBC One in 2016.
Told from the perspective of the Trojan family at the heart of the siege, Troy: Fall Of A City is a story of a love that threatens to bring an empire to its knees. Combining thrilling adventure with heartbreaking intimacy, it explores primal emotions, the psychological repercussions of human actions and life-changing decisions amid the devastation and destruction of war.
Episode one will air on Saturday 17 February at 9.10pm on BBC One.
Pictured: Hecuba (Frances O'Connor), Priam (David Threlfall), Paris (Louis Hunter), Helen (Bella Dayne), Andromache (Chloe Pirrie), Hector (Tom Weston-Jones).
GK
Cast interviews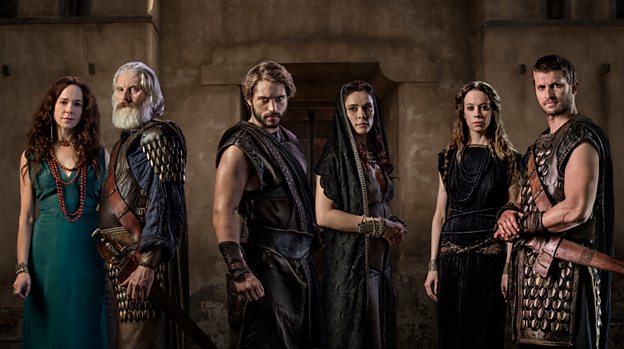 The Trojan Royal Family
Priam, King of Troy - played by David Threlfall
Priam has ruled Troy since he was a young man. He is married to Hecuba and father of Hector, Cassandra, Alexander, Deiphobus and Troilus. His father nearly ruined the city but Priam saved it from destruction and Troy now flourishes. Together, Priam and Hecuba have made it a powerful and wealthy city port.
Hecuba, Queen of Troy - played by Frances O'Connor
Hecuba is Priam's wife, mother to his children and rules Troy with him. Although she is not originally from Troy she has lived in the city for 30 years and is held in high regard by the Trojans.
Hector - played by Tom Weston-Jones
Hector is Priam's eldest son and heir. He leads the Trojan army and is a celebrated warrior, brave and honourable. He is happily married to the Cilician princess Andromache.
Andromache - played by Chloe Pirrie
Andromache is from nearby Cilicia, an ally of Troy, and is married to Hector. Their marriage was arranged, but is a union of love. She desires children but conception has proved hard.
Paris (Alexander) - played by Louis Hunter
Alexander, also known as Paris, is the second son of Priam and Hecuba. He spent his youth as a herdsman in the mountains unaware of his true background. His meeting with the gods changes everything.
Cassandra - played by Aimee Ffion Edwards
Cassandra is Priam and Hecuba's daughter. At Alexander's birth she had visions of disaster and continues to have premonitions. She has been looked after ever since, and is considered mentally unstable.
Aeneas - played by Alfred Enoch
Aeneas is Hector and Alexander's cousin, who comes from the Trojan ally region of Dardania. He is upright, young but fearless. He has a father back at home but has lost his wife to sickness.
Pandarus - played by Alex Lanipekun
Pandarus is Priam's chief advisor. Highly intelligent, he governs the city day to day and is also a fine diplomat. He is a perceptive man and difficult to deceive.
The Greeks
Helen, Queen of Sparta - played by Bella Dayne
Helen was born in Sparta and has lived there all her life. She is married to Menelaus, whose brother Agamemnon won her hand in competition, but it is a loveless match. She has a daughter, Hermione, but their relationship is strained. As the story begins, her unhappiness is beginning to become undeniable.
Menelaus, King of Sparta - played by Jonas Armstrong
Menelaus was born in Mycenae, which he considers the true cradle of civilization. He has ruled in Sparta for many years but it has yet to become his home. He does love Helen but his love is possessive and controlling. He admires his daughter Hermione greatly.
Agamemnon, King of Mycenae - played by Johnny Harris
King Agamemnon is Menelaus brother and the most powerful ruler of the Greek city-states. He holds huge influence in the region and is aware of Troy s burgeoning power across the ocean. He is married to Clytemnestra and father of Iphigenia, Electra and Orestes.
Odysseus, King of Ithaca - played by Joseph Mawle
Odysseus is renowned for his strategic intelligence, wisdom and cunning. He loves his home and his wife Penelope and son Telemachus. He is a true islander, somewhat solitary, ruthless when needs must, but with a deep love of home and family. Odysseus is called upon to help the Greeks return Helen to Sparta.
Xanthius - played by David Avery
Xanthius is a servant of Odysseus and travels with him to Troy. A loner who prefers dogs to men, Xanthius is used by Odysseus to infiltrate the city. Quiet, invisible and deeply intelligent, Xanthius is Odysseus secret weapon.
Achilles, King of the Myrmidons - played by David Gyasi
Achilles is the most feared of all the Greek warriors travelling to Troy. He is by myth half human, half-god, created by the union of Peleus and Thetis, a sea-nymph. He is a great warrior, almost unbeatable, but his sense of honour tips into pride and stubbornness. His friend and lover is Patroclus, another great Myrmidon warrior. They are inseparable.
Picture: Menelaus (Jonas Armstrong), Achilles (David Gyasi), Agamemnon (Johnny Harris), Odysseus (Joseph Mawle)
The Gods
Zeus, King of the Gods - played by Hakeem Kae-Kazim
Zeus is the God of storms, tumult and justice, who holds ultimate power over both gods and mortals. He chooses not to take sides in the Trojan War, despite all attempts to engage his loyalty. He insists that even the Gods cannot change Fate, which will decide the outcome of the war. Zeus is married to Hera and father of many gods including Athena, Aphrodite, Apollo, Artemis and Hermes.
Hera, Queen of the Gods - played by Inge Beckmann
Hera, is the goddess of marriage and wife of Zeus, but they have a turbulent relationship. She is furious at Paris for not choosing her in the judgment of the goddesses and fiercely loyal to the Greeks.
Athena - played by Shamilla Miller
Athena is goddess of wisdom and war. She sides with the Greeks, angry at her rejection by Paris. In particular, she favours Odysseus and Diomedes.
Aphrodite - played by Lex King
Aphrodite is the goddess of love. She is loyal to Paris, who chooses her as the finest of the three goddesses, so she supports the Trojans in the war.
Artemis - played by Thando Hopa
Artemis is the goddess of hunting and wildlife. She supports the Trojans in the war. Agamemnon offends her and she demands a terrible price from him.
Apollo - played by German de la Melena
Apollo is the god of prophecy, plague and healing. When Apollo's priest asks for help on behalf of his daughter Chryseis, he is quick to answer. He favours the Trojans in the war.
Hermes - played by Frances Chouler
Hermes is the messenger of the gods and is present at the judgement of the goddesses, explaining to Paris the task the gods have set him.
Search the site
Can't find what you need? Search here
Related Programme Information
Related Media Centre Links