The Passing Bells
A powerful five-part drama for BBC One, which sees the conflict of the First World War unfold through the eyes of two very ordinary young men. Written by Tony Jordan (Hustle, Life on Mars), the series has been commissioned as part of the BBC's programming to mark the Centenary of WW1.
Published: 17 October 2014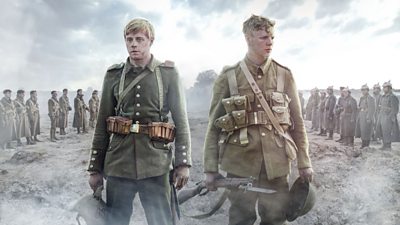 Paddy Gibson (What Richard Did) and Jack Lowden (The Tunnel, Wolf Hall) star as Thomas and Michael, two young men for whom the war has little mercy, no matter which side they might be fighting for. Over five chronological years The Passing Bells follows their lives, as they grow up, lose friends and find love amid the horrors of the war. Back home, their families and loved ones anxiously await news from the front.
Gibson and Lowden, who this year won an Olivier Award and the Ian Charleson Award for Ghosts, are supported by a host of upcoming talent including Charles Furness, Brian Fletcher, Wilf Scolding, Hubert Burton, Felix Auer, Ben McGregor, Mark Burghagen and Matthew Aubrey.
The Passing Bells is a 5x30-minute co-production from Jordan's independent production company Red Planet Pictures and Apple Film Production through BBC Cymru Wales Drama. The executive producers are Tony Jordan and Belinda Campbell for Red Planet Pictures, Dariusz Jablonski for Apple Film Production and Bethan Jones for the BBC. The producer is Nick Pitt and Brendan Maher will direct.
It was commissioned by Ben Stephenson, Controller BBC Drama, and Danny Cohen, Former Controller BBC One.
SA2
Related BBC Links
Tagged: