The Missing series two
A child goes missing - and returns 11 years later, in the second series by Harry and Jack Williams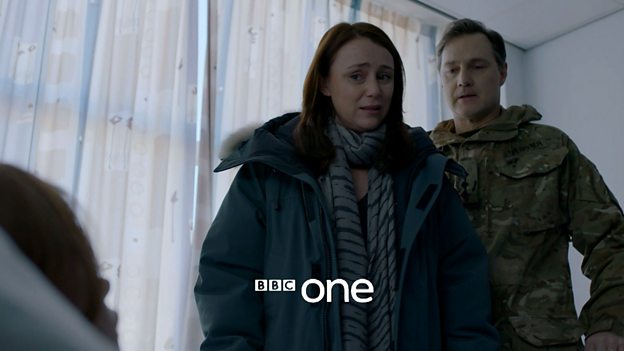 The Missing series two
We didn't want to recreate the same story: rather than losing someone, it's about finding someone, and whether that is the happy ending that everyone thinks it is

Harry Williams
Date: 04.10.2016
Last updated: 04.10.2016 at 12.53
Writers Harry and Jack Williams explore a different aspect of what happens when a child goes missing.
The first series of The Missing, which followed the disappearance of Oliver Hughes, and the desperate search by his father Tony (James Nesbitt) to find him, gripped audiences on both sides of the Atlantic. It was nominated for several Baftas and received two Golden Globes nominations. However, when the writers Harry and Jack Williams wanted to take the story forward, they didn't want to return to Oliver's tale. Instead, they decided to explore a different side of what happens when a child goes missing.
Set mostly on a British military base in Eckhausen, Germany, but reaching as far as the ISIL battlefields in Northern Iraq, the story begins when a young British woman stumbles through the streets and collapses in the town square. It's Christmas 2014. We soon learn her name is Alice Webster (Abigail Hardingham) and she has been missing for 11 years.
The Missing explores how a family, and a community, copes with her return.
"We didn't want to recreate the same story, we wanted to do something different," says Harry Williams. "Rather than losing someone, it's about finding someone, and whether that is the happy ending that everyone thinks it is."
Executive Producer Willow Grylls says the heart of the piece is the impact this has on Alice's family: "The Missing isn't The Missing without its characteristic twists and turns. And quite quickly we find out that there is another girl that has also been missing, who is still out there."
Told again over two timelines, with the theme of freedom versus imprisonment, as well as the impact of war running throughout, we start in 2014 with Alice's return, and then switch to the present day to see how it has impacted the family.
"The intention is to make the audience lean forward a little bit more," adds Willow. "It allows us the ability to tell stories about characters in a non-linear way and allows us to make choices that we wouldn't normally be able to."
It's Alice's possible connection to another missing girl that brings detective Julien Baptiste (Tchéky Karyo) out of retirement and into the lives of the Webster family. Her case has been haunting him for years, so he joins the search for Alice's abductor in the hope it will lead him to the girl he couldn't find.
"As Oliver's story was coming to an end, we felt we weren't necessarily done with the character of Julien Baptiste," says Harry. "It made us sad to say good-bye to him, and there were more stories we had to tell there."
Jack agrees: "We knew that a man with a career that long would have skeletons in his closet, a lot of things left remaining to fix."
Julien Baptiste is the only familiar face from the first series, so we are introduced to a whole new cast of characters. Staff Sergeant Sam Webster (David Morrissey), his wife Gemma (Keeley Hawes) and their youngest son Matthew (Jake Davies) have coped as well as they can after their daughter disappeared, but that tight family unit is fractured by Alice's return.
Sam is a strong, straightforward military man, who's always had a set of rules to follow. His daughter's return upsets that equilibrium.
"When Alice turns up, Sam and Gemma don't know how to deal with it," says David Morrissey. "He has seen a lot of active service, but the reappearance of his daughter is something he is not trained to deal with."
Gemma's dreamt of her daughter's return for over a decade, but is torn when Alice's return isn't the joyous reunion she'd hoped for. Can she ever hope to understand what Alice has been through?
Matthew was the last one to see his big sister alive 11 years ago, and once again he's made to feel culpable in a shocking turn of events. These events lead the good-natured, introverted Matthew down a path of self-destruction.
"What's crucial about the show is that it's all about how people have changed, and one of the central questions you ask is, what's happened to them in the meantime? How did they get from there to here?" says Jack. "You look at Sam, Gemma, and Matthew, in the past, and the way they respond to the return of Alice. Then you see them in the present, and they're so fractured and on different trajectories. It just shows the different way they deal with this, in quite a stark way."
Helping to finding Alice's abductor is Military Police Officer Eve Stone (Laura Fraser). Quick to judge and unprepared to handle the complexity of the case, her professional involvement soon becomes inextricably tangled with her personal life. Her bullish father, Brigadier Adrian Stone (Roger Allam), is in charge of the base, and will do anything to protect his daughter and his reputation. Sharing jurisdiction with the military is local German police officer Jorn Lenhart, whose soft demeanor and sharp mind makes him a key ally for Julien.
Each of these characters sees their life change dramatically over the course of two years, and audiences see the impact that war and post-traumatic stress had had on our characters - whether they have fought on a battlefield, or have been fighting the emotional trauma of Alice's abduction and return.
"It's more complex, emotionally and narratively, than the first series. But you can't underestimate the viewer," says Harry. "There's a lot to keep track of, but it does pull you in, and it feels clear what the story is."
The production used a variety of devices to help differentiate between the two timelines. From different hair and make-up looks and costumes, to shooting each timeline in a different season (winter for 2014, summer for 2016), as well as a different approach to the cinematography.
"We need to make sure it's an entertaining ride for the audience, not a confusing one," says Willow. "So one of the challenges is how do we demarcate between the two periods?"
For director Ben Chanan, who was at the helm for the whole series, he made sure his approach differed greatly between the two, as well as reflected the theme of freedom versus imprisonment. In 2014, the camera is generally more static to show the rigidity in the characters' lives. Tighter framing is also used to show the theme of imprisonment. For the present day, the camera work is almost exclusively handheld, with little blocking, allowing the actors to move freely.
"What I love about the story is, when their prayers are answered, that their lives turn upside down and become frayed. And so 2016 had a much more frenetic handheld kind of approach," says Ben. "The wheels have come off."
One of the other major differences this season is the setting. The majority of the story takes place on a British military base in Germany, while Julien's exhaustive search leads him to Iraq.
Filmed in Germany, Belgium and Morocco, it was important for the team to keep the international feel of the story, so Germany, the heart of Europe, was chosen as the main base this time around. It was also key that the town itself, which they found in Malmedy, Belgium, became its own character. The creative team drew inspiration from Brothers Grimm fairy tales to create an almost mythic and quite intimate, yet cold setting.
"A military base has always fascinated us as a setting: the notion of being somewhere that's an institution with a lot of rules, where you're told what to do, and how to keep order," says Jack.
The military setting also allowed for the story to expand into Iraq. The production built the burned-out and destroyed buildings in the Moroccan desert.
"This time, our settings are much more extreme," says Harry. "You've got the snow, Christmas, and the bleakness of this military base, in the middle of the German countryside. Contrasted with the washed out, Iraqi desert. It was appealing to show that this second series is going to more dangerous places."
This installment of The Missing may have a new story, with new characters, in a new setting, but audiences will still embark on a thrilling ride alongside the characters. The Williams brothers were careful to ensure the thrills don't turn cheap, but it's important for them to distinguish The Missing from just any other TV drama.
"If you really care for the character in that situation, if you really want them to achieve what they're going to achieve," explains Jack "then a proper adrenalised moment against a backdrop of something that is quite intense and psychologically dark, can provide an interesting balance."
And of course, there are clues throughout to keep audiences engaged and guessing.
"We try to make sure that every question we pose has an answer, somewhere," says Harry. "The answer may be three episodes ago. But it's always there."
This new instalment of The Missing promises to be darker, more complex, and just as gripping as the first.
"All the characters go through strong personal difficulties, and this case jeopardizes many relationships," says Tchéky. "The Missing is really interesting because it's not just another procedural. It provides a lot of food for thought that audiences can identify with. It's great because as a viewer you have a chance to get into a drama that's really strong."
While some may find the story difficult at times to watch, the Williams brothers have a knack at making you want more.
Keeley explains: "Having three children myself, I have tended to stay away from these sorts of dramas in the past. It all felt too close to home. It's one of those stories you see on the news. You don't want to look at it, but in the end you can't help it because it's riveting."
IJPR
Search the site
Can't find what you need? Search here
Related Programme Information