Tábata Cerezo (Carmen Lorenzo)
Tábata Cerezo is a Spanish actress born and raised in Madrid.
Published: 19 November 2019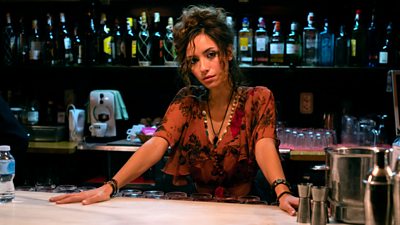 I play a waitress. The funny thing is, I'm the only actress in the world who has not been a waitress in real life!
From a very young age, she has worked in several theatre, TV and film projects both in her country and abroad. Her most recent credits include the film Altamira (directed by Hugh Hudson), the TV series The Night Manager and the latest Terminator film.
Q&A
What was the attraction of this project?
I loved the fact that I was working with people from so many different countries. I come from Madrid, and I love working with English and German actors. It's also very enriching that people in the crew come from so many different places. It's really exciting. The setting of The Mallorca Files is so vibrant, and the cases are so thrilling. It's also really good laugh. It's a very original series.
How would you describe your character?
Carmen is Max's girlfriend. She's younger than him, but they're a very good match. They're both free spirits and love life, wine and music. She is a woman who comes across as strong, but we will see a vulnerable side to her as well. She's also very useful to Max in some of his investigations, which are about people she knows.
Have you enjoyed working with Julian?
Absolutely. It's been so much fun. He is very easy, and he and Elen are so talented. I have to admit that it was difficult not to laugh in some scenes with Julian. He's always making jokes. He's got such a lively personality. I was also really excited to work with Nacho who plays Federico. We are old friends. The director allowed us to improvise in Spanish, so we made up a back story about Carmen knowing Federico for ages.
Do you see any similarities between Carmen and yourself?
Definitely. We could be close friends. We have many things in common, although she is much more confident than I am.
Are there tensions between Carmen and Miranda?
Miranda's arrival will be a challenge for Carmen's relationship with Max. Carmen is not the jealous type, but it will get a bit tricky at times.
Have you filmed in Mallorca before?
Yes. I had a couple of scenes in The Night Manager. I played a Spanish lawyer who killed herself in the tenth minute of the show, but it was still a very exciting experience!
Does this series show a different side to Mallorca?
Yes. When people watch this show, they will discover a very different aspect of the island. Places like Magaluf are very well known, but viewers will see very different, very beautiful parts of the island in The Mallorca Files. This show will demonstrate that Mallorca is gorgeous and will attract a lot more tourists. After it goes out, everyone will want to come here!
Where have you filmed most of your scenes?
I play a waitress. The funny thing is, I'm the only actress in the world who has not been a waitress in real life! I have all my scenes in the bar and Max's apartment. If there is a second season, maybe I can join the police and become a crime fighter!
Related Media Centre Links
Related Programme Information
Related Web Links