The Girl Before: Meet the cast and creator
Meet the cast and creator of the psychological drama about the intertwining lives of two women who move into a beautiful, ultra-minimalist house designed by an enigmatic architect

Published: 9:30 am, 8 December 2021
Updated: 9:30 am, 8 December 2021
The Girl Before tells the story of Jane (Gugu Mbatha-Raw), who gets the chance to move into a beautiful, ultra-minimalist house designed by an enigmatic architect (David Oyelowo).
There's just one catch: the occupants must abide by his list of exacting rules. Jane starts to feel the house changing her in unexpected ways, but when she makes the shocking discovery about her predecessor Emma (Jessica Plummer), she's forced to confront unnerving similarities. As the two women's timelines interweave, Jane begins to question if her fate will be the same as the girl before...
KS
---
Character Biographies
Jane Cavendish - Gugu Mbatha-Raw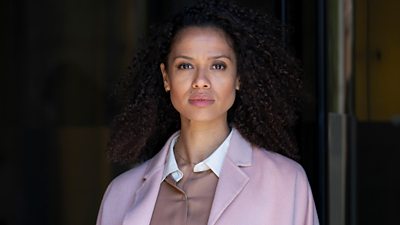 A financial PR exec, Jane is smart, curious, dogged, disciplined, and a natural perfectionist. Shellshocked by trauma, she's hit with the destruction of her entire worldview: the belief she'd always had that if she worked hard and conscientiously, her life would be a good one. For Jane, One Folgate Street's austere spaces represent calm, stillness and repose – a retreat from the maelstrom of her recent emotions, and the discipline required to live there chimes with her own work ethic and high standards - until the mystery of what happened to Emma begins to consume her, an outlet for all that hidden grief and anger bubbling under the surface.
Edward Monkford - David Oyelowo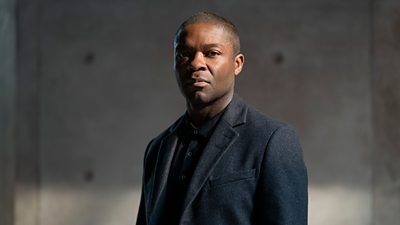 A supremely self-confident and successful architect, Edward is so obsessively perfectionist that the slightest flaw in his surroundings causes him almost physical pain. His grief has manifested itself into the extreme minimalism present in his architecture and every other aspect of his life. Edward is completely ambiguous - is he dangerous, or merely damaged? A victim, or a killer? Whatever the truth, he's a tragic figure doomed to repeat the same cycle of behaviour over and over again, unable to move on from his past.
Emma Matthews - Jessica Plummer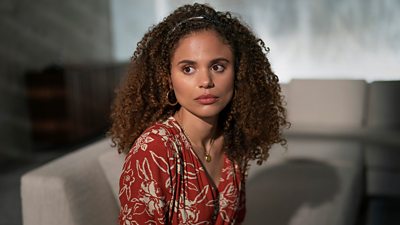 Bohemian and confident but rather chaotic, Emma is stuck working at an unfulfilling marketing job, and is less than satisfied with Simon as a partner. Emma is traumatised by two separate acts of violence – and by secrets she feels too ashamed of to confide to Simon. For her, One Folgate Street's stone walls represent security, safety and rebirth. The truth is, she's scared and lonely – and living in the pressure cooker that is One Folgate Street, the truth will always out in the end. Her life spirals out of control, but ironically, all she was ever trying to do was control it.
Simon Wakefield - Ben Hardy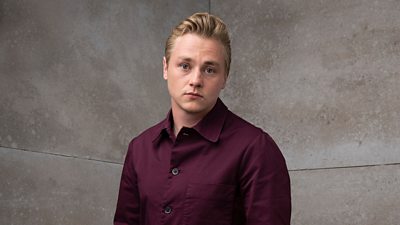 Simon works in media. Deeply insecure in his masculinity, he suspects Emma is out of his league, and can't quite believe his luck when she agrees to move in with him. As far as he's concerned, she's The One – and he'll do anything to make her feel he's The One for her, too. As a result, he vacillates between being controlling and overprotective – which is what he thinks a real man does – and weak and enabling, with a growing fear of rejection.
---
Interview with Gugu Mbatha-Raw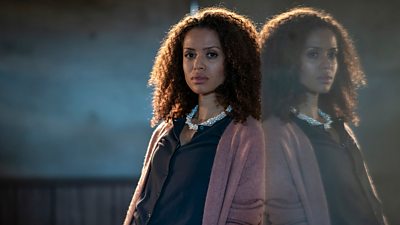 This is a project where you're not only acting, but also have a hand behind the scenes as a producer - so what drew you to this project?
I first read the script and I was aware that it was a best-selling novel by JP Delaney. I thought it was intriguing reading it at the time, in the height of the pandemic with lockdowns and everybody being in their homes. For me, it was quite interesting to think about home and the house and how everybody's relationship to their environments has changed in the last year or so.
So, that was an interesting concept for a script like this. I've also never done a psychological thriller before, and I loved the fact that it was a twisty, compelling tale with an original point of view. You also have Jane and Emma-often you have one great female lead and in this, there were two. So, the feminist in me was like "yes, this is amazing!" Because both characters are complex and layered with such nuance to their back stories. Also, knowing it would be on BBC and HBO Max was cool because I've been doing a lot of American work for the past few years, so to be able to do something that shot in the UK was a bonus. So overall, just the plot, the genre itself and a really, meaty, complex role.
In terms of producing, this is my first time being an Associate Producer. It was exciting to be invited to be a part of the conversation in terms of pre-production, casting and script notes. So, it was a really stimulating way to get involved – having acted for quite a few years. The actors are usually the last piece of the puzzle, I was able to come in alongside Eleanor Moran and Rory Aitken at 42 and work with JP Delaney, who has adapted his own novel into the script.
I learned a lot in terms of story and being a part of the casting process. I knew David already and it was nice working with him again. Being a part of the process of finding Emma and the wonderful Jessica Plummer. So, it's been a journey and it's been great after having the pandemic and a year of isolation – to be able to flex my muscles in different facets of the industry and feel like I'm learning a bit more about how the machine works from different perspectives.
Was there anything about Jane's journey that you found interesting to explore?
Yes, there's a lot to chew on with Jane, which is part of what drew me to the role. When we first meet her, she's experienced a trauma. How that's affecting her in terms of the grief and psychology of that, was fascinating to me. There's so much for Jane that she's carrying, that was interesting to explore.
As an actor, you are an amateur psychologist in a way because you are really exploring how people's minds work and human behaviour. And I think, especially in this production, there was a lot in terms of Jane's journey. For me, that's always the really fulfilling stuff because it's not just emotional, it's psychological and there's an intellectual element as well in terms of the research. But I think it's about absorbing all that stuff so that it's in your body on the day and you feel confident to be representing women who have had this experience. And of course, it's not a documentary – it's a drama but you want to feel authentic, especially with issues that are so sensitive which we explore in the show, you want to feel like you've respected people by doing the research.
Can you talk about how living in One Folgate Street affects Jane with regards to the processing of that grief?
As I said, Jane moves into One Folgate Street at a very difficult time in her life when she's experienced loss. She's incredibly raw on the inside. I think you'd look at her on the outside and she looks like this very together woman. She works in financial PR, she has beautiful clothes and externally she looks like she's a very successful, together woman. We get glimpses of her subconscious in her dreams and nightmares, and you realise how much she's haunted by the loss.
And so One Folgate Street really explores the opportunity for Jane to have a fresh start, but how all those things are still tormenting her in the house. There is something calming and cleansing in that for her. And I think ultimately – and I've talked a lot to Lisa (Brühlmann- director) about this – it's that journey from control to healing. Through this grief process that she has, coming to Folgate Street almost feels like a decompression chamber or chrysalis for her to transform into a healed person after this traumatic experience.
The storyline centres around two women taking control over their own lives in different ways. How important was it for you for this story to be told from a female lens?
It's been wonderful working with our director Lisa and the incredible producers on the team as well. For me, Lisa always had a very strong vision from our first conversation in terms of what drew her to the story and a beautiful visual imagery in mind for capturing it. I think for her, it was very much exploring themes of control and how all the different characters express their control. Be it in perfectionism, exercise, the clean lines of the house, or even with Jane where she's trying to control her grief.
She doesn't want to feel the way she does. She doesn't want to experience the pain. She pushes it down a lot of the time. She's always trying to be okay and that's another element of control. That was something that Lisa deeply understood and it's been wonderful working with her. She's just incredibly accomplished and collaborative and has been open to our ideas as actors. She has a background in acting as well so I think she really understands the psychology of what these women are going through.
The house plays such an integral role in the series. It has even been described as another character. How did the look and style of the house affect the decisions you made playing Jane?
It's been really interesting being in the space. You can read about the house, and look at pictures, but actually being in the space does something to you. Initially I found the brutalist elements of the space very cold. But what's been wonderful in this production and the genius of Jon Henson's production design is that the space has moods, enhanced by the cinematography of Eben Bolter. We really feel the emotionality of the house and 'Housekeeper', which is somewhat a version of Alexa – makes the house identity and personality take on elements of their own.
That's one of the fun things about a psychological thriller - it's how much the house is changing the characters. One of my favourite scenes which feels like a tipping point to that is a moment where Jane's music starts playing in the house and it sort of intoxicates her and she ends up moving and dancing to the music in a way that makes you wonder. I find that fascinating, but also, the house is moulding her in some way. I think the whole experiment of the Monkford partnership, which is Edward/David Oyelowo's character's architectural firm, is about how a space can change you and make you feel.
It's funny because after weeks of filming here, we were doing a photoshoot in this space the other day and I felt quite panicked because they had moved all the furniture and taken the sofa out. I think, like Jane, you get very possessive of a space and the rules of a space, and I realised how emotionally connected I had become to this space, that I originally thought was so cold, when I see other people using it in a different way. It's obviously affected me! It's a fun concept to explore.
Can you talk little bit about the costumes you wear in the show and the process of finding the right style for Jane?
It's been a real journey working to find Jane's look and working with the amazing, and very collaborative Charlie Jones, who is our costume designer. Also Tanya Lodge, the hair and makeup designer and Carrie-Anne London, who is doing my hair and makeup specifically. It's a holistic journey in not just the clothes, but also trying to find a synergy between Emma and Jane so that it feels like there's a likeness there, even though they're not the same person. They've been smart about bringing out those elements; if the hair's down, if it's back, the silhouette of the clothes and the echoes there. Jane's clothes are very lux. I jokingly say I'm only here for the cashmere! Jane has about four fabulous cashmere coats and I think the great thing about Charlie is that she also has a background in styling, and we've been working with some great designers. Because of the aesthetic of the show, the design of the house has also overlapped into the design of the clothes in a way.
There is a very clean, tailored, beautiful look to Jane's wardrobe, which is much more luxurious and higher end than my own clothes. So, it's been fun, and it really changes how you move and feel. She comes from financial PR, a corporate world - albeit it's a boutique firm but it's a world of money. So, there's a real opulence to her clothes, which has been fun to work with. Specifically, we have items of clothing that are almost characters themselves - the black dress which both Emma and Jane wear, which is a gift from Edward. I can't wait to see the Emma side of the costumes and how that will echo Jane.
Now, finally, house rules require residents to move in with only essential items. So what are the three essential items that you can't live without and why?
Doing this job and playing Jane has made me realise that I'm not much of a 'stuff' person myself. I'm certainly not a minimalist and this isn't necessarily my taste, but I think as an actor, I've had quite a nomadic life in the last several years. So, I'm used to living out of two suitcases and not accumulating too much because of moving around for work. So, I'm pretty simple in my needs. I really couldn't live without a kettle because I drink too much tea. So, definitely a great kettle.
I've got two exercise things that have become my greatest friends in the pandemic. They are my yoga mat that has long been my essential that I bring everywhere. I bring it to set with me and it's always in my trailer. And that's always great to have with me as a grounding place to stretch and move. Or I'd tie that with my trampoline. I have a miniature trampoline which I got into as a joyful way of exercising through lockdown and it's something that I brought with me from America. I'm probably going to take one to my next job as it's just a fun thing to have. And obviously a bath.
Kettle, trampoline and yoga mat, and bath as a sneaky fourth. You get to stay hydrated; you get to move and then you get to relax! I think that's a good balance.
---
Interview with David Oyelowo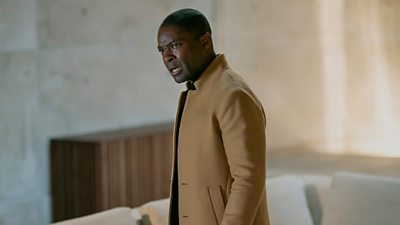 What made you get involved with this project?
My involvement with The Girl Before came about partly because of my friendship with Gugu Mbatha-Raw. She and I have known each other for over 10 years now and this may be our third or fourth thing we've done together. It was actually a phone call from her saying that she was doing this show The Girl Before. It was clearly one she was very passionate about, and she gave me the heads up that some scripts are being sent my way and she sort of had me at "I'm doing it!" i.e. she's doing it.
The scripts were fantastic, and I could see why she had been really drawn to it and the character was the likes of which I hadn't played before. You know it's that rare thing where every box was ticked but yeah, she was the first instigator of me being in this show.
You mentioned and touched upon the unique proposition of playing a character like Edward – was there anything in particular about his journey that you wanted to explore?
It's going to sound odd, considering his questionable nature, but one of the things I was drawn to with The Girl Before is that there are things about Edward Monkford that I relate to. He is a perfectionist, very particular about certain things. I like to think that I'm a milder version of that, though my wife may beg to differ. But he also has this fascinating condition called repetition compulsion. In speaking to some therapists for research, I found that we all have a certain degree of this going through life and either making the same mistakes or making some of the same choices – basically habitually finding ourselves in situations that may or may not be healthy for us. And you know, I just found all those elements of him very human, but it's sort of turned up to a hundred with him.
So, he's sort of an exaggerated version of things we all have. It was intriguing to explore that, but then also the concept of this guy who is trying to control his life, manipulate his life, be fully in the driving seat of his life to a very unhealthy degree. I think that is something that, if we care to admit it, more of us have than not. And so, to see it in a show like this where it's a thriller, where it's about relationships, where it's about the psychology of people and relationships within that as well, is fascinating.
This property at One Folgate Street really does feel like an integral character of the story - what was your first impression of seeing this work?
It's one thing to read something and it's another thing for it to meet your expectations and maybe even exceed them. I mean, it's not a house I would choose to live in – it's quite austere, you may even argue cold. But it is remarkable in its design, layout, and feel. You walk in, and it elicits a feeling. And that's something that is very prevalent in the show. For Gugu's character and Jessica's character, it's about how this house changes people, manipulates people, embraces people and it's designed to do that. It's one thing to write that and it's another thing to actually see it manifest. And so, it's incredibly impressive - I find it a bit much for me I'm glad to say. But for Edward Monkford, who I play, I think it's pretty perfect.
Following on from that, what is the one thing from One Folgate Street that you would want to incorporate in your own home?
The atrium with the tree in it, I think is pretty beautiful. I love it when you can combine beautiful architecture with the outdoors, integrated in a way that's virtually seamless. We do a lot of that in this show actually. My offices - Edward Monkford's offices - do that to a certain degree. The therapist's office has a wonderful feel - the combination of concrete, glass and nature I find very pleasing. If I could transport the atrium into my home - that would be the thing I'd take. Please make a call and see what we could do.
Now, finally, house rules require residents to move in with only essential items. So what are the three essential items that you can't live without and why?
The three things I can't live without... well, Facetime on my phone. When I think of growing up and the lack of mobile phones- I had times where my dad was working in Nigeria, and we were living in the UK and we could only communicate by letters or maybe the telephone. But I travel a lot and just being able to see my kids everyday - even when it's on this device is huge. You don't have that thing where you haven't seen them for weeks and like "oh my goodness, you've grown!" or "oh my goodness, you look different!". You get to see them every day. That is something I could no longer live without.
We're now just coming out of lockdown where gyms were being closed and again, with travel, you know with staying healthy, staying fit, staying active. My jump rope is something that follows me everywhere and that's good cardio no matter where you are. It's a bit weird in hotels when you are making the jumping noise, but I do it anyway. And then what would the other be? My passport - like I say, I move around a lot and without that, it would be a pretty challenging thing to do.
---
Interview with Jessica Plummer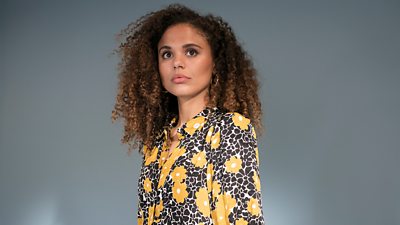 What drew you to this project?
The script was phenomenal. I read it all in one sitting. Normally, my attention span isn't that great, but I was completely absorbed. I haven't read the book. I wasn't sure that I wanted to. But I know that it was a bestseller. So, it felt like quite an honour to be a part of it.
The Girl Before has a fantastic ensemble cast. What was it like working with your co-stars?
It was a real "pinch me" moment. I knew that David and Gugu were both attached to the project before I auditioned. Later on, finding out that Ben was joining us was nice. It was quite a small cast, so I felt like we became a little family, if that makes sense.
Whilst you were reading the script, was there anything in particular about Emma's journey that you were really looking forward to exploring further?
So, you get the script, and you get your character and you've got to figure out why they do certain things. Emma uses distractions as a coping mechanism. She wants to put to bed things that aren't working anymore and reinvent herself all over again. And the reason why she does that was interesting to create and figure out i.e., her backstory as to what happened to her previously to make this her coping mechanism.
What was the shooting process like? Do you have a favourite memory from filming?
Where to begin? There were so many incredible moments during the filming process. Starting from the beginning – receiving the phone call from my agent that I got the role. I remember I was getting ready for bed at 9pm when I received the call, I screamed and woke my whole house up! It felt like a dream. Even now, I still don't believe it's real.
Walking into One Folgate Street and seeing the set was breathtaking. It was probably my favourite filming location. It did feel the same way as my character described it – like a fortress. I felt so safe, relaxed and comfortable there. We were a small cast, and we were quite close – especially with the crew. Every day was a joy, different and challenging. But if I had to pick a favourite memory from filming, I'd say Emma's birthday because that was a party scene and fun to film.
Without giving too much away, were there any challenges during filming?
As much as One Folgate was my favourite place to film, it was very cold to film there. It was a warehouse, not a studio, so there were no radiators. So, the cold was challenging! You could see your breath in front of your face.
What was it like working alongside intimacy coordinator Ita O'Brien?
It was amazing. I've never done scenes of that nature before and so to have that support, knowing that I was safe, was great. I would describe it as a dance routine – you pick the beat and moves before the day of shooting, so you can go over them and remember them in your head. So that when it comes to it, you approach the scene with the same kind of markers.
What was it like working with director Lisa Brühlmann?
Lisa was fantastic. We called her "The Lady in Pink" because she had this wonderful pink coat that she would wear. She made you feel like you could trust her and that she trusted you and your perspective, but also give great direction. She has this kind aura about her and she's lovely. I would really love to work with her again.
The house is almost like another character in the ensemble. Take me back to day one stepping foot on the set for the first time. What was that like?
I think I had to physically collect my jaw from the floor. I knew it was going to be stunning and beautiful from the descriptions and the conversations that I heard. But, I mean, it exceeded anything that I had imagined. It's huge – I didn't think it would be this big. It's stunning!
Is there one element within this house that you'd like to incorporate into your own home?
Maybe not the stairs… I love that it's open plan. My house is very much "room room room" and I find that me and my daughter are always following each other. And I like the open plan living space of this house. Also, my house is probably the opposite in that this house is minimal, and I still have my Christmas tree up from 2019.
Now, finally, the house rules require residents to move in with only essential items. So, what are the three essential items that you can't live without and why?
I love questions like this! I feel like they are really telling about a person. My daughter! Is that a cop out? Because that is a given. Coffee and my headphones. Although I need something to plug my headphones into…. So, coffee, my daughter, music!
---
Interview with Ben Hardy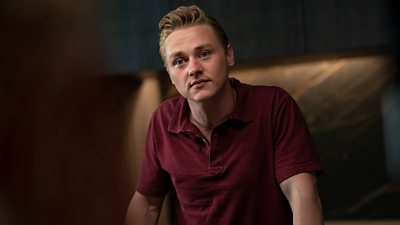 What drew you to this project?
I was drawn to this project, firstly, because I'm a big fan of psychological thrillers. I had been in one before, but as a period drama. So, this was something very modern and not anything I had done before. I just fell in love with the scripts really. And then I read the book, which is just an absolute page turner. I read it in a couple days maybe... you just zip through the whole thing.
It's a really interesting character to play for numerous reasons. I won't give too much away but it's interesting because he's very much a beta to Edward's alpha male. It was often quite uncomfortable to play that, but I think it's quite good. I would be playing scenes where I would feel like I'm trapped, like I'm not able to say how I feel or say what I want or react how I want to react - because the character is very submissive. And I say it's good because he beats himself up for being so submissive because he wants to be the alpha, which makes it work quite well.
It's unlike any role I've played before and it's got a great cast and team behind it. You know it's all David, Gugu, and Jess. I hadn't seen much of Jess' work before. We were both in EastEnders years ago, but I wasn't with her at the same time. Overall, it's been brilliant, and Lisa's been a fantastic director to work with so, I'm very thankful to have been working with her on this.
It sounds almost like a cliché, but the house really is like an integral character in this ensemble. Take me back to the first day you stepped foot on set. What was your impression of the space?
I remember seeing the house for the first time quite vividly. I mean it's always impressed me, anything that's built from scratch for movie or TV land. Coming in and seeing this place thinking "oh, someone should be living in this place!" We used to joke with the crew: some people would say "oh, I'm going to sleep here tonight! It's better than my hotel or flat".
The house is beautiful, but also very cold, austere, and minimalist. It creates an atmosphere. It's like a character in the story and my character attaches a lot of memories, pain, and anguish to this house; as well as the events that happen within it. It's emblematic of what he's been through. So, yes, when I first stepped in, I was blown away really and I think it's such an incredible job by Jon Henson (production designer).
You briefly touched upon the coldness on the minimalism of the place. How did the design and the aesthetic perhaps feed into your portrayal of Simon?
The house itself fed into how I played Simon, more just in the atmosphere it created. I was walking into this space knowing that, ultimately, I'm not going to like it. I have various reasons why Simon wouldn't actually want to live here. He chooses to go along with it because he's the kind of guy that if his girlfriend is happy, (and hopefully his future wife), then he's happy.
There's a lot of self-sacrifice in that way. The house is 100% a character in this story and has an impact on the filming on set. It's definitely a very powerful set to be working on.
Now, is there one element in One Folgate Street that you'd like to incorporate into your own home?
I would love to have the shower in this place. It's this walk-through shower than turns on when you walk through it. I mean that sounds pretty incredible. So that's what I'd take. The best thing about my flat is the bathroom for some reason, though I don't even spend that much time there. So, I'd like to have that shower - the automatic shower.
Now, finally, the house rules require residents to move in with only essential items. So, what are the three essential items that you can't live without and why?
One of my items is a piano. Because I remember looking for a flat and I wanted a room for a piano. And I was going round measuring doors because I find it very therapeutic playing music. I'm not the best pianist by any stretch of the imagination but that's the thing I like to do. If I'm not working, I tend to play an hour or two a day. I just find it very soothing and so a piano would be one. I would even say guitar, but I won't do that, that's boring.
The second one would be my driving license, which I know sounds daft, but here's why: I love cars and I love driving. If I was a super-rich man and I know it's not a particularly great thing to do, but I would have a sexy car collection and that would be my thing, my one vice. Then I would donate lots of money to charity.
The third thing I'd choose would be books. You're not allowed things like that in this house, and I think that's ridiculous. I would say books, but also, and this is kind of cheating, but I want souvenirs of my life. I'm not one for clutter myself but there's certain things that I've taken away from jobs I've worked on. Or I've got scripts – I'll probably take this script away and I'll look back on it and remember those experiences. I've got play programmes of things that I went to see as a child that were really formative experiences for me and I don't want to lose those.
---
Interview with JP Delaney – Creator, writer and executive producer
Please can you tell us a bit about the genesis of the project, from initial discussions to bringing it to screen?
I had meetings with other people who were by and large lots of producers and executives sitting around the table. Eleanor from 42 just came in on her own and I had Googled her and knew she was a novelist and screenwriter as well. We had that shared background, and she was genuinely enthusiastic about me being involved.
Then, we talked about how the natural home for it would be the BBC because of that quality focus. So, we took the project to the BBC first and met Ben Irving. I turned in that script and then lockdown happened, and I thought "what am I going to do in lockdown?" I didn't really feel like writing a book, so I decided to write the rest of the scripts on spec, even though the project hadn't been greenlit. As soon as someone is enthusiastic about a project, I just have to go away and write it.
Then when shooting through Covid became possible, Ben Irving at the BBC said, if only you had the scripts, then we could fast track this. Then Eleanor said "ah ha!, We have. JP has written some spec scripts already". So that was how it happened.
Could you tell us about the process of adapting your book to screen? What has been the most enjoyable element and have there been any challenges?
I understand there are some writers who would want to adapt because they want to protect their story. They want to make sure that no one messes it up or changes it too much, but I am the opposite. For me, the exciting thing is when the story evolves and adapts. You must trust the people you are collaborating with. I set myself a rule whereby I would need to have a good reason to say no to anyone else's ideas. So that's been the wonderful thing really. As more people came on board and seeing how they work, changing it and turning into this living thing is the lovely bit.
What was it about this story that made you want to turn it into a series?
It's a book that is particularly close to my heart and it's the first of my psychological thrillers to be written. I spent 15 years working on it. I always knew that there was something at the very heart of this - something very simple of taking the gothic tradition of a creepy, creaking, almost haunting house but flipping it so that it's very modern and minimalist. Whereas most architects work with a client's brief, with minimalism, it's the other way round - you buy into the architect's vision. Minimalism is almost like an architect's brain in concrete, and you are inhabiting that brain and that can be a scary space to be if they are a controlling person, as Edward is.
There's a line in the script where Simon says, "Our house has moods". For me, that was always a key production thing that the house had to be capable of being austere, beautiful, threatening, claustrophobic and welcoming at different times. Jon Henson had the challenge of constructing something that had that visual richness but could also feasibly have these minimalist intense rules.
In fact, one of my favourite lines in the first episode is where Jane says something about Edward being a minimalist and Edward responds by saying "I don't actually think of myself as a minimalist, I'm just of a perfectionist, but when you take away things that are imperfect, it's funny how much is left" It's a real insight into his obsessive, controlling, nature.
Without giving too much away, can you tell audiences some ways in which the series differs from the book?
Plot wise, it's simpler because we cut out some of the twists and turns. But it's extraordinary because I came into it completely relaxed about changing things, but it has ended up being very similar as an overall plot. The main difference is that the book is very much within its genre – it's a thriller and I really wanted to make it a page turner, so it's all about the plot and the pace. In TV, you have a chance to unpack people's characters a bit more and I would say that the scripts are more nuanced and character-driven than the book is, which is quite unusual for TV programmes. That's been one of the most fun things about doing it.
The Girl Before has a fantastic ensemble cast. Can you tell us how the four main actors embody the characters on the pages of the script?
They are an incredible cast. We were so lucky to get them. Jane as a character is quite reserved, professional, disciplined, and high achieving. And Gugu brings all that, but one of the things that Gugu said when we had a conversation with her very early on, was that she wanted to see the cracks in Jane's facade. She's been through this tragic experience before the show starts, and we just get a sense of her inner life, turmoil, tragedy, sadness, and anger. I think Gugu has a real arc over the performance of the four episodes. She goes on a sort of journey, just like a lead character of a movie and I think that's an amazing thing to watch.
Emma, the character played by Jessica, is more impulsive, mercurial, and changeable and has also been through tragedy. What Jess brings to it is a real sense of Emma's vulnerability and likeability. You get a sense of who she was before bad stuff happened to her and who she could be again. She's almost rediscovering it over the course of the four episodes, but then another tragedy happens.
Edward is very perfectionist and obsessive and we also knew we wanted someone with a real presence who could be very alpha. I think what David brings to it so fantastically is the twinkle in the eye – the charm – you absolutely understand why either of these two women could fall for him.
Lastly, Simon is in many ways the very opposite of Edward. He's quite insecure and needy. I think what Ben brings to it, is this wonderful sadness – you feel for Simon because he can see his relationship slipping away from him for reasons he cannot really understand.
How was it seeing the house you created in the book come to life in front of you on set?
It was wonderful seeing it not become the house in my head. I'm quite a visual writer and having written for the screen a lot, I had a mood board on the wall of my office while I was writing The Girl Before. I had about 40 images and I remember when I went into the BBC for the first meeting, I took with me all these printouts and started throwing them on the floor of the commissioner's office. But I knew, even then, it probably wouldn't look how I imagined because I've worked with directors and production designers a lot and realised you don't hire someone brilliant and tell them to do it your way. You hire them and let them get on with it!
Without giving too much away, do you have any favourite scenes that you were most looking forward to seeing on screen?
One of the big, narrative questions is what is in Jane's past? What is it in Edward's past? There's clearly something there and there's a moment where, almost by accident, they go out for a cup of coffee and start talking and it's quite a long scene. We had two movie star actors playing these roles and it's literally two people sitting across from each other at a café table and it's so moving, well done and funny. Then he asks her out and that's a climactic moment that you've been building towards without realizing for the whole scene. That's one of my favourite scenes in the entire thing.
The storyline centres around two women taking control over their own lives in different ways. How important was it for you, for this story to be told from a female lens?
It could only have been done from a female perspective. And again, that's a part of the gothic tradition – if you think about it, it's always the woman coming to the house. Never the man – the man is almost always in the house and the haunting presence. I don't know whether it's the tradition that makes us crave the trope or the other way round, not to get too technical. The story is about a man who might or might not be 'toxic' and it's seen through the eyes of these two women. Lisa said something very interesting during the very first readthrough. She said to the cast that this is a story about female friendship - two friends who never actually meet. That is an insightful comment because the central relationship of the show is between the two women rather than each woman and the man.
What was it like working with Lisa?
Working with Lisa was terrific. Everything Lisa does is so impressive. What attracted us to her work is that everything she does is very stylish, and we knew that style would be a very important element of this show. I think it's gorgeous. All her references were really elevated movie references – we really captured that: you could be in a four-episode movie. She's also an ex-actor and works very sensitively and respectfully with actors.
She's a good mixture of somebody who is very decisive, but very collaborative. We prioritised finding female directors right from the start because it's a female-led story and touches on sensitive issues. It's an incredible job and her energy has been phenomenal.
What do you hope audiences take away from the series?
I think that's difficult to answer because I think it's for the audience to decide. First and foremost, it's for entertainment and hopefully it's very stylish and gripping and with the depth of characters that you don't get in your average thriller. I think it's unusual and people will say it's not like other psychological thrillers that they've watched. One of the things that I'm proud of is that it has this very intricate structure and I established that early in the first scene. You want people to feel that they are in the hands of a storyteller. You are in this heightened reality, which is like the real world, but also, its own world. It almost casts a spell on you while you are in there and enchants you and then you wake up back up in the real world.
It touches on quite emotive and difficult subjects, but I think there is a line right at the end where one of the characters says something about how all anyone's looking for is someone to care of the mess inside their heads. That's probably the kind of feeling that you'll walk away with. That everyone is trying to live this perfect, tidy and uncluttered life, and then this house is an extreme example of that. But really, life is about mess, muddle, warmth, human relationships and going with the flow.
Tagged: