Lara Pulver is Katrynia
Lara Pulver reveals why she was drawn to the role of Borlú's wife created especially for the TV adaptation of China Miéville's novel, The City & The City.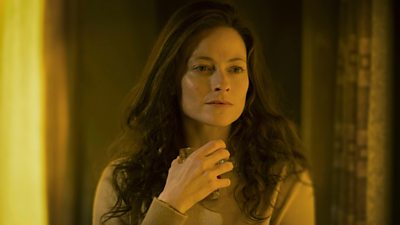 Whether we know it or not we all tend to live in a form of bubble, even if it is a liberal and wide bubble, and this story is a bit of an eye opener on how we live, and on humanity.
"When I first read the scripts I was fascinated by how multi-layered Katrynia is as a character, she doesn't feel like the same person in any scene and that is a gift but also a real challenge too. We could do a scene four or five different ways in tone and tension because she is such an enigma that anything can work. She gave me the opportunity to really play as an actress because she is such a rainbow of personalities within one person.
"Approaching playing Kat meant nothing was off limits because she lives in this world where everyone is so timid and small minded and my job as this character was to push every boundary. It felt like she was this wounded little butterfly who needed looking after and yet the second she felt comfortable she felt the need to break free and push those boundaries, to question everything."
Lara explains how Katrynia's inclusion in the drama helps to unveil this mysterious thriller.
"The writer Tony Grisoni has done a fantastic job of creating this wonderful mirror between the detective story and the unravelling of Borlú's own personal relationship. Including Katrynia creates a heart at the centre of this detective story and makes you care for David's character and so you have a bit more empathy for him and the whole situation because of this love story."
Paying this multi-faceted role wasn't the only factor that made Lara want to be part of this project.
"I desperately wanted to work with David Morrissey (Borlú) because I had just worked with Imelda Staunton in the award winning stage musical Gypsy and they are very much of the same wonderful school of talent, training and skill so I thought it would be such a gift to play opposite someone like David. He is phenomenal. Not only is he a brilliant and skilful actor, he is a lovely guy and he was in every scene, every day so it was exhausting for him and yet it never showed.
"I also spoke with the director, Tom Shankland, and he had the clearest vision of something that is actually very complicated, especially when it comes to shooting the two different worlds of this drama and distinguishing those worlds and all of their characteristics in colour, tone, texture and style.
"Beźel, the fictional setting Katrynia lives, feels like a drab Eastern European country in the 1970s so there was a lot of mustard, browns and greens and everything feels like it has been thrown together with no thought. There is very little structure but when you are trying to throw something together you end up having to work harder than when you are putting together something more structured because you have to go against wanting to perfect things. The costume department were amazing with allowing us to be very free. If we felt like taking something off mid scene they were happy to allow us to do that and would make it all work."
Filming in Liverpool was an enjoyable experience for Lara because of her family connection to the city.
"My husband was born in Liverpool so I felt like I went from home to home because his mother's side of the family are all still there. Since we have been together I have never had the chance to go to Liverpool and visit that side of the family, I have only ever seen them when they have come down to London so it was great. I was going there as a new mum with a 12 week old baby but I had this amazing support unit with all my wonderful relatives around me and I was being spoiled rotten with Sunday roasts. Liverpool has evolved so much, it is such a vibrant city and I am a bit of a foodie and the food was brilliant. There has been a real injection of money and love into that city and it shows. People were in such good spirits and were supportive of us filming in their city; it was wonderful."
Lara reveals there were some challenges that arose during filming.
"For me the most challenging part of shooting was getting my head around when it was my reality or if it was Borlú's projection. We filmed scenes numerous times in different ways because often you are seeing my character through Borlú's recollection of events and then often days later we would go back and film it as my reality. We were telling stories within stories. It makes you realise, in that Black Mirror way, that what we project as our reality and what actually happens can be two different things."
Lara tells us what she thinks makes this drama stand alone and why she believes audiences will enjoy it.
"We do detective dramas very well in this country but I think the fact that this is so much more than that is what really excited me about it. Visually, it is so cinematic and it also plays a little bit with your psyche in terms of what is real and what is not and what we hold in our subconscious. It opens one's mind. Whether we know it or not we all tend to live in a form of bubble, even if it is a liberal and wide bubble, and this story is a bit of an eye opener on how we live, and on humanity."
Related Media Centre Links
Related Web Links