Interview with J.K. Rowling (on behalf of Robert Galbraith)
J.K. Rowling discusses her best-selling crime novels, written under the pseudonym Robert Galbraith.
Published: 16 February 2018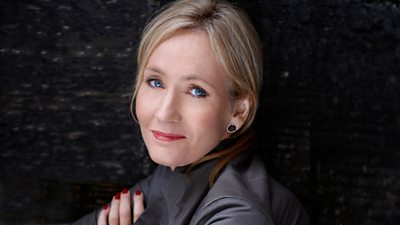 The thing about London is it can support any number of fictions because it's so big and ever-changing. I don't feel like I'll trip over other detectives, so it was my first choice.
You take us out of London finally in Career of Evil. Was it deliberate?
Career Of Evil was technically a challenge because you've only got three suspects, so I like to set myself these challenges and then curse myself two thirds of the way through the book thinking, who made me do this?
It was implausible that all three of these suspects would conveniently be down the road in London. I chose very deliberately where they would come from. They were both places I've never actually been, even though I've lived in Scotland for my third decade.
I wanted them to come from one of the pretty border towns, and my husband suggested Melrose and it was absolutely perfect. Barrow-in-Furness is the most extraordinary place. It's a very distinctive, unique, urban, working city. I wanted a contrast.
London's changed dramatically over the last 20 years. Did it give you much more of a scope than any other city in the UK?
There are other cities. I lived in Manchester for a while and loved it, and obviously I live in Edinburgh.
Edinburgh's too small to support two fictional detectives, and Ian Rankin got there ahead of me. Rebus reigns supreme in Edinburgh and that's as it should be. I knew I wasn't going to have it based in Edinburgh.
I know London pretty well, I've had family in London all my life and I have lived in London. But the thing about London is it can support any number of fictions because it's so big and it's ever-changing. I don't feel like I'll trip over other detectives if I'm working in London, so it was my first choice.
Do you write visually? Do you write thinking this might become a movie or a television show?
No, actually not at all. I am a very visual writer, I do see things very vividly in my mind or I describe what I'm literally seeing in the case of the Strike books. But I've never written a novel with a view to filming.
Do you feel that we've neglected the rather romantic world of the detective in recent years, because of change in technology or culture in the UK?
It is challenging to create a hero who is not in the police force. We've moved, for excellent reasons, to heroes who are operating within the force. Because then you have access to all this amazing evidence and it's credible. That's what real life is like.
Having said that, private detectives do still exist and many of them have come out of the forces. You find a lot of people in close protection and detective work are ex-SIB as Strike is, or ex Police. It's an interesting world. You get to focus far more on the individual, it's much more small-scale.
Because I had this idea for this relationship between this man and this woman, that was the world it had to be in. If I'd placed them both on the police force, the dynamic between them would have been entirely different.
I wanted to explore a far more small-scale, human operation and a far more personal relationship.
It feels different in the sense that it's not procedural.
It's not procedural. That's interesting from a narrative point of view, because I get to create plots that are driven in different ways.
The Cuckoo's Calling, which is a cold case obviously, is probably the most procedural of all the novels that I've written. The plot does unfold with the investigation. Silkworm is utterly different, because of the conceit of the novel within the novel.
You go into particular industries with the first two books, but then when we get to Career Of Evil you're taking us much closer to Strike's own world. Did you feel it was the right moment to do that?
Exactly. Although each of the books is of course a discreet adventure, I do have a longer story to tell, which is the story of Strike and Robin themselves. The larger plot is about these two characters and what happens to them personally, so that's the thing I'm really keeping an eye on.
I wanted Strike's first case to make him, as it were. In other words, I wanted him to solve a very high-profile case. With The Silkworm he's dealing with the murder of someone who desperately wanted to be very famous, but really wasn't. So that wasn't going to achieve what I wanted to in terms of setting Strike up as someone who was much more high profile than he expected to be.
You say that you're often obsessed with your characters' pasts. You must have gathered quite a lot of information about Strike by the time you got to Career Of Evil. Did you think about how much you should put in there?
Through the whole of the first three books I have seeded future plots. I already know where he's going to go and I've already mentioned things I need to mention. I've mentioned people I need to have mentioned, because you will meet them in further books.
It's a question of really knowing who they are and using that. I enjoy reading books of any kind, not just detective fiction. Where I feel the author really knows, I feel like I'm in safe hands. They know everything - I don't need to worry, they've got it all worked out. I like that feeling when I read a book. That's the kind of book I want to write.
Related Programme Information