Mark Wright
Dancing the Salsa with Janette Manrara to Christmas Wrapping
Published: 10 December 2019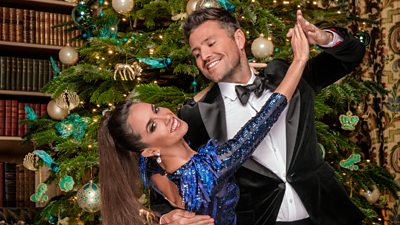 It was five years ago and I've always thought about it ever since. That feeling of sheer nerves and a sheer adrenalin rush stepping out there on the dancefloor.
What made you want to return to the dancefloor this year?
How could I turn it down? What an experience it was! It was five years ago and I've always thought about it ever since. That feeling of sheer nerves and a sheer adrenalin rush stepping out there on the dancefloor. I always watch it and reminisce on that euphoric feeling so to be able to do it again is phenomenal.

Have you carried on dancing since you left the competition?
No to be honest, well no professional dancing.
What's your dancing like now?
It's gone backwards a little bit, I won't lie. I'm a bit older and the joints have stiffened up. I won't be horrendous but I'm never going to be that good as I'm not the best dancer as it is.
What are you most nervous about returning to the ballroom?
It's always nerve-wracking stepping out on to that dancefloor so I'm just nervous in general. I'm nervous I'll make myself look silly or that I'm not going to dance well, but I've got the salsa so you've got to have a bit of rhythm for that.
What was your favourite dance the first time around?
The Jive or the Charleston. Anything fast but the salsa is fast but you need rhythm with it and dance hips. It's a hard one. I was in the dance off last time I did the salsa so that adds to the nerves.
Have you kept in touch with many of your old classmates?
I speak to Jake Wood every now and again and Thom Evans a lot. I knew Caroline Flack already and Karen, my partner, obviously and Aljaž - quite a few of them!
What's it like to train with a different dance partner?
It's fun, its interesting! As you say its different which makes it good. It was great having Karen, I would have loved to have her again but she's still in the competition so to have Janette is unbelievable. I remember when it first started Janette was so kind to all the celebs on the first day, and she was dancing with Jake Wood that year. If I hadn't have had Karen that's who I'd want so now I've got the other one I want.
Who will you be bringing to the show to cheer you on?
Probably my mum and my sister. My wife is working so wont be able to be there. My family were there all the time the first time around.
Who's your biggest competition?
They're all good. I'd say Joe or Debbie. They were both very, very good.
Have you been watching the show this year? Who's your money on?
Yeah, loads of it. I watch it every week. I wanna say Kelvin. He's my mate so that's who I'm rooting for, but he's got stiff competition - Karim's very good. I think Anton has a massive chance this year with Emma.
How much training have you been able to do?
As much as I can. A couple of days already and a few more to go. Not as many as I would have liked but being busy you can't do it every day but hopefully I get some more hours in!
What will you be doing on Christmas day?
I'll be opening presents with my wife, then round to the family for dinner and more presents then we'll all be sitting down to watch Strictly. 
Name your three dream Strictly Christmas dinner guests…
Craig, because I want him to give me good scores on Christmas day. Karen, because she was my partner and a friend and I hear she's a good cook too. Janette of course, as my Christmas Strictly partner. 
What does Christmas mean to you?
It's my favourite day of the year. It brings pure happiness and joy. 
Related Media Centre Links
Related Programme Information
Related Web Links