Gillian Burke on the Road
Gillian is travelling from tip to tip in this year's Springwatch - starting off in the most northerly part of the UK, coming down through it's industrial heart and finishing up right at the bottom of Cornwall near Land's End.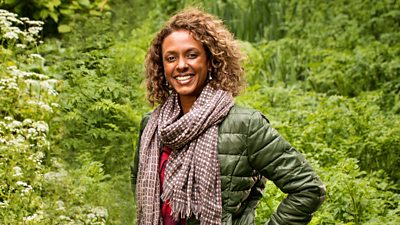 Her journey begins on Shetland, where she will spend the first week of the series exploring these windswept and isolated islands, and the remarkable wildlife that lives up here.
She will join the locals on the annual orca survey; hoping to catch sight of the wandering population that comes through Shetland at this time every year; check in on some of the largest and most important seabird colonies in the country; explore the shallows to search for a remarkable fish that is an otter's favourite snack at this time of year; and meet the man that looks after the UK's most northerly woodland.
In the second week Gillian and her team will be in the industrial heartland of Yorkshire, visiting three nature reserves formed by the recent closures of the mines just outside Leeds.
These newly-formed areas are already a hotpot for some amazing wildlife - from a quarter of the UK's breeding population of black-necked grebes to the rare and endangered willow tits and the return of an iconic and charismatic reed-bed specialist, the bittern. Gillian will also visit 'Oddball' - an old mine excavator which was once the largest piece of machinery in the world - and is now probably the largest birdbox in the world!
For the last week, Gillian will travel to her own stomping ground of Cornwall, to visit the peregrines and choughs that have made a remarkable comeback on these epic cliffs, and get into the rockpools to explore perhaps the toughest habitat in the UK - the tideline.
Related Web Links