Technology
Millions of years ago incredible forces ripped apart the Earth's crust creating seven extraordinary continents.
Published: 22 October 2019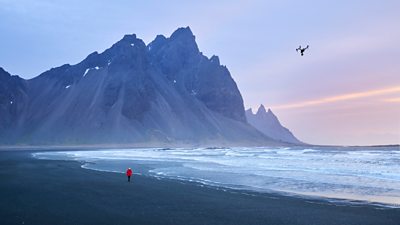 Using any new technology is a risk and it doesn't always pay off. However, with time and dedication the right technologies can help us reveal things like never before.
How has technology changed in natural history filmmaking recently?
In the last five years we've seen a dramatic increase in the resolution our cameras can achieve. We're now shooting footage in 8K. These cameras are able to help us reveal the real beauty and detail of the natural world.
We've also witnessed the dramatic growth of drone technology coupled with high resolution miniature cameras that can be flown on them.
There have also been developments in the world of thermal imaging which we have been able to harness. HD resolution thermal imaging has been able to help us see things we simply couldn't do with the naked eye.
Tell us about the use of drones and what makes these so unique to Seven Worlds, One Planet...
Drones have had a big impact on Seven Worlds, One Planet. Before we started the production, to carry a camera of suitably high quality it more than likely needed a large drone with a very experienced operator to fly. Whilst this was fine for some shoots it wasn't appropriate for all of them and certainly didn't offer us the flexibility needed capture animal behaviour.
However, drone technologies are changing rapidly and this allowed us to fully benefit from the development of smaller, lighter yet still very high quality images they could produce.
These smaller drones were not only easier to negotiate the use of in foreign territories but also simpler to transport, configure and get flying. The speed these drones could be deployed in the air was often key to capturing the behaviour we were after and bringing a fresh perspective to the series.
What training goes into flying this type of equipment and how many members of the crew could fly them?
We used a range of pilots across the series. Six of our team were trained to operate drones and we also used a range of very talented freelance pilots. It's a bit like driving a car… passing the test is just the beginning and doesn't instantly make you the best pilot in the world. It's a question of time in the field… and we had plenty of that!
Having members of the team as qualified pilots not only helped on location but was often vital in us securing permission to use our drones in countries around the world; we believe we were the first foreign company to be given official permission to film with drones around Lake Malawi!
We've worked with some of the best drone pilots in the natural history business and we think the results speak for themselves.
What other technology was used to make the series and why?
High Definition long-range thermal imaging cameras from a UK company based in Basildon helped us reveal the behaviour of wolves at night in Europe.
Specially developed UHD camera traps also helped us record the lives of a very elusive cat.
And novel new 'scope' lenses were used to give a unique angle to one of the world's largest birds; the wandering albatross.
Technology reveals new perspectives of seeing wildlife as it's never been seen before… what goes into capturing this type of content?
A lot of planning, heartbreak and frustration! Using any new technology is a risk and it doesn't always pay off. However, with time and dedication the right technologies can help us reveal things like never before.
Our UHD camera traps suffered from flooding after an unexpected downpour yet, after we'd repaired them and put them back out they delivered. Our drones are another example - they didn't always come back in one piece for a variety of reasons but they were patched up and delivered some breath-taking behaviours and sequences.
How does innovation in technology impact on teams?
Our teams are a knowledgeable and persistent bunch. Not only are they some of the best natural history film makers in the business but they're also pretty clued up tech-savvy individuals as well. You have to be. The technology just in the cameras we now use to capture our stories is complex and teams need to know how to overcome problems on location - it's not easy to send it back to the manufacturer when you're in the middle of the Antarctic!
Technology can also make our teams look a bit silly (all for health and safety reasons). When hand-catching our drones on boats in order to protect our crew we ensured they wore helmets, face guards and heavy-duty gloves. This led to some of our team wearing cricketing helmets with face guards in some of the most remote parts of the world. We may not have won the Ashes series but cricket has it's other uses!
Filming firsts
North America
Lynx hunting snowshoe hare from drone
Polar bears jumping from rocks to catch adult beluga whales
Firefly spectacle shot using motion control tracking time-lapse camera
South America
Puma successfully hunting adult guanaco
Multiple Andean bears feeding in a single tree at 30 metres up in the cloud forest
Mimic poison dart frog parents piggybacking their tadpoles to secret hiding spots in the Amazon forest
Antarctica
The largest aggregation of great whales ever filmed
Jellyfish being caught and eaten by sea anemones in Antarctica
Leopard seal hunting gentoo penguins from drone
Orca hunting gentoo penguins from drone
Europe
European wolves hunting at night in the mountains of Italy
Pelicans flocks mugging cormorants in the vast expanse of the Danube delta
The antics of thieving hamsters in Vienna's cemeteries
Asia
Sarada lizards (look like colourful miniature dinosaurs) battling
A newly-discovered species of viper hunting - first broadcast 4K quality footage (not the very first footage but the snake is a newly discovered species)
Sumatran rhino singing
Australia
Dingo hunting kangaroos in the wild
Mass shark aggregation from drone
Wild Tasmanian devil den
Spid-a-boo mating dance first 4K broadcast quality footage (the jottus jumping spider is a newly discovered species)
Africa
Brown hyena in the Namib desert filmed using drone
Sir David Attenborough with last two northern white rhinos on Earth
Related Media Centre Links
Related Programme Information
Related Web Links