Music
Millions of years ago incredible forces ripped apart the Earth's crust creating seven extraordinary continents.
Published: 22 October 2019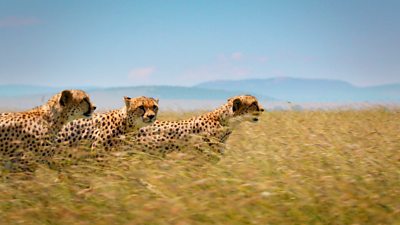 These stories of nature are so important for us to show and preserve for future generations, and I am honoured to be a part of spreading this message.
Hans Zimmer has scored more than 200 projects across all mediums, which, combined, have grossed more than 28 billion dollars at the worldwide box office.
Zimmer has been honored with an Academy award, two Golden Globes, three Grammys, an American Music award, and a Tony award.
Zimmer's work highlights over the past few years include Widows, which reteamed the composer with director Steve McQueen after previously working together on the critically acclaimed 12 Years A Slave; Blade Runner 2049 which he co-scored alongside Benjamin Wallfisch and earned Grammy, Baftaand Critics' Choice nominations for Best Score; and Christopher Nolan's Dunkirk which earned him nominations for an Academy award, Grammy award, Golden Globe, Bafta award, and Critics' Choice award.
Other notable scores of Zimmer's include Gladiator, The Thin Red Line, As Good As It Gets, Rain Man, The Dark Knight trilogy, Inception, Thelma And Louise, Black Hawk Down and The Last Samurai.
Most recently, Zimmer scored the live-action remake of The Lion King, which was released by Disney in July and has earned over $1.6 billion so far at the box office, breaking numerous box office records.
Upcoming, Zimmer will compose the music for Wonder Woman 1984 set to be released by Warner Brothers June 5, 2020 and Top Gun Maverick, the highly anticipated Top Gun follow-up which will be released in June of 2020 by Paramount.
Recently, Zimmer completed a highly successful, critically acclaimed tour across Europe and the US including wildly successful and well-reviewed performances at Coachella in 2017.
Upcoming Zimmer will hold performances in Singapore, China, Korea and Australia, with more locations to be announced.
Hans Zimmer says: "Following up Planet Earth II and Blue Planet II was no easy task, but the BBC have outdone themselves yet again with the magnificent Seven Worlds, One Planet. It was a true honour to return to the series to compose the theme with Jacob Shea for Bleeding Fingers Music, and a special pleasure to collaborate with Sia for Out There. These stories of nature are so important for us to show and preserve for future generations, and I am honoured to be a part of spreading this message. I know audiences will be blown away by this latest series from BBC Studios' Natural History Unit and I am excited for everyone to get a chance to listen to the incredible score."
Q&A with Jacob Shea and Russell Emanuel of Bleeding Fingers Music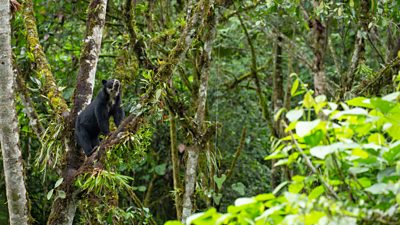 Filming firsts
North America
Lynx hunting snowshoe hare from drone
Polar bears jumping from rocks to catch adult beluga whales
Firefly spectacle shot using motion control tracking time-lapse camera
South America
Puma successfully hunting adult guanaco
Multiple Andean bears feeding in a single tree at 30 metres up in the cloud forest
Mimic poison dart frog parents piggybacking their tadpoles to secret hiding spots in the Amazon forest
Antarctica
The largest aggregation of great whales ever filmed
Jellyfish being caught and eaten by sea anemones in Antarctica
Leopard seal hunting gentoo penguins from drone
Orca hunting gentoo penguins from drone
Europe
European wolves hunting at night in the mountains of Italy
Pelicans flocks mugging cormorants in the vast expanse of the Danube delta
The antics of thieving hamsters in Vienna's cemeteries
Asia
Sarada lizards (look like colourful miniature dinosaurs) battling
A newly-discovered species of viper hunting - first broadcast 4K quality footage (not the very first footage but the snake is a newly discovered species)
Sumatran rhino singing
Australia
Dingo hunting kangaroos in the wild
Mass shark aggregation from drone
Wild Tasmanian devil den
Spid-a-boo mating dance first 4K broadcast quality footage (the jottus jumping spider is a newly discovered species)
Africa
Brown hyena in the Namib desert filmed using drone
Sir David Attenborough with last two northern white rhinos on Earth
Hans Zimmer and Jacob Shea - Composers
Russell Emanuel - Score producer, Bleeding Fingers Music
Where do you start with a new score for a new series?
Jacob: Generally, it starts with a phone call from the show's executive producer at the BBC… then we get to work! With Seven Worlds, One Planet, the BBC wanted to hear a theme very early on. That was going to be the basis on which they decided what musical direction to take the show in. We wrote something and sent it over, and we were lucky enough that they responded positively to it. Then we set off on an adventure of writing a bunch of music for a great series.
Russell: In the early stages, there's definitely a vision that the producer and directors will have for the show. There's a creative brief and direction that we all discuss as a team. Most of it is conceptual but some of it is based on what they're capturing in the field.
What was that brief?
Jacob: They wanted to show the kind of things that you would least expect to exist, behaviours that you would least expect to witness in any particular continent like snow in Australia, as an example. By the same token, they didn't want to have it be a 'world music' score. They wanted everything to tie together in a unifying way, so it was a unique challenge to be vibrant in our orchestrations.
How do you come up with that first theme?
Jacob: Hans [Zimmer] and I, we talked about the series at the piano. We decided that it made sense to make the melody very simple, based on a scale-like motif. In every musical discipline in each culture, usually you learn your scales, so we thought it would be a nice, unifying element to keep the melody very, very simple and based on the first three notes of the Western scale. We did a major version of that and a minor version of that. That's where the impetus for the tune came from.
Once you have that first theme where do you go from there?
Russell: Jacob leads the charge as the series composer - there's an enormous amount of writing to do. Behind him, there's an amazing team assisting, executing on orchestration and organizing studios and recording sessions. These big, blue-chip natural history series are an enormous task, challenging creatively as well as being extremely rewarding. There's a whole logistics to go through. It's a bit like putting on a world tour. There's a whole bunch of juggernauts and trucks on the road behind the main act.
How does getting to see early footage help in the process?
Jacob: It's hand-in-glove in terms of inspiration. It is the inspiration. We're lucky that we get to see various edits of what will be the final episode. The editorial team on the picture side gets closer and closer to reaching a locked version as we are writing. The way it's shot, and the narration that we get to hear when we're working, influences absolutely every part of the music.
In this series, each continent offers up a different story but of course they are all interlinked. How did you approach that idea via the music?
Jacob: We figured it out as we proceeded. In Asia, for instance, we did a lot of bell tones, not necessarily gamelan, but celesta and piano bells and harps kind-of-instrument combinations, and that seemed to lend itself to the imagery. We discovered that through a process of trial and error. Each episode has a very distinct flavour, and it's as a result of the episode's director and music team coming together creatively to develop the right voice.
Russell: The beauty of this is every director is so deeply immersed in his or her episode that they have a solid direction they want to give. Our job is to sustain a musical DNA that runs through the entire show. I think it comes together beautifully.
Which of the stories you've seen did you find most striking?
Jacob: We also did the music for Planet Earth II a few years ago and even between then and Seven Worlds, One Planet you can see that the environment has changed. It makes your heart sink when you see these emaciated polar bears, walking in a place that should be filled with ice and snow… but instead is just a barren desert of rock. In this series you get a real sense from a bird's-eye view that the world is starting to look a little different, and that is what stays with me.
Bleeding Fingers biography
Emmy and Bafta-nominated Bleeding Fingers Music is an established creative force in the world of music for visual media. The collaboration-led composer collective has been entrusted with elevating many iconic projects, highlighted by Fox's The Simpsons, and BBC's Planet Earth II and Blue Planet II. The team has also become a reliable music source for many networks and studios, such as Netflix, National Geographic, History, A&E, Sony Pictures, and Dreamscape VR.
Bleeding Fingers has assembled a diversely talented collective of exceptional composers, providing them with a state-of-the-art environment that encourages creativity, experimentation and collaboration. The team hails from eight countries and their diverse styles, influences and backgrounds come together to give our music a wide-ranging appeal. The team has also found innovative ways to bring mainstream musicians into the scoring world, collaborating with artists such as Radiohead, Sia and X Ambassadors.
Twenty state-of-the-art studios based on Hans Zimmer's world renowned campus and a best-in-class production team allow Bleeding Fingers the ability to produce music at the very highest standard. Bleeding Fingers has created original music for productions including: Blue Planet II (BBC), Planet Earth II (BBC), Seven Worlds, One Planet (BBC), The Simpsons (Fox), Superfly (Sony Pictures), The Planets (BBC), Princess Diana: In Her Own Words (Nat Geo), The Package (Netflix), Dope (Netflix), Alien Zoo (Dreamscape), The Planets (Nat Geo), American Playboy (Amazon), Roman Empire (Netflix), Barbarians Rising (History), The World Wars (History), Big Cats (BBC), Snatch (Crackle), The Making Of The Mob (AMC), Savage Kingdom (Nat Geo), Live Pd (A&E), Masterchef (Fox) And 13 Minutes To The Moon (BBC podcast).
Related Media Centre Links
Related Programme Information
Related Web Links