Scream Street
Hilarious new comedy horror brings zombies, vampires, mummies, witches and monsters to the CBBC neighbourhood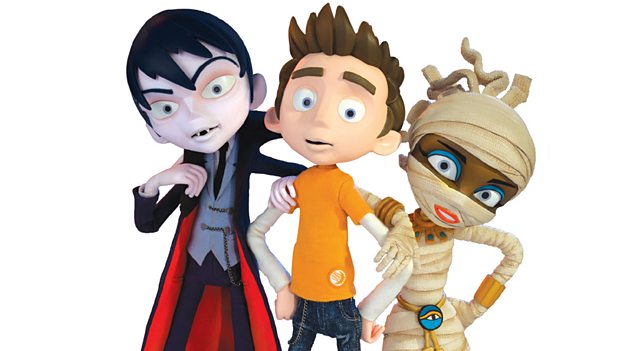 Scream Street
This spooky treat will be an exciting addition to CBBC in October and I'm sure it will thrill our audience with its wonderful characters and brilliant voice cast.

Cheryl Taylor, Controller, CBBC
Date: 28.09.2015
Last updated: 29.09.2015 at 14.16
Brand new and coming to CBBC in October, Scream Street is a fast-paced and stylish comedy-horror extravaganza based on the hit book series of the same name. It follows the adventures of Luke Watson, a regular teenager apart from the werewolf gene!
The 52x11 funny, scary, gross-out stop-motion animation is voiced by Tyger Drew-Honey, who plays Luke, with John Thomson, Debra Stephenson, Claire Skinner, Rasmus Hardiker, Tala Gouveia, and Jim Howick playing the residents of the extremely spooky Scream Street.
When the Government Housing of Unusual Lifeforms (G.H.O.U.L.) gets wind of Luke's hairy habit, they transfer him and his parents to Scream Street – where surfer-dude zombies, sarcastic vampires, martial arts mummies, glamorous witches and just plain-bad monsters put a whole new spin on community spirit.
The stories are packed full of horror and humour delivered with warmth and heart - even if some of those hearts have stopped beating!
Tyger Drew-Honey, who plays Luke Watson, says: "Luke is on Scream Street because he's a monster - he turns into a werewolf and this made him quite unpopular in the real world. He much prefers Scream Street, as he's got all his monster friends there.
"The only problem really is that of course his parents are there with him, and they're normal, so they don't particularly like it - especially his dad, who doesn't like living in Scream Street whatsoever!"
John Thomson, voice talent, says: "This is my absolute dream job, because ghosts, ghouls, werewolves and monsters are my thing. I like comics and sci-fi and horror, so to work on something that's based on vampires, werewolves and mummies is a joy for me."
Debra Stephenson, voice talent, says: "It's a very exciting show; I think because of the content - it's about ghouls and ghosts and mummies and vampires and werewolves - but also very funny and it has a heart. The puppets and the set look so fantastically colourful and the type of animation looks so different and stylish."
Cheryl Taylor, Controller of CBBC, comments: "This spooky treat will be an exciting addition to CBBC in October and I'm sure it will thrill our audience with its wonderful characters and brilliant voice cast."
Scream Street has been brought to life as a fast-paced and stylish series with a strong focus on drama; the show has a rich, vivid look and feel, incorporating cinematic stop-motion animation techniques.
The show is based on Tommy Donbavand's popular children's book series of the same name and showrunner Giles Pilbrow (Spitting Image, Horrible Histories) leads the UK and US writing team. There is a strong focus on fast-paced situation comedy, and the show forms part of the recent trend of premium, film-quality productions delivered for television.
Scream Street is produced by international media group and rights owner Coolabi (Beast Quest, Clangers, Poppy Cat), with Walker Books' production division, Walker Entertainment, as executive producer. The show is being co-produced by Altrincham animation studio Factory (Clangers, Newzoids, Strange Hill High), and the renowned puppet and model-makers Mackinnon & Saunders (Fantastic Mr. Fox, Frankenweenie) have created the cast ensemble.
Jeremy Banks, Chief Executive Coolabi Group, says: "At Coolabi, we're committed to producing innovative, stand-out shows with incredibly high production values that push genre boundaries. Scream Street is testament to that, and working once again with our partners at Factory and BBC Children's, we've produced an incredibly high-quality and stylish stop-motion show, that looks like nothing else for the CBBC audience."
For more information please contact:
Fiona McGarva
Sundae Communications
fiona@todayissundae.co.uk
Production Facts about Scream Street
There are more than 1,700 props used within the first 15 episodes
There are 473 props used in the interior set of Eefa's Emporium alone
The Big Red Monster Hoover from Scream Clean is actually made up of two real hoovers
On average an animator will produce nine seconds of footage per day
It takes around four months to make one episode of Scream Street
We use cling wrap and hair gel to create the effects of water and slime in a stop-motion environment
Fun facts about Scream Street
There's one person who Otto's afraid of… his Mum!
Resus may look like a regular vampire, but his fangs are actually fake
In Scream Street, even the houses can be monsters
Luke the Werewolf isn't all bad: as well as transforming into an angry werewolf, Luke can actually part-transform into one - so when he might need to listen out for something, he can part-transform his ears.
Resus has a magic cape with a hidden pocket that he can use to produce things he needs. Though sometimes it doesn't quite work out the way he'd like - ask for a sword, and you might get a rubber duck
Cleo is a dab hand at martial arts, and is a black belt in just about everything from kung fu to origami
Search the site
Can't find what you need? Search here