Interview with Maggie Ollerenshaw
Maggie Ollerenshaw tells us what we can expect from her character, Geraldine, in new comedy Scarborough.
Published: 27 August 2019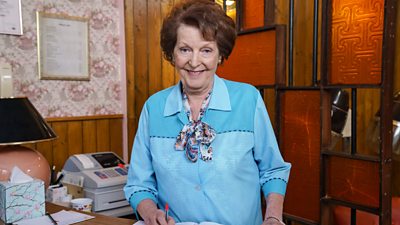 It's full of humanity as well as comedy and I think Derren's done a great job.
Tell me a bit about your character?
Her name is Geraldine, she's been running a hair dressing salon in Scarborough for 35 years. It's one of those places that's rather old fashioned so the cliental is mostly, as said in the show, "between 75 and death". It's a great asset to the community, people feel like it's a home. They all like going there and being there, it's kind of traditional in every sense of the word.
What attracted you to the role?
It was a no brainer because I love the character and the writing. You might have heard it before but it's true, you very rarely read scripts and laugh out loud. I think it's amazing the way Derren manages to combine everything, and he's in it as well! The writing is superb and what really impresses me is his demeanor on set. Sometimes you work on stuff and it's very serious, but this is serious in a sense that everyone's doing their job and it all comes from him. He manages to maintain a really light touch all-round.
Can you tell us a bit about your co-stars and what's it like working with them?
I love them all! I've worked with Stephanie before but everybody else is new to me, especially the youngies who are fab as well - we had a ball.
What should people expect from the series?
It's funny but there's lots of quite moving bits in it too. It's full of humanity as well as comedy and I think Derren's done a great job and hopefully we can pull it off.