Interview with Claire Sweeney
Claire Sweeney tells us what we can expect from her character, Hayley, in new comedy Scarborough.
Published: 27 August 2019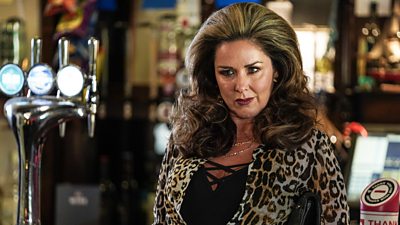 It's not just broad laughter, it's subtle, it's clever, it's funny, it's poignant and it's beautiful.
Can you introduce us to your character and what role she has in the series?
My character is called Hayley Cox and I think she's quite fabulous, even the outfits alone are so empowering. The minute I get va va voomed up, I get the shoes on, the leather pants, the hair, I feel like "This is it, this is Hayley Cox". She thinks she's above everyone else. She doesn't really care about anyone, she doesn't care what they all think. She's got her life with Tony Peroni and when he was in jail she did what she had to do to get by, whether that be a bit of Mike or a bit of whatever! She knows where the bodies are buried with Tony, they're the type of people who are old school gangsters, the loyalty they have to each other just goes way back, they know too much about each other and they have each other's backs.
What attracted you to the role?
Anything Derren does is just genius. I did Benidorm for Derren and he writes these wonderful characters. I was so flattered to be asked to be involved. Derren makes me feel safe, I know I'm in good hands and I feel very comfortable being directed by him, he knows what he's doing and he gives great notes.
Tell us a bit about your co-stars and what it's been like working with them?
I knew Jake (Canuso) from Benidorm, he is wonderful and he's so different to his character, he's brilliant. He really thinks about his character, about the past, about the history, he's very thorough. Jason I've worked with before, we did Chitty Chitty Bang Bang and we're really good mates. Steve I worked with in Benidorm, Catherine I've just done a workshop with for a Jim Cartwright play.  For me it was a bit nerve-wracking but there was the comfort of the feeling of working with your mates.
What can people expect from the series?
There's a lot of laughs but there's a lot of pathos. Derren's written some scenes that when we we're doing the read-through, actually made me cry they were so beautiful. Plus the fact they were acted out by Stephanie Cole and Kenneth Cranham, two legends. The people he's got in Scarborough, I just feel honored to be on a show with them. It's not just broad laughter, it's subtle, it's clever, it's funny, it's poignant and it's beautiful.