BBC announces a Russia themed season to mark the October Revolution centenary
To mark the centenary of the October Revolution, the BBC has commissioned a selection of programmes across television and radio examining this significant event and its continued impact on society.
Published: 20 September 2017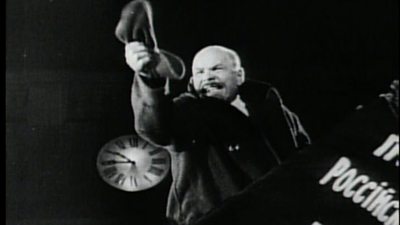 As revealed across this challenging and stimulating range of programmes, the October Revolution was a seismic event that changed global history in ways that are still being felt today.
Spanning, art, culture and politics, these new programmes explore the historical context for the formation of the first communist state, as well as current attitudes towards Russia - held by both those living there and those looking in.
On BBC Two, Countdown To Revolution is an in-depth exploration of the October Revolution. Including contributors Martin Amis, Orlando Figes, Helen Rappaport, Simon Sebag-Montefiore and China Miéville, this film asks how events a century ago continue to shape the world we live in.
Also on BBC Two, Simon Reeve takes audiences on a journey across the world's biggest country in Russia With Simon Reeve. Simon shows first-hand what it's like filming in Putin's Russia and introduces audiences to the vast range of characters inhabiting this diverse nation.
Meanwhile, BBC Four delves into the art, architecture and music of the period. Revolution - New Art For A New World reveals the Avant-Garde movement that flourished after the October Revolution, only to be stifled by Stalin. The Real Doctor Zhivago goes behind the written text of Pasternak's masterpiece and the series, Tunes for Tyrants: Music & Power With Suzy Klein, looks at how revolutionaries and despots exploited music's emotive power to manipulate the masses.
BBC Four also presents a re-mastered version of October: Ten Days That Shook The World - the 1928 film made in Russia, for Russian audiences. More than an archive of footage, October: Ten Days That Shook The World continues to receive acclaim for its use of imagery 90 years later.
Patrick Holland, Controller, BBC Two, says: "I am delighted to announce such a stunning and important range of arts, music and history documentaries across BBC Two and Four to mark this anniversary. As revealed across this challenging and stimulating range of programmes, the October Revolution was a seismic event that changed global history in ways that are still being felt today."
BBC Radio 4's coverage of the centenary begins with a Start The Week Special: Russian Revolution, with Tom Sutcliffe. Broadcasting from Moscow, Tom explores how Russians today embrace or reject this momentous occasion in their country's history.
A major new drama, Ten Days That Shook The World, tells the story of the October Revolution over two weeks based on the day-to-day reportage of John Reed, an American journalist, dramatized by Robin Brooks for Radio 4.
Uniquely Russian outlooks on philosophy and humour are also examined in Revolution In Ideas and It's Just A Joke, Comrade: 100 Years Of Russian Satire respectively. While the vast history of Russia is explored from varied angles in Russia in Five Babushka Dolls, which tells the tale of Russia through five influential women and The British Road To Bolshevism, which uncovers how London played an unassuming role in the rise of communism.
BBC Radio 3 brings Russia to the forefront of many of their weekly shows. Michael Berkeley is joined by Russian historian and best-selling author, Simon Sebag Montefiore in Private Passions.
A special edition of Composer Of The Week sees Donald Macleod joined by the musicologist and expert on Russian music, Professor Marina Frolova-Walker. 
The Essay aims to capture the spirit of the Revolution through the stories and artists of the time in a special two-week series. Specialist programming will also feature: Between The Ears - Bring Me The Head Of Karl Marx investigates pilgrimages to Karl Marx's Highgate cemetery; Tom Service tells the story of the Russian century through ten works of art in From Russia With Love; and Drama On 3 presents Brian Friel's acclaimed dramatisation of Turgenev's novel, Fathers And Sons.
RH2