Vinegar Strokes
The ten beautiful drag queens who will be competing for the title of UK's first Drag Race Superstar have been ru-vealed.
Published: 21 August 2019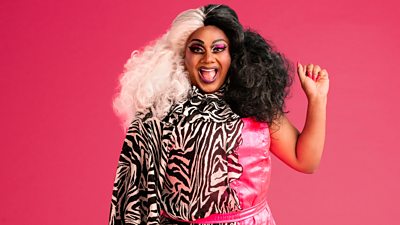 I do think it takes a certain kind of person to do drag. You've gotta have balls of steel and be able to tuck them really high as well.
Tell us a bit about you?
I'm Vinegar Strokes, I'm 35 years and I'm from London and yes I'm a proper London lady, zone five. I am a straight up comedy queen, I do stand-up comedy, I sing in my own particular style. I'm like Tina Turner meets Lizzo meets Kat Slater. 
What makes you unique?
I embrace who I am. I'm a working class girl and I like to put that in my act and celebrate that and wear my heart on my sleeve. It's really important to me because we live in an age where so many want to be something else and actually it's great to celebrate who you are.
How did you come up with your drag name?
The origins of my name came about with me putting makeup on for the first time and sending a picture to my best friend, who replied with: "Alright Vinegar Tits", and I were like: "Vinegar? That is a hot name." I wasn't sure about 'tits', so I went on the internet and Vinegar Strokes popped up and I thought that's my name!
How did you first get into drag?
I've been doing drag for four years now and my first gig was a Halloween gig and so yes I'm a Halloween queen. I was asked to do a comedy show at my friend's bar and he said can you come as a witch? I said absolutely not and he said: "I can offer £75." I said: "What time do you need me?" And so, Vinegar Strokes was born. We had a good old time and I've never looked back.
I do think it takes a certain kind of person to do drag. You've gotta have balls of steel and be able to tuck them really high as well. You have to be brave and not give two shits, and to use your voice in a unique and special way. It's a hard career and at the same time it's really rewarding. You have to cause a storm.
What impact has drag and RuPaul's Drag Race had on your life?
Drag is the new black.
When I say drag is the new black I mean drag is everything you want it to be.
Drag has been the best decision I have ever made. I started off as an actor, which is so hard to get even an audition and drag has given me the opportunity to do so many amazing acting jobs and comedy shows, performing up and down the country, in the West End.
RuPaul's Drag Race is all about love and expression and freedom, and that really struck a chord with me. As I'm from a generation where you were knocked back if you were different, so to be able to do this right now when all eyes are watching is incredible.
What are your career highlights to date?
My career highlight has to be performing in the west end in Everybody's Talking About Jamie. I've been able to work with Michelle Visage and Bianca Del Rio and it's great to be able to take drag from a small idea to the West End and hopefully beyond that.
But Michelle Visage is a Drag Race judge? Is that going to be a help or a hindrance?
I did dance with Michelle Visage every single night, but I've already been clearly told there's going to be no favouritism and this will be a level playing field. She won't be allowing me any airs or graces when it comes to RuPaul's Drag Race UK - I better come correct!
How competitive are you?
I am very competitive but I don't step on people to get to where I need to get to. My biggest competition is myself.
I'm feeling quite confident about my lip syncing skills but my sewing skills are shit!
What are the challenges for you doing drag?
Oh so many challenges! I tick so many boxes - he's black, he's gay, he a bit fat, he dresses like a woman which some people would say: "This is all wrong."
I am showing people who come from working class backgrounds, with single parents, with practically everything against you right from the get go that following your dreams is possible.  I hope having someone like me on this show inspires people, especially if they've come from the same background as me; look like me, or are questioning themselves. I hope I can inspire them to think that it doesn't matter where you've come from, with hard work you can get to places which feel out of your reach.
Where were you when you found out you had been chosen to appear on RuPaul's Drag Race UK?
I was sat in a café and my phone rang they said it was a yes and I absolutely lost it. I ran out of the shop screaming. It was such a crazy experience to know I'd made it on to the first ever season of Drag Race UK - it's mental!
The first season means so much because it gives you that go ahead to say you're doing the right thing. I must be doing something correct. I am so excited about this!
Who are you when you're not in drag? Who is the real person behind Vinegar Strokes?
Underneath all of this is a guy called Daniel. I spent a long time doubting myself and not knowing where I wanted to go in life or how to get there. There's been times of having my confidence knock from people and the best thing I've done it to build it back up so it's stronger and unshakable.
Related Media Centre Links
Related Web Links