Gothy Kendoll
The ten beautiful drag queens who will be competing for the title of UK's first Drag Race Superstar have been ru-vealed.
Published: 21 August 2019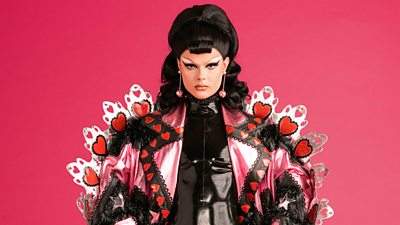 I don't lip-sync at the party, I throw the party!
Tell us about you and Gothy?
My name is Gothy Kendoll, I'm 21 and I'm from Leicester. My name comes from my friend who described me as a Ken doll but a gothy one because I used to be wear loads of black, have really black hair, but also be really tanned and wear loads of makeup!
How would you describe your drag? What makes you unique?
My drag is dark, contemporary, striking and unique, and everything that is cool and fresh about UK drag now. The fact that my name is Gothy lets me bring in those darker elements; especially when it comes to wigs and makeup. 
I like to look very different to traditional queens who are more camper, and more performance based. I also do a lot of different work compared to other queens in the UK. I like to DJ, host and throw parties - that's what I'm good at. 
I feel like a lot of queens in the UK are quite shut off to their own perception of drag and that what makes me standout amongst them.
What's your greatest strength?
I'm really good at coming up with concepts and executing them in a really unique and striking way that is true to Gothy. I'm inspired by Grace Jones, Annie Lennox, people in the 80s who were redefining what gender is and what gender can be; also fast fashion; other drag queens across the world; I find inspiration from everywhere.
Are you a competitive queen?
I would consider myself quite competitive. When I first started working in drag I was voted as one of the best drag queens in Leeds within three months so getting that made me competitive. I always want to be the best I can be and that's a good way to be.
What are you most nervous about in Drag Race?
I don't have that much experience in performing. I'm not the strongest dancer and when it comes to lip-syncing; it takes me ages to learn a song. I'm so thick. 
I don't lip-sync at the party, I throw the party! 
What are your sewing skills like?
I went to uni to study fashion, and I can pretty much sew anything. I can sew really well - catsuits, headpieces, everything.
What inspired you to do drag?
When I first did drag I was half way through a project on drag. I was writing my dissertation on the art, the metamorphosis. I had so much fun doing it and getting that first-hand experience really helped me develop better ideas and different ideas.
What does being in this competition mean to you?
Being in this competition means the world to me. Being cast doesn't even feel real. Getting to show my drag to a national and international audience feels insane. 
Tell us about your first time in drag?
I first did drag on News Year Eve 2016 and it was a mess. I was in a leotard with no wig on but I was living my life, having the best night ever. But, I knew that I looked like a bit of a busted mess so for six months after that I just practised in my room until I was at a level I was happy with. The first time I went out, I got my first gig!
What has been your biggest drag mishap?
I think my biggest mishap was about the third time I did drag. I went out with a leotard with no pants dancing the night away. My friend just said 'Sam' and looked down. Then my knob was out, balls and everything. When I found I tucked it away and carried on dancing - I didn't care. 
After that I've made sure I tuck my balls away - not full on tuck though.
How has RuPaul's Drag Race impacted on your life?
I think for a lot of queens my age Drag Race sets the standard for drag and what modern drag is. I'm definitely inspired the show as it literally changed my career.
Related Media Centre Links
Related Web Links