Blu Hydrangea
The ten beautiful drag queens who will be competing for the title of UK's first Drag Race Superstar have been ru-vealed.
Published: 21 August 2019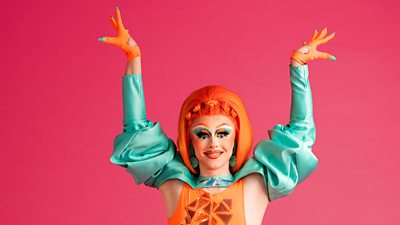 Blu Hydrangea is like a GCSE art project, high fashion from outer space, a cartoon character - with muppet realness.
Tell us about your act?
Blu Hydrangea is like a GCSE art project, high fashion from outer space, a cartoon character - with muppet realness. She is queen of the makeup brush and her strength lies in her mug. Not only am I a look queen but I can dance, I can perform, I can do some funny movements to make people laugh 
Where did you get your drag name from?
My drag name comes from some Blu Hydrangea bush that is in my garden. My nanna told me that we had to plant it with a rusty nail so that it turns into a beautiful blue hydrangea. I love that story of something coming from a rusty dirty old nail into something beautiful which is kind of like me as a person. I came from someone who wasn't so confident who was a little bit of a nerd into this glamourous colourful being - I love it.
What makes you unique?
Blu's greatest strengths are her makeup, which is always flawless, my lovely outfits and my creative drive. I love to be outside the box, not just one of those queens who says they are outside of the box; I am outside of the box. One day, I might be a beautiful lady and the next I might be a pineapple.  
By day I am a makeup artist, and I think that will give me an edge in the competition because I know that Michelle and Ru will be looking for someone that is polished, well put together and will wear that crown and look gorgeous - and that's me!
How has RuPaul's Drag Race impacted on your drag?
I don't think I'd be a drag queen without it. I am a child of the Ru generation and without it I wouldn't have known what drag was.
How is it being a queen in Belfast?
As a queen from Belfast the scene is very small - we literally have two gay bars opposite each other and you're either on one side or the other and that's it. 
It's hard sometimes you're performing to an empty bar with seven people and it's very quiet, but I've built a big social media profile, and I now have a platform that allows me to talk about what it's like to be gay and a queen in Belfast.  
We can't even get married. My partner and I have been together for four and a half years. I would love to marry him but it's not even legal. We don't even want to get engaged yet until it's legal and then we can do our thing. So hopefully, I'll inspire people and hopefully, one day we'll be able to get married in our own country.
Are you competitive?
Yes, I guess I am competitive. 
I had to drive to build my reputation. In Belfast, the only way to make yourself known on the scene is to do a few competitions and so I now have a crown or two. I'm hoping that my drive will help me inside this competition and hopefully I'll walk away with the biggest crown of them all! 
What are your lip-syncing and sewing skills like?
I may not be the best sewer in the world, I have definitely taken a lesson or two but I am a very creative person and I may a lot of things out of unconventional materials. One time I wanted to be all five of the spice girls so I made life size puppets of all the girls (I was Geri) - if that's not creative I don't know what is! 
What would be your greatest challenge in the show?
The challenge in Drag Race that I think would most struggle with is a comedy challenge. I don't find myself overly funny - hopefully the world does but I don't think I am. If they set me up to do a roast I know I'd bomb.com
What does being in this competition mean to you?
I absolutely eat breathe and sleep being a drag queen. It's my way of being expressive and creative. I'm so thankful. I think I've got a lot to show especially my Northern Irish pride.
In Belfast you don't really see that much drag, so I'm big fish in a little pond but now I want to be a big fish in a big pond.
I want people to know who Blu is and appreciate her art.
Related Media Centre Links
Related Web Links