Arts and culture
BBC Radio 3 Controller Alan Davey unveiled a raft of new commissions across the music and culture station.
Published: 6 September 2018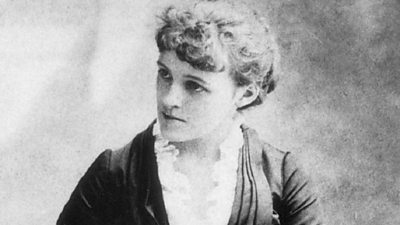 The Shadow of a Doubt - Edith Wharton
28 October
Believed lost until last year, BBC Radio 3 will present the world premiere of a newly discovered play, The Shadow of a Doubt, by American writer Edith Wharton (main image).  
Long before she achieved fame with her novel The Age of Innocence, Edith Wharton was set on becoming a playwright, penning a number of plays. The Shadow of a Doubt was in rehearsal and set to be staged in New York, before the production was abandoned for unknown reasons. The script slipped into obscurity and was believed lost until its recent discovery in a Texas archive in early 2017 by two academics: Laura Rattray, Reader in American Literature at the University of Glasgow, and Mary Chinery, Professor of English at Georgian Court University, New Jersey. BBC Radio 3's production will therefore be the play's world premiere - 117 years after it was written.
The Shadow of a Doubt tells the story of Kate Derwent, a former nurse who has recently married above her class to a gentleman widower, John Derwent. Kate cared for John's first wife, Agnes after she suffered devastating injuries in a riding accident. After Agnes' untimely death, a relationship blossomed between John and Kate, but what John does not know is that Kate helped a desperate Agnes in an assisted suicide. Their happiness is threated by the arrival of Dr Carruthers, who uses his knowledge of the truth to blackmail Kate.
Laura Rattray (University of Glasgow) and Mary Chinery (Georgian Court University) say: "It's very exciting that after almost 120 years, The Shadow of a Doubt will finally get its premiere. It's a play that Wharton's readers and scholars alike didn't know existed until very recently. We were thrilled to help bring it to light, publish and write about it, and it's wonderful that BBC Radio 3 is now bringing it to life.
"Radio 3 listeners will meet a different Edith Wharton. The playwright who became renowned as one of America's great novelists began her career most interested in playwriting. The Shadow of a Doubt has some of the familiar hallmarks of Wharton's novels - the trademark witty one-liners, a society setting, some terrific roles for women, but listeners may also be surprised by a gritty reality and a theme that speaks to today. Edith Wharton, as a playwright, will finally have her moment in the spotlight."
Alan Davey, Controller BBC Radio 3, says: "BBC Radio 3 is more than a radio station; we play a major role as a creator in and contributor to the cultural scene, with performance at the heart of what we do. I'm thrilled that we are able to bring to life this important work by a major literary icon for the first time as part of our aim to connect audiences with remarkable music and culture".
Adapted for Radio by Melissa Murray
Directed by Emma Harding
Casting will be announced shortly.
The Moors of England - Rex Obano
21 October
The Moors of England is set in 16th century England, during the golden age of Queen Elizabeth I. Set amidst the tumultuous final years of her reign, The Moors of England is a mystery drama about ambition and anarchy, set against the familiar and corrosive notion of 'other'.
When Fortunatus, a Muslim refugee from Spain, unwittingly saves the life of powerful politician Sir Robert Cecil, he becomes his close confidant and aide. However, after Fortunatus discovers that Queen Elizbaeth is to make a proclamation that plans to deport all black refugees from England for political gain on Sir Robert's advice, Fortunatus take drastic action in an attempt to change the course of history.
Sea Longing - Elizabeth Kuti
TBC
Philip Selway, singer and songwriter best known as the drummer of English rock group Radiohead composes the music to Sea Longing. The programme brings together spoken word, archival recordings, music and sound to create an innovative drama about the intense relationship between people and seals. The music
Based on some of the extraordinary legends of the seals and selkies that have sprung up over the centuries. The project is channelled through the life experience of BBC producer and writer David Thomsonwho set off in search of the stories. Sea Longing interweaves memory, dream and biography in an enthralling meditation that turns the lens on Thomson himself, asking what drove his quest?
A Sweet Talk Production for BBC Radio 3
Edinburgh Festival Fringe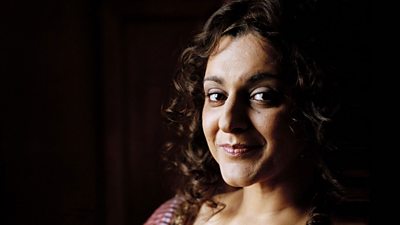 Contains Strong Language
Building on the success of last year's inaugural event, spoken-word festival Contains Strong Language will be returning to Hull from the 28 to 30 September.
BBC Radio 3 will present special editions and commissions as part of Contains Strong Language, including three special editions of The Verb, Radio 3's programme celebrating spoken word and poetry, from Hull.
A special edition of The Essay on Ted Hughes will also be recorded as part of the festival, with leading writers offering insight and opinion on the writer and his ground breaking work. Meanwhile, Between the Ears will present Unwritten Poems: Miss Birdie's Letter, a new poem by Karen McCarthy Woolf based on a letter received from her Jamaican grandmother.
In Drama on 3, award-winning actress and writer Jessica Hynes (of W1A fame) will write and perform her own short drama about a female stand-up comic in search of the 'perfect gig'. This new work is part a special homage to Spike Milligan in which three writers will respond to Milligan's style, his work and legacy, interspersed with readings of Milligan's poetry.
As part of the 2018 Edinburgh Festival Fringe, BBC Radio 3 recorded a series of nine specially-commissioned short dramas in front of a live audience as part of a pop-up radio drama studio at Summerhall. Written by a mixture of established and emerging talent, this series of works built on the rich legacy of audio drama that BBC Radio 3, and the Third Programme before it, is proud to have brought to audiences for over 70 years.
These dramas will receive their broadcast debut in Drama on 3 on BBC Radio 3 this autumn. Further information on each of the works is included below:
Of a Lifetime - Lulu Raczka
16 September
Two young women hate their jobs and pretty much their whole lives. So it's a simple decision to throw it all away and travel, until their aimless journey takes them straight into a horror story. But are they the victims, the perpetrators, or the witnesses?
The Blackwood - Jacob Polley
16 September
A new branch of the story of boyhood friends explored in Jacob's award winning collection  Jackself. Set in a world recognisably modern as well as starkly folkloric - it recounts the journey of two boys through spaces real and rumoured, through the great forest of Blackwood, where voices and music weave alternative histories of boyhood, troubled friendship and the north of England. As well as a moving drama, The Blackwood is a haunting 'landscape in noise', created by musician and sound designer, John Alder.
The Reality Tunnel - Karen Laws
16 September
A comedy about the philosophy of sound. Do we all hear things the same way? Can we be tricked into hearing what isn't there? And will sound engineer Ben get trespasser Isla out of his studio, or will she bring him to his senses?
Sam's Secret Orchestra - Jeremy Raison
30 September
Sam is born blind. As a toddler she prefers hitting things to speaking. Her rage turns into patterns and then into melody. Witness Sam translate the ordinary sounds of our lives into an orchestra. What if everything you heard was music?
Turbulence - Eileen Horne
30 September
A prescient comedy about love, transatlantic communication and lousy lasagne at 30,000 feet.
After Fear - Oliver Emanuel
30 September
Psychological thriller by award-winning dramatist, Oliver Emanuel: a woman's world implodes when she finds herself at the mercy of a blackmailer.
1963 - Peter Flannery
14 October
A writer remembers the year the world looked on with amazement at the Great Train Robbery, the Profumo Affair and the Assassination of JFK while failing to notice the death of his friend next door and his triumph in his 11 plus exams.
Death of a Matriarch - Tanika Gupta
14 October
It's Christmas day and these are the last 30 minutes of Sita's life. As she struggles to differentiate reality from dreams and hallucinations, she is visited by two old friends from the past bearing gifts, memories and a hint of what's to come. 
Meera Syal (pictured above) says: "I am thrilled to be working with Tanika Gupta again and to be part of this haunting, poetic and moving play."
Three Letters - Nell Leyshon
14 October
"I am trying to remember the young woman that I was before I had children. I am trying to see who I am now… I am a writer and I have a splinter of ice in my heart and in my eye."
Nell Leyshon performs her own story of how her reinvention, after children is halted by illness. It is a story of the body, medicine, statistics and the NHS; a story of motherhood and being a woman; a story of writing and of speaking with our own authentic voices.
New productions of iconic Angela Carter radio plays in An Evening with Angela Carter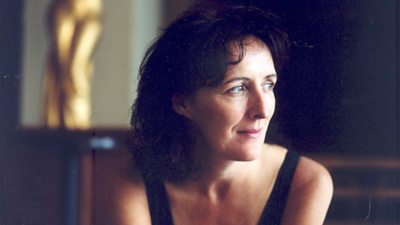 An Evening with Angela Carter
23 September
Further Drama on 3 highlights include An Evening With Angela Carter starring Fiona Shaw (pictured above) as Angela Carter, part of a week-long Carter season on BBC Radio 3 and BBC Radio 4.
The evening will feature brand new productions of two iconic radio plays on BBC Radio 3 written by Carter, which were first produced in the 1970s: Vampirella and Come Unto These Yellow Sands. Both plays will be introduced as though Angela Carter herself were curating the evening as played by Fiona Shaw.
An Allegra Productions production for BBC Radio 3
BBC Radio 4 will feature three more of Carter's plays in the same week: The Christchurch Murder, Nights of the Circus and The Bloody Chamber.
Sound of Dance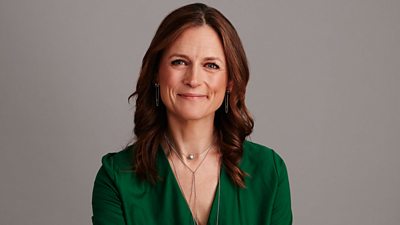 Voice activation
This autumn, BBC Radio 3 will be launching the first-ever voice-activated version of a Radio 3 programme.
A play adaptation of B.S Johnson's 1969 novel The Unfortunates by Graham White, starring Martin Freeman (main image), has been re-cut for Amazon Alexa. This innovative novel was designed to be read in a random order. This new interactive voice version of the radio play will build on that idea, re-randomising the order every time someone listens. The audience can choose to customise how they will listen to the programme, and explore bonus content on the making of the piece.
Developed by BBC Research and Development for BBC Taster.
Katie Derham returns in September for the third series of her popular programme, Sound of Dance, where she'll continue to explore the relationship between music and dance. This series, Katie will look into the life and legacy of Marie Rambert, one of the pioneers of modern British ballet, and talk to chorographer Wayne Eagling about his new ballet based on her life.
Katie will also be joined by legendary Cuban dancer Carlos Acosta as he celebrates 30 years in dance. She will delve into the world of tap dancing with members of the smash-hit West End musical, 42nd Street, and will find out more about the relationship between dance and puppetry.
100th anniversary of Holst's The Planets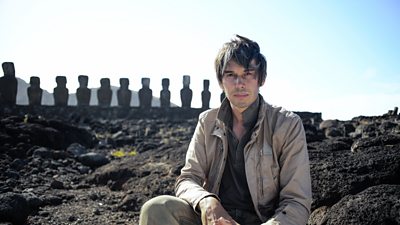 Sunday Feature
This Autumn will see an exciting and diverse range of topics explored in Radio 3's Sunday Feature documentary slot. Forthcoming highlights will see Afua Hirsch explore the rapid rise and fall of Fire!! a short-lived literary magazine from 1926 created by and for young black artists of the Harlem Renaissance. Historian Bettany Hughes will present a two-part Sunday Feature on the Caspian Sea, and Simon Heffer will reflect on the composer Hubert Parry, marking the centenary of the composer's death this year.
The Essay
This autumn, The Essay will include two specials created in partnership with the Wellcome Collection. Body of Essays will see five essays each focussing on a different part of human anatomy, while Contagious Cities will consider the spread of disease in cities.
An edition of The Essay, Music in Spheres, will see astronomer and award-winning science writer Dr Stuart Clark examine whether the nature of the universe and wonders of creation can be explained through music, complemented by an original score composed and performed by Carollyn Eden.
Free Thinking
In November, Free Thinking takes part in Being Human, a festival which places a spotlight on new arts and humanities research being conducted at universities across the UK. Free Thinking will be broadcasting a series of original programmes exploring this year's theme Origins and Findings.
One programme will look at the concept of language, exploring how some words do, and others don't, make it into the dictionary. The second programme will explore attitudes towards death and dying, while the third features reports from a museum-late style event from Senate House, University of London, where listeners can expect everything from feminism to folk music, classical myths to contemporary craftivism.
Further highlights this autumn will include two programmes produced in partnership with the Royal Society of Literature, broadcast from the British Library.