Pyeongchang 2018 Olympic Winter Games
BBC Sport is carrying the Olympic torch to Pyeongchang this February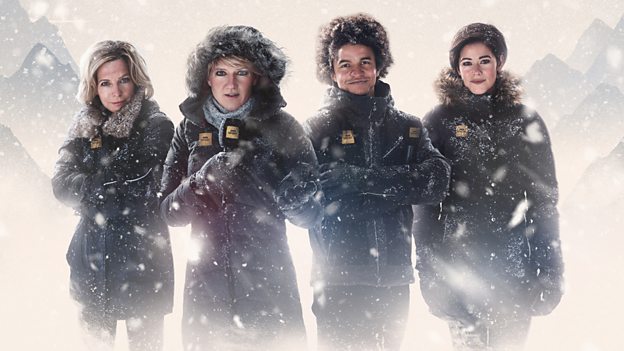 12 contenders for Team GB 2018
Date: 11.01.2018
Last updated: 11.01.2018 at 11.24
Here are the 12 British contenders pushing for a podium finish in 2018.
Lizzy Yarnold
Skeleton
DOB: 31.10.88
Lizzy Yarnold has an enviable CV which includes Olympic, World and European Championship gold medals. Yarnold took a year's break from the sport in 2016 and will arrive in PyeongChang as the defending champion after a dominant victory at the Sochi Winter Games - leading from start to finish to give Great Britain successive skeleton gold medals following Amy Williams' triumph in Vancouver in 2010.
Eve Muirhead
Curling
DOB: 22.04.90
Eve Muirhead leads the British women's curling rink for her third consecutive Winter Olympic Games. Team Muirhead won bronze at Sochi 2014, having claimed the world title the previous year.
Fast-forward to 2018 and they will be looking to emulate the memorable gold medal won by Rhona Martin's GB rink in Salt Lake City in 2002. Muirhead will not want for support in South Korea: brothers Thomas and Glen are both part of the men's British curling squad.
Elise Christie
Short track speed skating
DOB: 13.08.90
Elise Christie will arrive in South Korea as a three-time reigning world champion. Christie was disqualified in all three of her events at the Sochi Winter Olympics but returned in style at the 2017 World Championships in Rotterdam. Her trio of gold medals in the Netherlands were the first ever by a British woman and she'll be bidding to make more history in South Korea.
James Woods
Freestyle Skiing
DOB: 19.01.92
Despite carrying a hip injury into the competition, freestyle skier James Woods still managed to finish an impressive fifth at Sochi 2014.
Four years on "Woodsy" will be bidding to turn slopestyle World Championship bronze from 2017 into PyeongChang gold. The Sheffield skier also won X Games gold in January 2017 in the big air event, which is not part of the current Winter Olympics schedule.
Katie Ormerod
Freestyle Snowboarding
DOB: 25.08.97
Former gymnast Katie Ormerod is a medal contender in freestyle snowboarding's slopestyle and big air events following an impressive 2016-17 season which included bronze at the X Games.
Ormerod's X Games heroics came in the slopestyle competition but she has also excelled in the new Winter Olympic discipline of big air - claiming her first ever World Cup victory in Moscow.
Last season came to a painful conclusion when she fractured a vertebra in training at the World Championships but she is fighting fit and ready to challenge for medals in South Korea.
Billy Morgan
Freestyle Snowboarding
DOB: 02.04.89
Billy Morgan, like team-mate Katie Ormerod, has a background in gymnastics and puts that prowess to great use in freestyle snowboarding.
Like Ormerod, he too has climbed the X Games podium - winning big air bronze in Oslo in February 2016. Morgan, a former acrobat who can walk downstairs on his hands, competed at the 2014 Winter Olympics in Sochi - finishing 10th in the slopestyle.
Katie Summerhayes
Freestyle Skiing
DOB: 08.10.95
Katie Summerhayes is yet another medal contender from the ultra-talented GB freestyle skiing and snowboarding team. Like James Woods, she learned her trade on the dry ski slopes of Sheffield and has enjoyed similar success to her team-mate at global level.
Summerhayes finished seventh in slopestyle in Sochi but has since gone on to make British history - becoming the first female British skier to win a freestyle World Championships medal, with slopestyle silver in Austria in January 2015. Her younger sister Molly competes for Great Britain in the ski halfpipe.
Isabel Atkin
Freestyle Skiing
DOB: 21.06.98
Isabel Atkin won freestyle skiing slopestyle bronze at the 2017 World Championships in March to put herself firmly into the medal contenders bracket for PyeongChang.
Earlier that month, Atkin had made history by becoming the first British female skier to win a World Cup slopestyle event. The US-born skier lives in Park City, Utah, and is eligible for Great Britain through her English father.
Dave Ryding
Alpine Skiing
DOB: 05.12.86
Slalom specialist Dave Ryding catapulted himself into the Winter Olympic medallist conversation with an historic World Cup slalom silver in January 2017. It was Britain's best result for 35 years since Konrad Bartelski came second in a downhill World Cup contest in Italy in 1981.
It was one of six top-10 finishes in last season's World Cup for Ryding, a two-time Olympian who finished 17th at the 2014 Winter Olympics in Sochi.
Andrew Musgrave
Cross-country Skiing
DOB: 06.03.90
Two-time Olympian Andrew Musgrave was less than two seconds away from Britain's first ever Nordic skiing World Championship medal in 2017 - finishing an agonising fourth in March's 50km freestyle mass start race in Finland.
Fast-forward to 2018 and the Scotland-born, Norway-based skier is dreaming of going one better and climbing the Winter Olympic podium in South Korea. Musgrave has already enjoyed a breakthrough result in the 2017-18 season, claiming a first ever World Cup podium finish with bronze in the 15km freestyle race in Toblach, Italy in December.
Lamin Deen
Bobsleigh
17.06.81
Former sprinter Lamin Deen is the pilot of a British four-man bobsleigh team that will head to PyeongChang with hopes high of challenging for the medals. Deen and the British quartet finished an impressive fifth at the 2015 World Championships.
Three years later, and with the likes of Olympic 4x100m relay gold medallist Mark Lewis-Francis part of the GB set-up, Deen and co will be hoping to shine in South Korea.
Kyle Smith
Curling
09.07.92
Led by skip Kyle Smith, the debutant men's rink will be hoping to emulate the British men's heroics from Sochi in 2014 when David Murdoch and co won the silver medal.
Team Smith enjoyed impressive success at junior level - most notably claiming World Junior Championship gold in 2013. With female skip Eve Muirhead's brothers Thomas and Glen part of the squad, there is certainly some impressive pedigree.
Team Smith made history by becoming the first British men's team ever to reach a Grand Slam final in Canada in 2017.
Search the site
Can't find what you need? Search here
Related Programme Information