Porridge
Porridge is back for a new series written by the legendary Dick Clement and Ian La Frenais
Meet the inmates
Date: 29.09.2017
Last updated: 29.09.2017 at 09.15
Nigel 'Fletch' Fletcher - Kevin Bishop
Tell us about Fletch…
Fletch is a young man, he's almost 30 and it's a very different dynamic for him as he's missing out on very important part of any young man's life. He'll miss a big chunk of his 30's because he's in prison. He's a computer hacker and could pretty much do anything with a computer, he's a computer genius and that's why he got caught doing things he shouldn't have been doing and now he's been banged up for five years.
Even though he is a prisoner, there is a warmth to him and he wants to help other people - providing it's not a one way thing - its tit for tat, as long as there's something in it for him, some form of currency then he's happy to help out. But you can see him going in the same trajectory a little bit as his grandfather, he's learning very quickly to do the bear minimum. You can imagine Fletcher in 15 years' time will be much wiser and won't be getting involved in anyone's business at all, will just be going through the motions and coasting through on his own.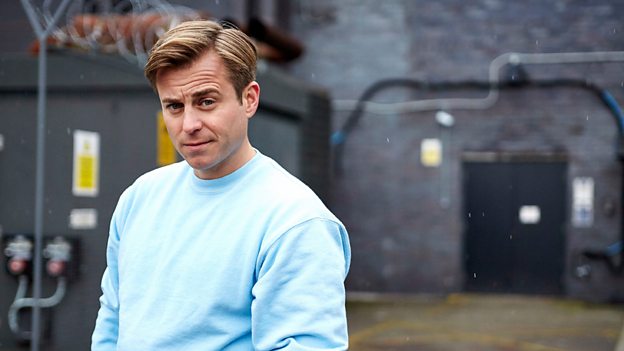 What feedback did you receive after the pilot?
I was expecting the worst, purely because we dared to tread on hallowed ground and I was overwhelmed. It was more positive that I thought it was going to be, that was my experience, especially on social media as well.
Joe Lotterby - Dave Hill
Can you tell us a little about your character?
Joe has spent most of his life in prison. He's not the most competent of criminals, so doesn't spend much time on the outside. He was in nick with old Fletch years ago, didn't know him particularly well, but admired him. He is delighted to have teamed up with Fletcher's grandson. Because he has spent so little time on the outside, he has a yearning nostalgia for those brief moments of excitement and romance which briefly came his way.
How would you describe Joe's relationship with Fletch?
His relationship with Fletcher is the reverse of the original Porridge, as we now have a young bright lad who sorts things out for himself and everyone else, and an older man who, despite having been round the block a few times, is still naive as to the machinations of others.
Were you a fan of the original Porridge? Did you have a favourite character?
I watched the original Porridge when I could, though there was no catch-up in those days, and as I was earning a living mainly in the theatre at the time, it tended to be a bit sporadic. I did have the privilege of working with the great Sid Lotterby (in honour of whom Joe is named), and Ronnie Barker himself, when I appeared briefly in an episode of Going Straight.
It is a great honour to work with Dick and Ian on this series. They write dialogue which is so finely crafted that it is a joy to be asked to deliver the lines.
Do you have any funny stories from filming?
Kevin Bishop is a powerhouse of energy, ideas, and enthusiasm and it was energising being in rehearsals with him and the rest of the cast.
I loved working on the show, and keep my fingers crossed that the whole team can come together again for more episodes.
Aziz - Harman Singh
Can you tell us about Aziz?
Oh, Aziz. Where to begin?! He's basically a naïve, harmless boy - which immediately begs the question "What's he doing in prison?!" That's never really revealed; it's left to the audience's imagination. I have my own theories! It's clear from the get-go he doesn't belong there - luckily Fletcher has taken him under his wing and is showing him the ropes. But being a part of Fletcher's gang probably gets Aziz into more trouble than if he was left to fend for himself!
What drew you to the role?
First and foremost Porridge as an institution. To be able to work with the original writers Dick and Ian to reinvent a much loved classic was a dream come true. As well as that, it's been a real blessing to have the opportunity to learn from such a stellar cast - from Kevin Bishop and Mark Bonnar to Dominic Coleman and Pippa Haywood… The list goes on!
Have you enjoyed working with the cast?
Absolutely. The live audiences seemed to love the collaborative, playful atmosphere we created - hopefully that comes across on screen. Each week we would rehearse in London, travel up to Manchester for a tech run and live audience shoot then back to London… then do it all over again for six weeks! All that time spent together not only helped us bond as a group but also meant the schedule didn't seem so intense; every day we were having a laugh and keeping each other energised. Also on a personal level, just the opportunity to be able to witness seasoned pros work their magic and bring their characters to life has been invaluable to me.
Shell - Jason Barnett
Jason, can you tell us a little about Shell?
Shell is a wonderful character to play. Although it may seem he's a bit slow to join the party, ironically I think of him as one of life's enthusiasts. Always ready to join in with a scheme or game and dive in headfirst, perhaps not having thought through all the possible outcomes. Incredibly loyal to his little gang and perhaps a little bit in awe of Fletch and his agile mind. He's a lag that knows how to cope within the system and particularly when to steer clear of the likes of Mr Meekie.
What was it like working with the rest of the cast?
The rest of the cast were a joy to work with. Dom, Mark, Ricky and Dave have been around the block, as have I, and made things enormous fun, Harman's enthusiasm was unwilting, Zahra and Pippa were hilarious and we were blessed with the most fabulous guests and Kevin was a constant source of jokes and impressions (some very close to home), but I think I was most impressed with his work ethic; he had so much to do, so many lines to learn and he just got on with it. He didn't come close to complaining once. I was really impressed.
Did you watch the original Porridge?
I did watch the original Porridge (later re runs of course!), it was my Dad's absolute favourite, I think he loved that idea of cracking on, doing what you need to do to get by, but never passing up an opportunity to 'cock a snook' at authority when it presented itself. The only sadness connected to this project is that he didn't get a chance to see me in it, working on his favourite show, with same legendary writers, Dick and Ian who wrote the immaculate dialogue for Ronnie Barker that he loved so much.
Scudds - Ricky Grover
Ricky, can you tell us a bit about your character?
Scudds is a lovable psycho, dangerous with a softer side. He's very heavy handed, a walking time bomb driven by a rollercoaster of emotions... He had a sad childhood and upbringing, he's looking for a family. Prison has been his home for most of his adult life, he feels safe when someone else is in charge, but he can be a bit too clingy, and whoever his new boss is almost become the parents he never had. He secretly fears getting released, he doesn't cope well making decisions off his back. He's frightened of the dark.
Scudds best quality is his loyalty... He would rather die than grass!
What's Scudds relationship with Dougie like?
Dougie is his new boss, he was sold to Dougie by a previous inmate Richie Weeks... Scudds was pleased not to be left on his own. They like each other because they need each other.
Will we see a softer side to Scudds?
You will see a softer side to Scudds in the series, I'm welling up just thinking about it...
What's it been like on set? Have you enjoyed working with the cast?
Really enjoyed working on this one, all the cast are genuinely great, not a wrong'un amongst 'em.
We have had such a laugh, some real class acts...
Me and Harry Peacock (Dougie) bonded straight away, he's a great actor and a lovely man, I'm welling up again!
Kevin Bishop is an incredible talent, he's my mate and I would die for him... To be honest I am Scudds! I'm telling you this from my cell.
Dougie Parfitt - Harry Peacock
Harry, can you tell us about your character, Dougie
Dougie has only ever known crime and is very blinkered in how he goes about achieving his goals, he certainly has a screw loose and always keeps those around him on their toes.
Dougie is the new prison bad boy, do you think we will see a softer side to him?
He's a well-read intelligent person who in another life would be a successful businessman or something, but he could never openly show a softer side
Can you describe the relationship between him and Scudds?
Scudds (the mighty Ricky Grover) is his Rottweiler - utterly loyal. They're a terrifying double act.
How did you feel about joining the show?
It's a great honour to be involved in the new dawn of Porridge, it's a terrific cast great scripts and I go back a long way with Kevin we were both child actors, I love him.
Were you a fan of the original Porridge? Did you have a favourite character?
I am a Porridge fan, I don't know who isn't! I loved all the characters in it. My brother Daniel was in the film in fact. But if you put a gun to my head I'd say... Groaty!
Search the site
Can't find what you need? Search here
Related Media Centre Links