Aidan Turner is Ross Poldark
Aidan Turner returns to play the eponymous Ross Poldark in what he reveals to be the most explosive series yet.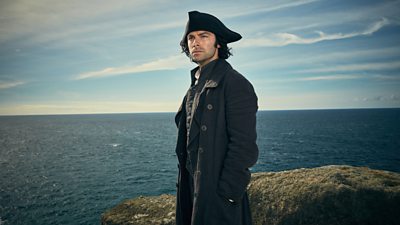 I did break my hand because of the musket! In one of the scenes we are busting into a prison and Harry Richardson who plays Demelza's brother, Drake Carne, was pulling back his rifle and the cock of the rifle caught my little finger on my left hand and pulled it right back.
From musket training to hiding in castle moats, Aidan has relished the new challenges.
"We filmed the French scenes in this incredible place with a huge moat and rivers and lots of little places where we could duck off and run into the woods with a musket. It was great fun. This series the boys got to do a lot more action-filled filming. We were running around with guns and breaking into prisons and there is a lot of espionage involved, it's tonnes of fun and great to break it up for Ross.
"The domestic life at Nampara can be fantastic too and acting those scenes with Eleanor or Beatie are always great to do but there is nothing quite like playing soldiers with the lads."
Playing soldiers, as Aidan reveals, could be rather dangerous even with proper training!
"We had professional musket training. They kick off a lot off black powder so you want to know what you are doing. You can very easily dampen the squib and ruin the shot. They are the real deal, they're not replicas and the bayonets are real they have just been sharpened as it gives you the right sense of weight.
"I did break my hand because of the musket! In one of the scenes we are busting into a prison and Harry Richardson who plays Demelza's brother, Drake Carne, was pulling back his rifle and the cock of the rifle caught my little finger on my left hand and pulled it right back. I knew something was wrong straight away but I had to finish the scene. The next thirty seconds it felt like jelly."
Whilst Ross's adventurous side has clearly not been lost, Aidan assures us his character has also grown up this series.
"Ross has matured a lot. As an actor you don't always want to walk the same footprints you have walked in before so you want the character to be pushed into situations he hasn't been in before.
"Ross is growing up a lot more, becoming more mature and is better at listening. He only takes big risks now if he has to but it's still in him and there will always be an inner rebel trying to get out. There is one big risk that Ross believes he has to take for the sake of loyalty and for friendship. The difference is however, he is tentative about pushing the idea because there is a huge possibility that he won't come back from this but Demelza realises by the way that Ross approaches that situation that given the circumstance, he has to go.
"He is aware of repercussions more so now than he has been previously. It comes with growing inside of a relationship but also losing a child and having a business fail a couple of times and not knowing whether you're going to be able to put food on the table for your family. These are all difficult things that you would like to think would make you wise up."
With a slightly older and wiser Ross this series we see a new dimension to the on-going rivalry between Poldark and his nemesis, George Warleggan (Jack Farthing).
"The moments between George and Ross this series are interesting to play out for myself and Jack because we have already been through those scenes before when they get face to face and before you know it they are throwing candles at each other but there are only so many times you can do that so we are trying new approaches.
"They both have too much to lose now, as they are getting older, they can't really afford to do each other serious harm. Ross still believes that George is an incredibly dangerous person, with his vindictive and callous nature and so he should be treated with the utmost care. It is for that reason you see Ross going to see George to lay down the law.
"For the sake of their wives and children they have to come to some sort of understanding or resolution. It is quite a mature move from both characters. Whether it will last… who knows? But it certainly starts off in the right direction."
After a tumultuous ending to last series, Aidan talks to us about Ross's relationship with his wife, Demelza (Eleanor Tomlinson) this series.
"We pick up this series with Ross mending his relationship with Demelza. There is obviously a lot of tension still in the air but it seems like they have talked it through so Ross is licking his wounds a little bit and trying to get his relationship back on track again. They have their own family to think of now and want to get on with life while hoping for an easier one.
"The relationship between Ross and Demelza has always felt very real for Eleanor and I, that's why it is so enjoyable to play. We can really track the progress of their relationship and when we go to shoot a scene and we do our research on what has come before, it is easy to join the dots and to see where they are at and why.
"Eleanor and myself have worked together for so long now that we are very familiar with each other and our relationship progresses alongside the relationship between our characters. When we are doing these scenes you're just looking into that person's eyes and you are relating to them on that platform and in that context and it feels like any relationship would feel, it is very real for us."
This series we welcome Demelza's two brothers, Drake and Sam Carne (Tom York). Aidan reveals Ross's reaction to the young, troublesome lads.
"Ross's philanthropy towards Sam and comes from obligation as an in-law. At the same time, they are both very young and Ross believes everyone deserves a chance. He knows the family upbringing wasn't easy; he was never a fan of their father, Tom Carne. I don't think Ross is particularly enamoured by John Wesley and the Methodist movement and the fact they are so heavily involved in that. However, they are good-natured, nice fellas and Ross sees that while finding them slightly dull… they can't drink!"
This series sees a great influx of new characters. Aidan explains the effect, on and off screen, this has had.
"It's a new lease of life for the show every season when you get new characters, especially when they are being played by such talented actors who just fluidly manage to get on with the existing cast so well. We are very open to new cast coming in and I think they have been enjoying it.
"When you're close to the top of the cast list you're guiding the show in a certain direction and you are watched and rightly so. You are at the helm of this ship and there is a responsibility with that so I am aware of it certainly. However, when it comes to being friendly with new cast members, everyone on set, all the crew, cast and producers are just as gracious and inviting and friendly."
Aidan reveals that Ross finds a new friend in one of the most adventurous new characters this series, Tholly Tregirls, played by Sean Gilder.
"Ross finds Tholly very funny. He is a risk taker like Ross and is ambivalent to a lot of things but there is loyalty there. He is always the first one to get the joke, he is courageous and Ross knows he has his back and is not there just to make a quick buck or two or because he is duty bound, he is genuinely there because he likes Ross and they can help each other.
"They have a great relationship and for Tholly to be able to see Ross grown up now, having known his father, their relationship is even more solid. The last time he would have seen him Ross would have been a boy and he is obviously a lot older now and it is nice having the energy of Tholly around for some scenes. He can be a pain in the ass for Ross and a liability but the good certainly outweighs the bad.
"Sean brings out the lighter side of me in the same way Tholly is able to bring out Ross's humorous, lighter side. Sean knows what will make me laugh so he tends to chuck things in and you cant fight it; you just have to go with it. We have a good chemistry on set and a good energy. Sean knows when Tholly needs to take it seriously so that is when we get the work done but other than that we are fooling around and having fun."
And is Aidan looking forward to filming a fourth series of Poldark?
"Yes, absolutely. There is more story to tell and we are doing a decent job of it so it is nice to be coming back. There is talk of my on-screen horse Seamus needing to retire as he is 17 now. I love Seamus, he's a real star, and I have a huge attachment to him obviously but if he needs to retire..."
Character descriptions
Ross Poldark (Aidan Turner)
Ross attempts to deny his nature and isolate himself from the affairs of others but, with the stakes now higher than ever, he must find a compromise between what he wants and the needs of those who depend on him.
Demelza Poldark (Eleanor Tomlinson)
Demelza decides she will no longer be passive in her own life but, in learning to be her own master, she must determine what she truly wants for herself and how far she's prepared to go for it…
George Warleggan (Jack Farthing)
No longer content to lord over Truro through finance alone, George finds new worlds and opportunities opening to him, but the obstacles he faces turn his journey of ambition into one of discovery on several fronts.
Elizabeth Warleggan (Heida Reed)
Contrary to her expectations, Elizabeth finds herself once again navigating a world of uncertainties and guarding a grave secret. She comes to learn, however, that she wields far more power than she'd previously realised…
Dwight Enys (Luke Norris)
A man of integrity and compassion, Dwight finds himself pushed to his limits by the war with France, battling not only the French but his own demons and the doubts they rouse; both abroad and at home.
Caroline Penvenen (Gabriella Wilde)
Rich, beautiful and clever, Caroline navigates society's tiers masterfully but finds the complexities of married life, and love, can be altogether more challenging.
Tholly Tregirls (Sean Gilder)
Tholly was a friend of Ross father's before he fled Cornwall and the law many years ago. His womanising and recklessness haven't been forgotten, and his ability to stir the adventurer in Ross could spell trouble for all…
Morwenna Chynoweth (Ellise Chappell)
Morwenna is Elizabeth's cousin, and finds herself in George's employment to support her sisters and widowed mother. Morwenna soon discovers, however, that there are things more important in life than one's sense of duty or place…
Sam Carne (Tom York)
Sam arrives in his sister Demelza's world determined to follow in his father's footsteps, spreading the Methodist word. But how can Sam profess to save strangers when his own brother courts temptation?
Drake Carne (Harry Richardson)
A good natured free-spirit, Drake has many of the qualities of his sister Demelza. He seeks his own place in the world and finds himself unwilling to settle for the limits life seeks to impose; especially concerning his romantic destiny…
Hugh Armitage (Josh Whitehouse)
As the nephew of Lord Falmouth, Hugh has grown up in the shadow of expectation – a fact he is keenly aware of. But Hugh is also a romantic and wilful. He would do as he chooses with his future, and being true to one's heart rarely comes without a cost…
Osborne Whitworth (Christian Brassington)
Osborne is from an esteemed family and a reverend. Driven by lustful desires, the widower seeks a new wife and George sees there is a social advantage in helping him…
Emma Tregirls (Ciara Charteris)
Lusty and headstrong, Emma isn't a follower of anyone. When the Carne brothers arrive with God in tow, Emma is therefore the first to poke fun at Sam's piousness - but people have a strange way of getting under your skin and, as they say, opposites often attract…
Lord Falmouth (James Wilby)
A man of ancestral power, his will has dictated the people and politics of Truro for generations but Falmouth finds a revolution in thought occurring, one that threatens to upend the status quo…
Sir Francis Basset (John Hopkins)
Sir Francis is one of the wealthiest men in the county but where Basset chooses to ally himself will have significant consequences for the people of Truro…
Tom Harry (Turlough Convey)
Tom Harry is George's right hand man and delights in carrying out his master's dirty work. With George's rising power, Tom Harry finds his own increased – and he's only too happy to wield it.
Aunt Agatha (Caroline Blakiston)
Resilient and wily as ever, Agatha resists the Warleggan occupation of Trenwith with all the fervour she can muster, sparing what energy she has left to look out for the Poldarks both at home and at Nampara.
Prudie Paynter (Beatie Edney)
Prudie is Nampara's loyal servant and an increasingly central part of the Poldark unit. For all her bluster, Prudie is as loyal as they come and not averse to voicing her opinion - whether it's asked for or not!
Ray Penvenen (John Nettles)
Caroline's kindly, sweet-toothed Uncle Ray has raised her since she was orphaned. Ray is one of the county's wealthiest and most powerful gentlemen.
Cary Warleggan (Pip Torrens)
George's uncle, Cary is shrewd and determined to win the respect of the ruling classes. However, his uncouth manner and lack of humanity works against him.
Captain Henshawe (John Hollingworth)
An old friend of Ross, Henshawe was Mine Captain of Wheal Leisure when Ross' father was alive. He is well-respected in his field.
Harris Pascoe (Richard Hope)
Ross' banker and long standing friend, Pascoe is a shrewd businessman. He frequently counsels Ross to be more cautious in his business dealings, and frequently fails.
Reverend Dr Halse (Robin Ellis)
Halse is a powerful Magistrate who has little sympathy for the poor. However, whereas he once held Ross in contempt, he begins to see the value in Ross, and we sense Halse is not as blinkered as we'd reason to believe.
Zacky Martin (Tristan Sturrock)
One of Ross' oldest and loyalist friends, Zacky has worked in his mines for years and is well respected by both commoners and local gentry alike.
Cast
Ross Poldark... Aidan Turner
Demelza Poldark... Eleanor Tomlinson
Elizabeth Warleggan... Heida Reed
George Warleggan... Jack Farthing
Dr Dwight Enys... Luke Norris
Caroline Penvenen... Gabriella Wilde
Prudie Paynter... Beatie Edney
Ray Penvenen... John Nettles
Aunt Agatha... Caroline Blakiston
Morwenna Chynoweth... Ellise Chappell
Drake Carne... Harry Richardson
Sam Carne... Tom York
Geoffrey Charles... Harry Marcus
Captain Henshawe... John Hollingworth
Paul Daniels... Ed Browning
Tom Harry... Turlough Convery
Zacky Martin... Tristan Sturrock
Tom Carne... Mark Frost
Rev Dr Halse... Robin Ellis
Harris Pascoe... Richard Hope
Tholly Tregirls... Sean Gilder
Sir Francis Bassett... John Hopkins
Lt. Hugh Armitage... Josh Whitehouse
Rev Osborne Whitworth... Christian Brassington
Amelia Chynoweth... Siobhan O'Carroll
Emma Tregirls... Ciara Charteris
Verity Blamey... Ruby Bentall
Lord Falmouth... James Wilby
Cary Warleggan... Pip Torrens
Production team
Executive producers... Damien Timmer; Karen Thrussell; Tom Mullens; Elizabeth Kilgarriff
Writer and Executive producer... Debbie Horsfield
Producers... Roopesh Parekh; Michael Ray
Directors... Joss Agnew, Stephen Woolfenden
Directors of photography... David Rom; Nick Dance BSC
Editors... Jo Smythe, Adam Green
Production designer... Jeff Tessler
Costume designer... Howard Burden
Make-up designer... Pippa Woods
Composer... Anne Dudley
Casting... Susie Parriss
Horse master... Mark Atkinson
Poldark consultant... Andrew Graham
Related Media Centre Links
Related Web Links