Interview with Steph McGovern
Interview with Steph McGovern, presenter of CBBC's Pocket Money Pitch.
Published: 11 January 2016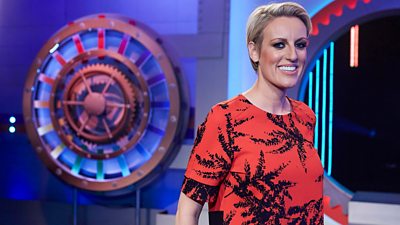 Kids have some of the best ideas – bringing new eyes to old problems. The potential of the young people in this country is unlimited and this new show will encourage them to believe in themselves and have a go at taking on the business world.
What are you hoping the Pocket Money Pitch team will find in the nationwide search for young businesses?
Kids have some of the best ideas – bringing new eyes to old problems. The potential of the young people in this country is unlimited and this new show will encourage them to believe in themselves and have a go at taking on the business world. Hopefully this will kick off the careers of our future business leaders, and we'll find the next Richard Branson or Martha Lane Fox.
Were you impressed by the ideas on Pocket Money Pitch?
I was more than impressed, I was blown away by them because they were just so original. They were so well thought through and professional. They thought about every element. They hadn't just said I really want to sell something - they thought about the name, the branding, the drawings, the marketing, and that was really impressive. It felt like they were well ahead of their years.
Were there any ideas which stood out for you?
There were two lads from Wales who'd come up with an idea to make dens from small squares of material that you can Velcro together. It was such a simple but great idea. They were so young but the way they presented it was unbelievable. There was a young lad who had come up with an idea to teach people to code, that was another great idea. There were loads of great food ideas too. There's a young girl who has come up with an idea for spreadable fudge, which she calls Sludge, which I thought was cool.
Is there a new business idea which you wish you'd come up with?
As I stood there and I heard the ideas for the first time, I thought that's a really good idea, how come no-one else has thought of this? For example, there were two young girls who came up with studs for wellies in order to not slip in mud and I just thought that was genius, that it must already be out there and it isn't. That was really good to see - they'd come up with all different shapes which you could put in the bottom of your welly to stabilize you. That is such as simple idea, why isn't it out there already? So that was really impressive and I wish I'd come up with that. I did look at several of the young people and thought, you're going to be millionaires one day.
Which entrepreneurs do you admire?
Ben Towers, who is one of the Pocket Money Pitch 'business buddies', is 17 years old, and set up his business when he was 11. He's overcome so many hurdles to get his business out there because he's under 18 - he had to do various different things to get around the bureaucracy of setting up a business, he's amazing. I'm convinced one day he's going to be the next Branson and in fact, Branson recently tweeted about him to say he's one of the UK's most exciting entrepreneurs.
I meet a lot of people with my BBC Breakfast job who have great businesses. I met a lady recently, called Tricia, who is in her late 60s and set up her own make-up company for older women. She was saying a lot of make-up is for young women who have different skin and so she's come up with her own make-up range at the age of 68. She posts YouTube videos about how to put on make-up after her daughter suggested it. She thought no one her age would watch, but they've been really popular.
Why do we need to encourage young people to be entrepreneurs today?
Business leaders regularly complain that young people don't leave school with the right skills. Encouraging young people to be entrepreneurs makes the connection between school and the world of work, teaching them about practical thinking, team-work, communication and financial literacy. This is vital if we are to fill the skills gap and get the economy moving more.
Were you entrepreneurial as a kid?
I was very entrepreneurial. I was always looking for ways to make money. My best business was selling stickers. In the hospital where my mum worked they had unusual stickers, including some Take That ones that you couldn't buy anywhere else in the area. I used to buy lots of them and then sell them to the kids at school for a profit. Also, my friend's brother was Sean Maguire and was in EastEnders so I used to sell his autograph to my mates at school too!
Tell us, what was your first business venture - however small!
My first attempt at a business was a jumble sale which I ran at the end of my next door neighbour's drive. I used to rummage through her garage, looking for anything that I thought people might buy. I'd then set up a table and try to sell what I could to the people walking by. Whatever money I made, I split with my neighbour. Then, when I ran out of things from the garage to sell, I would go round washing people's cars.
Related Media Centre Links