Planet Earth II
An introduction by Tom Hugh-Jones, Series Producer and Mike Gunton, Executive Producer
Published: 29 October 2016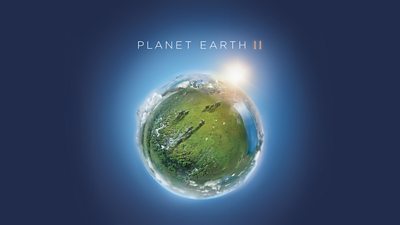 When Planet Earth came out a decade ago, it transformed how viewers saw their planet. The first natural history series to be filmed in high definition, it captivated a global audience of over half a billion people by giving them an unprecedented view of life on Earth.
Now 10 years on, we're revisiting this rich subject but with a new perspective. More than just observe, we want to immerse audiences in the most spectacular landscapes and habitats on Earth and bring them eye to eye with the animals that live there.
Advances in filming technology have made it possible for us to reveal the natural world in entirely new ways. We're able to go further, get closer and capture behaviour and places that would have been impossible 10 years ago. From the highest mountains to the remotest islands and from the richest jungles to the harshest deserts, Planet Earth II focuses on the most iconic habitats on land and seeks to bring audiences an experience of what it's like to live in these great wildernesses.
Continuing scientific discovery has uncovered new revelations and wildlife stories that have never been filmed before. A new generation of low-light cameras have allowed us to capture the drama that takes place in the darkest night and deepest jungles, drones have brought a new aerial perspective and the latest camera-stabilisation techniques have allowed us to free the camera from the tripod to follow in the footsteps of animals, travelling with them to experience their world. A major advance has been the development of high quality remote camera-traps that have allowed us to witness creatures and behaviours so elusive that they were considered almost impossible to capture.
We've also turned our cameras on a new habitat – for the very first time in a landmark natural history series - where in the final episode we journey to cities to witness the surprising ways that some animals are managing to thrive in the urban world, before considering what the future holds for our relationship with the natural world.
Over three years in the making, with 117 filming trips in 40 different countries and a total of 2089 shooting days, we've tested the limits of our intrepid crews. They've travelled to some of the world's most inaccessible places to bring our audience a new perspective on Planet Earth. Finished in stunning ultra-high definition, narrated by the inimitable Sir David Attenborough and set to a beautiful score from Hans Zimmer and his team, Planet Earth II promises to be a jaw dropping landmark event that we hope will thrill and inspire new audiences the world over.
A BBC Studios Production co-produced with BBC America, ZDF, Tencent and France Télèvisions.
Related BBC Links
Related Media Centre Links
Tagged: