Interview with Luke Treadaway
Wealthy philanthropist Rachel Argyll is murdered at her family estate Sunny Point. Her adopted son Jack Argyll, a young delinquent, is arrested for her murder. He vehemently protests his innocence.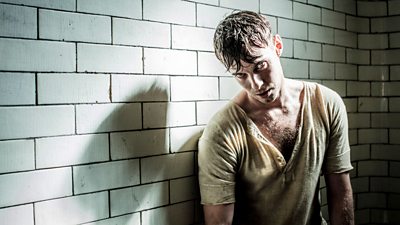 Some of the scenes for Arthur are quite hard for him, but for me as Luke an actor they are exactly what you want. You want those scenes and parts that are complex.
Playing Arthur Calgary
How does Arthur first appear in Ordeal By Innocence?
We first see Arthur walking along a country road with his suitcase arriving at Sunny Point to tell them that he's Jack's alibi; that he was the person who gave Jack a lift to the pub the night that Rachel was murdered. He then learns that Jack already died in prison, so he's too late. This one good true act, which he wants to give Jack's family as some sort of atonement for his personal guilt and shame, he is denied.
What was your first impression on reading the script?
I thought it was really rich and complicated. It felt like every character had a lot going on and everyone had his or her own desires and needs. Sarah has written an amazing script. It feels like she's written a three-part thriller and not a murder mystery, which is perhaps what you may think you're going to read when you know it's Agatha Christie.
Arthur is a very mysterious man with a lot of secrets. What is it about the character that feels a little lost and why does he need atonement?
Arthur just has a really strong desire to help this family and to provide Jack with the alibi that he needs. From the point he learns Jack has died in prison Arthur feels completely lost and helpless. He really has nothing left. He's struggling with his own demons and his own guilt and shame about things that have happened in his past and he sees his one chance of redemption. So when that is taken away he's completely at a loss.
What's Arthur's relationship with Mickey and the other children?
After he's been told to leave the house, we see that he's not trusted by Mickey, or in fact the whole family to begin with. He has all these obstacles to get over to try and achieve his ambition, which is now to clear Jack's name. That all feels impossible because it doesn't seem like anyone wants to hear him. It seems like they've all shut the case down in their minds.
The house itself plays a role in this story, what were your first impressions when you arrived at the house?
I loved it. When I knew I was doing this you envisage a beautiful house you're going to be spending weeks in filming and it didn't disappoint. I loved being on location for a few weeks, in a real house where you know that this bedroom leads to that hallway. It definitely helps connect it all and feel like you're really in a house as opposed to a set with no roof.
The story is very dark and disturbing. What's it been like to play such an intense character and have there been any chances to have fun on set?
Some of the scenes for Arthur are quite hard for him, but for me as Luke an actor they are exactly what you want. You want those scenes and parts that are complex and have a lot going on, I really enjoy playing them. They aren't necessarily scenes full of light and joy but that doesn't necessarily equal not having fun doing them either.
How has it been working with Sandra?
Sandra is an amazing director. She was so good at communicating her vision to us and illuminating certain things we may not have thought of and really supportive. She was brilliant on set. She showed me mood boards of locations before we started and pictures of where Arthur had been which helped to get an idea of the world he inhabited and how it would look.
Cast
Bill Nighy... Leo Argyll
Anthony Boyle... Jack Argyll
Anna Chancellor... Rachel Argyll
Morven Christie... Kirsten Lindstrom
Crystal Clarke... Tina Argyll
Christian Cooke... Mickey Argyll
Alice Eve... Gwenda Vaughan
Matthew Goode... Philip Durrant
Ella Purnell... Hester Argyll
Eleanor Tomlinson... Mary Argyll
Luke Treadaway... Dr. Arthur Calgary
Brian McCardie... Bellamy Gould
Frances Grey... Lydia Gould
Sandy Welch... Dr Edwin Morsuch
Sandy Batchelor... Simon
Catriona McNicoll... Young Mary
Rhys Lambert... Young Mickey
Luke Murray... Young Jack
Abigail Coneth... Young Tina
Hayden Robertson... Young Hester
Crew
Writer and Executive Producer... Sarah Phelps
Executive Producers for Mammoth Screen... Damien Timmer, Karen Thrussell, Helen Ziegler
Executive Producers for ACL... James Prichard, Basi Akpabio
Executive Producer for BBC Scotland... Gaynor Holmes
Director... Sandra Goldbacher
Producer... Roopesh Parekh
Director of Photography... John Lee
Production Designer... Catrin Meredydd & Jo Riddell
Costume Designer... Trisha Biggar
Hair & Make Up Designer... Claire Harris
Casting Director... Karen Lindsay-Stewart
Editor, Episodes 1 & 2... Adam Recht
Editor, Episode 3... Jo Smyth
Composer... Stuart Earl
Related Media Centre Links
Related Web Links