Interview with Bill Nighy
Wealthy philanthropist Rachel Argyll is murdered at her family estate Sunny Point. Her adopted son Jack Argyll, a young delinquent, is arrested for her murder. He vehemently protests his innocence.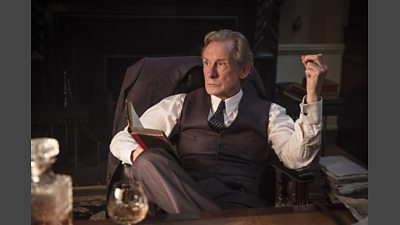 I thought the script was first rate... I loved the part of Leo, as he is a multi-faceted character. The whole project was very attractive to me.
Playing Leo Argyll
Leo is written as a very complex and multi-layered character. Was that what drew you to the part?
I thought the script was first rate and I like the genre and the whole English thriller vibe of that period very much. I loved the part of Leo, as he is a multi-faceted character. The whole project was very attractive to me.
The family seem locked in this post-war period where they have this stiff upper lip classic Britishness about them, even though we come to understand this is all a façade. Do you think that this is the case for the Argyll's?
Apart from them being singularly messed up, I suppose that's not an unfamiliar phenomenon all over the world in this period and in different societies. They all have different ways of papering over the cracks and structures that will allow everybody in the family to survive. But when they break or snap it's catastrophic, which is the case in our story.
Describe the relationship between Leo and Rachel. Is their marriage completely loveless?
Leo and Rachel's relationship is not sunny! They've seen better days in terms of their marriage. I don't quite know when it started to corrode, but I should think Rachel's habit of going out, without telling Leo, and coming back with one or two stray children may have had some damaging effect on their marriage. The fact that she controls everything, because it is all her money, I suppose in those days would have emasculated Leo. Paired with him being an unsuccessful writer, he doesn't really have a leg to stand on in terms of economics. In those days I think that would have been particularly corrosive to the relationship.
Rachel is played by Anna Chancellor, what was it like to be paired with her as husband and wife?
Anna and I are just made for each other. I've known Anna as a friend for a long time and I admire her tremendously. It was a great coup to have her in the show.
The house itself plays a role in this story, what were your first impressions when you arrived at the house?
Ardgowan House was a wonderful location to be in. There were some very interesting corners within the house itself, it really feeds in to your character's feeling of status and it is such a beautiful spot. Leo's study, with its big desk, was extremely beautiful and it really gave you that feeling of how they lived then and how privileged they were. The attention to detail is quite unique with the Egyptian artefacts that are around the place. Rachel's study was also pretty impressive. The production design on the show is just fabulous.
What has Sarah Phelps brought to this Agatha Christie adaptation?
Sarah has really hit that cool spot between the period and the modern in her use of language. There is something that she has created in the dialogue between the characters that reflects a combination of the periods, making it more accessible to an audience, but never betraying the period in which it was originally conceived. If you were to perform it in the way they used to speak I think people may turn over within the first ten minutes. It would seem too extraordinary or too extreme to us now had it not been refreshed. Sarah's writing is a great achievement, it's only when you start to work on it that you realise how layered it all is. She is playing around with time throughout the story and to schedule that all into the writing, peppering those scenes throughout the script and at the same time keeping an eye on where the audience might be is a great achievement. Sarah has to make sure the audience doesn't guess the end but also give them plenty to be suspicious about, so at some point the audience suspect everyone in the story and creates a very elaborate puzzle.
Leo has an interesting relationship with his adopted children, and you see through the narrative how that changes. Was Leo always the 'good guy' in their eyes do you think?
He has very good relations with his children and they love him because it's as good as it gets seeing as though they have such a hard time with Rachel. So they are drawn to their father and I think he enjoys that, and it is reciprocated.
Is Leo's relationship with Gwenda about love or power (or both)?
I think he has a very, very good relationship with Gwenda. They understand each other perfectly and I think genuinely they are attached to each other. And working with Alice Eve was tremendous. She is enchanting, funny and as smart as anything.
How has it been working with director Sandra Goldbacher (director)?
I loved working with Sandra, absolutely loved it. If I could go to work every day and it was with Sandra then I'd be perfectly happy. A large part of the show is the audience thinking 'did he do it, did she do it'? They are always looking for clues and Sandra is great at scheduling that information. She sees things that we don't spot and that is what you want from a director.
Did you collaborate with the costume department in terms of creating the style/personality of your character?
I adored collaborating with Trisha Biggar (costume designer). She is absolutely sensational. You realise that you are in the presence of someone really serious and special when you work with her. She knows everything, not only about the aesthetic of your character but everyone's mind-set from the story point of view. She thinks big in terms of accessing costumes and is incredibly knowledgeable and conscientious, charming and fun to work with. We had a really good time working together.
What was it like working with the cast?
Everyone has a great part in this story, which is not always the case. Everyone came to the set fully prepared and ready to go. It was a wonderful atmosphere to work in. The script is truly an ensemble piece and Sarah has done a marvellous job at incorporating everyone's characters.
What makes Christie's characters so timeless?
Everyone seems to have read Christie when they were younger. If you discover Agatha Christie then you tend to carry on and read the lot. I think there is an element of nostalgia about her writing and I understand that throughout history people have always been nostalgic for a period about 60 or 70 years before their time. The Christie novels are also depicted in very British places involving very well to do people where they come a cropper, which is perhaps part of the appeal. The veneer cracks and you get to see how it all falls apart, but ultimately they are just very clever mechanisms and Christie is really brilliant at keeping you guessing. That is the delightfulness of Agatha Christie.
Cast
Bill Nighy... Leo Argyll
Anthony Boyle... Jack Argyll
Anna Chancellor... Rachel Argyll
Morven Christie... Kirsten Lindstrom
Crystal Clarke... Tina Argyll
Christian Cooke... Mickey Argyll
Alice Eve... Gwenda Vaughan
Matthew Goode... Philip Durrant
Ella Purnell... Hester Argyll
Eleanor Tomlinson... Mary Argyll
Luke Treadaway... Dr. Arthur Calgary
Brian McCardie... Bellamy Gould
Frances Grey... Lydia Gould
Sandy Welch... Dr Edwin Morsuch
Sandy Batchelor... Simon
Catriona McNicoll... Young Mary
Rhys Lambert... Young Mickey
Luke Murray... Young Jack
Abigail Coneth... Young Tina
Hayden Robertson... Young Hester
Crew
Writer and Executive Producer... Sarah Phelps
Executive Producers for Mammoth Screen... Damien Timmer, Karen Thrussell, Helen Ziegler
Executive Producers for ACL... James Prichard, Basi Akpabio
Executive Producer for BBC Scotland... Gaynor Holmes
Director... Sandra Goldbacher
Producer... Roopesh Parekh
Director of Photography... John Lee
Production Designer... Catrin Meredydd & Jo Riddell
Costume Designer... Trisha Biggar
Hair & Make Up Designer... Claire Harris
Casting Director... Karen Lindsay-Stewart
Editor, Episodes 1 & 2... Adam Recht
Editor, Episode 3... Jo Smyth
Composer... Stuart Earl
Related Media Centre Links
Related Web Links