Interview with Christian Cooke
Wealthy philanthropist Rachel Argyll is murdered at her family estate Sunny Point. Her adopted son Jack Argyll, a young delinquent, is arrested for her murder. He vehemently protests his innocence.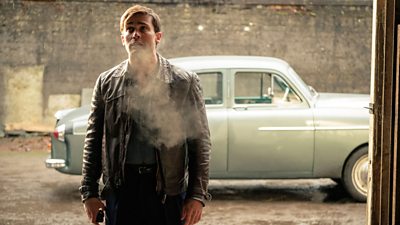 This is no exaggeration; Bill is the coolest man I have ever met. I promise you I can't say it enough he is just so cool... He was very generous with me and I really loved working with him.
Playing Mickey Argyll
The character of Mickey always seems to exist around the periphery of the family. Describe his relationship with the rest of the Argyles?
I think Mickey has a rebellious nature. He came to the house as an adopted ten-year old which would have been quite traumatic at that age. He has always resisted the conformity of certain society demands and isn't keen on things like family photographs or stuffy family parties. He gets on with his father, Leo but his relationship with Rachel, like the other children, has always been a bit strained. I see him as a rebel of sorts within the group. He and Jack are very close and he certainly sees himself in the role as very much Jack's protector and older brother.
When you read the script were you surprised at how modern it was?
To be perfectly honest I had no expectations because I've never read any Agatha Christie and I'd never seen any TV adaptations. I was aware that there were some big BBC productions happening over the last couple of years but I hadn't read the book before I started work. Sarah Phelps has done an incredible job with the script and all the characters feel clearly defined. They all have rich back-stories and histories and the family dynamics are superbly articulated in the scripts.
What is Mickey's relationship like with Rachel?
Mickey was a damaged child and that has continued through adolescence and early adulthood. I think Rachel has always tried to mould him and his siblings to be this regular child that conforms to the expectations of his mother's class in society and that has always jarred with him. His relationship with Leo is different. Leo really sees Mickey as his son. He's never had that relationship with Jack and I think Mickey strives to always impress Leo and have his approval. Plus Leo has been a natural father figure from the start and he hasn't replaced anybody; he is the only father figure Mickey's ever known.
Having Bill Nighy as your dad is pretty fantastic; what has that been like?
This is no exaggeration; Bill is the coolest man I have ever met. I promise you I can't say it enough he is just so cool. He is such a gentleman; so charismatic and such a brilliant actor too. He was very generous with me and I really loved working with him. He is one of those people you'd just like to have a really long dinner with, do you know what I mean. I'm already excited about when I next get to hang out with him.
The 1950s is a great period to be working in; describe Mickey's look and what it says about his character.
The 50s was a really great period and the clothes are timeless. I think for Mickey there was a desire to make sure he looked slightly different to the rest of the children because of his rebellious nature. I get to wear a few gorgeous suits but normally he's quite casually dressed.
Tell us about his tattoos and what they mean?
The tattoos are something he's done himself with Indian ink. That's the sort of person he is, a bit of a rebel. Some are from his time spent in the army when he was posted to Korea. He's also got two swallows on his chest that you see in an episode. They are a visual representation of his unwillingness to fit in or conform and his need to always have something to kick back against.
What sort of words would you use to describe Mickey?
There is a balance of rage and vulnerability within him and those two emotions are obviously linked. He's a broken hearted little boy inside and that fuels his menacing attitude. He can have a short temper at times and essentially that all originates from his adoption and volatile and traumatic early years. Rage and hurt and pain all bubble beneath the surface of his stony veneer.
Cast
Bill Nighy... Leo Argyll
Anthony Boyle... Jack Argyll
Anna Chancellor... Rachel Argyll
Morven Christie... Kirsten Lindstrom
Crystal Clarke... Tina Argyll
Christian Cooke... Mickey Argyll
Alice Eve... Gwenda Vaughan
Matthew Goode... Philip Durrant
Ella Purnell... Hester Argyll
Eleanor Tomlinson... Mary Argyll
Luke Treadaway... Dr. Arthur Calgary
Brian McCardie... Bellamy Gould
Frances Grey... Lydia Gould
Sandy Welch... Dr Edwin Morsuch
Sandy Batchelor... Simon
Catriona McNicoll... Young Mary
Rhys Lambert... Young Mickey
Luke Murray... Young Jack
Abigail Coneth... Young Tina
Hayden Robertson... Young Hester
Crew
Writer and Executive Producer... Sarah Phelps
Executive Producers for Mammoth Screen... Damien Timmer, Karen Thrussell, Helen Ziegler
Executive Producers for ACL... James Prichard, Basi Akpabio
Executive Producer for BBC Scotland... Gaynor Holmes
Director... Sandra Goldbacher
Producer... Roopesh Parekh
Director of Photography... John Lee
Production Designer... Catrin Meredydd & Jo Riddell
Costume Designer... Trisha Biggar
Hair & Make Up Designer... Claire Harris
Casting Director... Karen Lindsay-Stewart
Editor, Episodes 1 & 2... Adam Recht
Editor, Episode 3... Jo Smyth
Composer... Stuart Earl
Related Media Centre Links
Related Web Links