Interview with Crystal Clarke
Wealthy philanthropist Rachel Argyll is murdered at her family estate Sunny Point. Her adopted son Jack Argyll, a young delinquent, is arrested for her murder. He vehemently protests his innocence.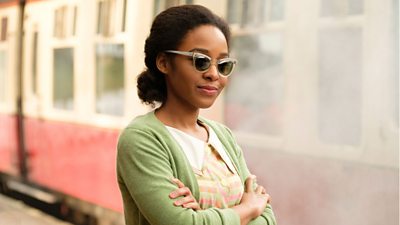 I was so excited that there was this character in this world that you don't often see reflected on TV - it was so intricate.
Playing Tina Argyll
Where do we meet Tina in Ordeal By Innocence?
At the beginning we meet her she's working as a librarian, she's started to try and get her own sense of independence, which has been put on hold by Rachel's murder. She has to come back and take care of her family and her father and make sure everything is ok.
How would you describe Tina's relationship with her father?
He's more open with her, whereas with Rachel she can't really get any affection or that much needed hug. I imagine if she has questions or wants to be told a story she can just go in to Leo's office and feel very comfortable and appreciated, more so than she might be with Rachel. The compliments come easier from Leo.
What is that relationship with her mother like at the beginning?
To begin with, it was pretty obvious, to me at least, that her acceptance and her compliments were a barometer for Tina's self esteem. Tina gets that a bit by helping Rachel keep the order in the house, not doing anything too crazy, not messing up, being the good daughter. She, more so than her other siblings, is so grateful to Rachel and loves her so much because she's essentially saved her from what Tina believes would have been a doomed life. She's a young black girl in the 50s; she would have been in an orphanage probably forever. It would have been very unlikely that anyone would have adopted her and then what would her prospects have been. So she's very grateful to her, loves her and does as she says. She has respect for her, but there's still the inability to get those compliments from her, that reassurance vocally and physically. Then you see that in the twist that the truth is Rachel isn't able to give her the kind of love that a biological mother would because you can tell she doesn't really have it within her.
Tina appears to use Sunny Point as her safe place, can you tell us a bit about this world she inhabits and what it means to her to be here?
There's a sense that even though she's able to pass in this world, she's very self aware because she has to be. She's aware of her difference so she doesn't feel like she fits and that's where that self-awareness comes from, in making sure that she does. She's really grateful to Rachel and to Leo for bringing her in to this world of theirs and she feels they've made her in to someone else. I think there's a quote in the book where she says "I didn't want to be myself, I wanted to be someone else and they made me someone else, they made me Christina Argyll'. So when she's at home she's able to get that confidence. I'm sure she was getting to a point where she felt like she did belong and then as soon as she goes out in to the world beyond Sunny Point she doesn't feel that comfort. Even gaining a sense of independence she couldn't go as far as Hester goes because she wouldn't really survive on her own in the way Hester because of her skin colour. So she's still held by home so much.
What's her relationship like with Hester?
She's very protective of Hester, they're very close before everything goes down. I imagine they would be smoking cigarettes by the lake and listening to jazz records at some far end of the house where nobody could hear them.
What about Jack?
I saw Jack as possibly Tina's defence. I imagine if they were out in town and somebody said something, Jack would speak up and shut it down. I think she really appreciated Jack's cheekiness and the life that he brought into the house and the life that he brought out of her. Anything could be happening and he lights up a room when he comes in with that energy, even if sometimes she feels as if he's a bit too much and too headstrong.
What's her relationship with Kirsten like?
I think she, like all of the siblings, has a love for Kirsten because she's been with them since they were children. I don't feel like it goes too far beyond that because her focus has always been on getting that love and acceptance from Rachel.
What was your first impression of Sarah Phelps' adaptation?
My first impression was 'YES!'. I loved it and especially the character of Tina. I was so excited that there was this character in this world that you don't often see reflected on TV - it was so intricate. Everyone's got character yet there's so much subtlety and so much going on in Sarah's script. Even just the fact that things aren't explained right away, it was an acting challenge to convey those subtleties when you don't have the words.
Being brought up in America, were you aware of Agatha Christie?
I am American but my mother is from Trinidad and my dad is from Guyana so there was a lot of British influence. My mum loved Agatha Christie. I didn't personally read her before this, but when I told her, she was very excited and I think she's really going to love it, I can tell.
What do you think it is about Agatha Christie that makes her work translate so globally?
It's just good storytelling isn't it? This world is very vivid. From reading the book, there were points where it's so detailed. It helps you create such an image in your mind that you feel you are there.
The last few Christie's have felt a lot more like psychological thrillers. How modern do you think this interpretation is?
It delves into the darkness, not just the surface of a murder mystery. Tina is grappling with her sense of identity and race, which is very relevant today. I took a lot from my own life with that. The sense that Tina is balancing this sorrow with this strength, and trying to understand her place in this world and in turn how it affects her self-esteem. That's very modern.
Tina goes through quite a few changes in looks. How do they evolve?
In her happier times, Tina is very sassily dressed. She has a very quirky fashion sense and she's quite a trendsetter. There's one dress that has these quilted butterflies, which is great. She's got the really bold colours because she's not afraid to show off. After Rachel's passing she feels so guilty that she loses that sassy fashion sense through her feelings of shame and doesn't not want to be too loud so switches to dark colours, no nail polish, wears her work clothes as often as she can, so she goes unnoticed. She's trying to hide. For the one second where she started to come out of her shell, it went wrong. That's her thinking behind it.
Was there a change in look for you in working with the hair and makeup department?
Tina's hair is very different from my actual hair. I usually have an Afro of curly hair but we made a transition into this lovely soft, 1950s curl. At first, I didn't want them to touch my hair, but as soon as I had it done it just felt so right.
Have you worked on anything set in the 1950s before?
No actually. At drama school we did something set in the 1930s but that's as far as I've gotten. That's why I say it's amazing to have this character in this piece that's set during this period because you so rarely see it. For Tina to have a storyline that isn't necessarily only connected with her race is really great.
How's it been working with Sandra?
Sandra was great. From day one she knew the world completely, she had a vision for it and she knew everyone's character. She had this great ability to put everything into one word or a few words and to remind you of what the crux of that particular scene is.
Cast
Bill Nighy... Leo Argyll
Anthony Boyle... Jack Argyll
Anna Chancellor... Rachel Argyll
Morven Christie... Kirsten Lindstrom
Crystal Clarke... Tina Argyll
Christian Cooke... Mickey Argyll
Alice Eve... Gwenda Vaughan
Matthew Goode... Philip Durrant
Ella Purnell... Hester Argyll
Eleanor Tomlinson... Mary Argyll
Luke Treadaway... Dr. Arthur Calgary
Brian McCardie... Bellamy Gould
Frances Grey... Lydia Gould
Sandy Welch... Dr Edwin Morsuch
Sandy Batchelor... Simon
Catriona McNicoll... Young Mary
Rhys Lambert... Young Mickey
Luke Murray... Young Jack
Abigail Coneth... Young Tina
Hayden Robertson... Young Hester
Crew
Writer and Executive Producer... Sarah Phelps
Executive Producers for Mammoth Screen... Damien Timmer, Karen Thrussell, Helen Ziegler
Executive Producers for ACL... James Prichard, Basi Akpabio
Executive Producer for BBC Scotland... Gaynor Holmes
Director... Sandra Goldbacher
Producer... Roopesh Parekh
Director of Photography... John Lee
Production Designer... Catrin Meredydd & Jo Riddell
Costume Designer... Trisha Biggar
Hair & Make Up Designer... Claire Harris
Casting Director... Karen Lindsay-Stewart
Editor, Episodes 1 & 2... Adam Recht
Editor, Episode 3... Jo Smyth
Composer... Stuart Earl
Related Media Centre Links
Related Web Links