Interview with Morven Christie
Wealthy philanthropist Rachel Argyll is murdered at her family estate Sunny Point. Her adopted son Jack Argyll, a young delinquent, is arrested for her murder. He vehemently protests his innocence.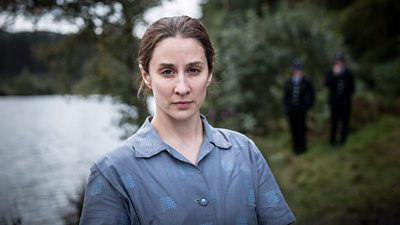 I think sometimes when a story is really dark you end up laughing an awful lot more off camera and that was definitely true on this, it was a scream.
Playing Kirsten Lindstrom
Tell us a little bit about where we find Kirsten at the beginning of this story.
At the beginning of the story we see Kirsten on the night of Rachel's murder, she has come running from the room screaming with blood on her and we're left to figure out what the story is and how we got to that point. She has been working for the family for a long time, probably about 20 years, she's the housekeeper, nanny, cook, everything.
What was your first reaction to the script?
There's just so much intrigue, so many questions, and you've got to go quite far through the scripts before any of those questions start to be answered. It's always changing. The character of Kirsten just really appealed to me because I'm always fascinated by characters who are mostly silent and why, what they might say if they weren't being silent? I think that's where all the richness of Kirsten lives, is in what she's having to keep in which comes out throughout the story.
That's the interesting thing as an actor as so often people want more dialogue and yet, like you said, there can be so much more in what's left unsaid.
I've never judged a role on the amount of words that they have, because I think, even with characters I've played that have loads and loads of text, quite often the most truthful character moments are silent, or a split second where a character is on their own. With Kirsten there's a lot of that, so for me that was really exciting because it means you get to fill all of that with the inner life and the inner processes that are going on inside her. I'd spoken to Sarah at length about Kirsten's background, both within the family and before she came to them, and the story that brings the characters to where we find them in the script, so I had all of that information all of the time. It's also more challenging in a way than having lots of dialogue as you have to be very specific about where you are in the story because what someone's thinking, what they know and don't know is very specific. You can't pick it up in the scene so as the actor you need to know exactly where you are. I really loved that challenge.
Like Bill, Alice, Eleanor and Matthew, this isn't the first time you've starred in an Agatha Christie adaptation. You also played Elsie Clayton in Poirot's The Labours Of Hercules. How has the Agatha Christie world changed? What has really stood out for you in Sarah's adaptation?
Sarah is an extraordinary writer and an extraordinary person. She's passionate about every character, every character's story and every bit of detail in-between. I worked with Sarah on a Dickens adaptation a few years ago and she did a similar job with that, she lifts out all that reverence and throws that away and just rips right in to the story and the characters. She writes with so much blood and passion that it makes everything really alive. You wouldn't read this knowing it's a typical Agatha Christie and that is what's really exciting. We've seen a lot of period dramas and a lot of behaviours, and manners and structures that go along with that tradition and Sarah has no reverence for that whatsoever. It makes it alive and relevant for a contemporary audience. It moves much faster, there are a lot more questions to answer, so everyone's story is richer and deeper and more examined. I think she's quite unique in that way, she doesn't leave anything out.
There are so many layers to each character. Can you tell us a little bit about how your character develops as the story goes on?
She was brought in to the family very young at about 15 to help Rachel take care of Mary, this child she had adopted and had no idea what to do with. Kirsten came in from a foundling home so she was an orphan herself. In Kirsten there is a lot of guilt about how close she is to the children. Kirsten makes herself invisible, she dresses quite invisibly and has no vanity, she almost just wants to disappear. She has completely defeminised and desexualised herself. Lots about her behaviour throughout, the way she listens to conversations, the way she seems to be spying, all becomes clear late in the story when a secret comes out.
How is her relationship with the children?
With the children, because she's so involved in their upbringing, she really struggles with it. It's almost like Rachel adopted these children to spite Leo therefore it's down to Kirsten to raise them in lots of ways, so she does get to have this mother role but without them ever being her children. The children rely on her.
Did you do any research in order to prepare for that part of your role?
I had lots of conversations about her background and started looking in to what it would have been like growing up in a foundling home, what she would have been trained for. But actually most of the usable in scene information came from conversations with Sarah and from what was on the page. Sarah knows every moment of the life of every one of these characters. Any one of the characters could be the lead in a movie, that's how well examined they are, even without the conversations you get that on the page. There's no year in Kirsten's life that I could go to Sarah with that she wouldn't have the answer for. It's really inspiring and it awakened so many ideas.
How has it been playing opposite and working with Bill Nighy?
When I heard he was going to be playing Leo I thought it was a genius piece of casting and he's everything you would hope an actor like him would be. Bill is just really special, he's super prepared, he knew the whole script before he came to set. He's incredibly respectful and a proper gentleman who works really hard, with no ego. Some of the little tiny things he did, you'd be watching off camera and he would give a little look and you think he's just a genius.
The story is very dark and disturbing. How have you found working on this production and have there been any chances to have fun on set?
It was really fun. I think sometimes when a story is really dark you end up laughing an awful lot more off camera and that was definitely true on this, it was a scream. The crew were great as well, just really wonderful.
The 50s period is a beautiful era for fashion and design. Did you have costume envy of your fellow female actors' costumes?
I actually didn't have costume envy because I did three series of a 1950's drama where I got to wear wonderful costumes and as beautiful as they are, they are quite tiring to wear so this time around I got to slouch. There's something really freeing playing a character who doesn't have any vanity as it's just something you don't have to worry or think about.
What do you think makes Agatha Christie's stories timeless?
I think what makes Agatha Christie stories so timeless is that they're full of intrigue. The characters are really rich and the stories are quite complex. I think people love asking questions when they're watching drama and she was a master at that so I think that's why they endure.
Cast
Bill Nighy... Leo Argyll
Anthony Boyle... Jack Argyll
Anna Chancellor... Rachel Argyll
Morven Christie... Kirsten Lindstrom
Crystal Clarke... Tina Argyll
Christian Cooke... Mickey Argyll
Alice Eve... Gwenda Vaughan
Matthew Goode... Philip Durrant
Ella Purnell... Hester Argyll
Eleanor Tomlinson... Mary Argyll
Luke Treadaway... Dr. Arthur Calgary
Brian McCardie... Bellamy Gould
Frances Grey... Lydia Gould
Sandy Welch... Dr Edwin Morsuch
Sandy Batchelor... Simon
Catriona McNicoll... Young Mary
Rhys Lambert... Young Mickey
Luke Murray... Young Jack
Abigail Coneth... Young Tina
Hayden Robertson... Young Hester
Crew
Writer and Executive Producer... Sarah Phelps
Executive Producers for Mammoth Screen... Damien Timmer, Karen Thrussell, Helen Ziegler
Executive Producers for ACL... James Prichard, Basi Akpabio
Executive Producer for BBC Scotland... Gaynor Holmes
Director... Sandra Goldbacher
Producer... Roopesh Parekh
Director of Photography... John Lee
Production Designer... Catrin Meredydd & Jo Riddell
Costume Designer... Trisha Biggar
Hair & Make Up Designer... Claire Harris
Casting Director... Karen Lindsay-Stewart
Editor, Episodes 1 & 2... Adam Recht
Editor, Episode 3... Jo Smyth
Composer... Stuart Earl
Related Media Centre Links
Related Web Links