Interview with Anna Chancellor
Wealthy philanthropist Rachel Argyll is murdered at her family estate Sunny Point. Her adopted son Jack Argyll, a young delinquent, is arrested for her murder. He vehemently protests his innocence.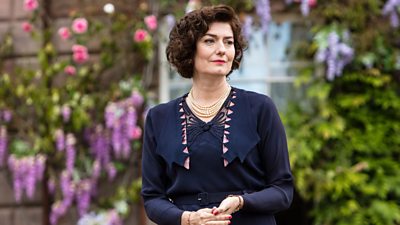 I don't think I've ever had to let loose like that before in a role... It didn't feel great but on the other hand when you are in that moment and concentrate it does all come to you.
Playing Rachel Argyll
Who is Rachel Argyll and how are we first introduced to her in Ordeal By Innocence?
Rachel is an heiress who married someone very dashing and handsome, maybe not quite of her station. I believe she was probably an only child of some very, very rich parents. She is an isolated person. Perhaps she adopts children in order to create a brood for herself but because she is not familiar in being in a family environment this turns out not to work so well. When the kids all go off and play together, Rachel doesn't feel this is right and that she is the person left out of the fun. Fun is happening at the perimeter with her and this feels painful to her, she feels the need to break it up. What is happening within this household is very much of its time. That 1950s period. A family papering over the cracks.
What is Rachel's relationship like with her children?
The outward manifestation of life is very important to her, maybe without even knowing it. She chooses these incredibly good-looking kids who she wants to save. She wants to mould them into something she can be proud of, that will reflect well on her. Rachel has very high standards of how you should behave and appear and so she treats them in a way that will produce those standards.
How does the family dynamic develop?
It is a really understandable thing to want to be surrounded by your family and to want it all perfect. In that way Rachel is quite identifiable. You could however feel very unsympathetic toward her. It is hard to feel compassion when you see her being anything other than quite controlling, there isn't a warm, soft side to her, there may be deep within her, but she is focussed on keeping that perfectionism and control going. Her drive for the perfect family, that desire to keep the façade going starts to bubble up inside her and she starts to become quite mad. She does not have the facility within her to understand that this is not the way to behave. She doesn't ask herself 'what other options do I have in dealing with this situation?'
Rachel has many flaws, as do all of the characters in this story. Do you see any good traits in her?
You can't make the mistake of wanting to be liked by your audience. I can't consciously make her sympathetic yet there is a lot of pain involved. This character requires a lot of grading so that the audience don't immediately despise her. A lot of that comes down to our wonderful director. I actually find Rachel funny, in a dark way. Whenever Rachel looks at her husband it is with blame and added to that whenever Rachel wants to she can go off and adopt another child. It's dark but there is humour in that somewhere.
What was it like to work on this character with director Sandra Goldbacher and writer Sarah Phelps?
Sandra is really terrific; she is very unique and unusual as there are not that many female directors out there for one. Sandra is so thoughtful and emotionally accurate and a really clear guide. Although there is a gothic feel to it, if you didn't have that deep thought that Sandra has, then the drama could become a Hammer horror quite quickly. Putting Sandra together creatively with Sarah Phelps, who is very emotional, passionate and compassionate and also very detailed, they become a really exciting double act.
How would you describe Leo and Rachel's marriage? Is there any respect between them or was their relationship always doomed to fail?
I think sometimes in a relationship one person can take all the bad behaviour. Rachel becomes more and more withheld, uptight and more rejected. She believes that he married her for her money, which he probably did, but there might have been a moment when they were happy.
Have you worked with Bill Nighy before?
I've known Bill a long time. It feels very right and funny to be Bill's wife, I do think we were a plausible couple. Sometimes you can be on-screen married to somebody and you are thinking, really? But something felt right here. I enjoyed being in this unhappy marriage with him; it was really fun to play.
Is it important for you to be able to collaborate with costume and makeup teams when you are creating your character?
I am very interested in costume and in people who have a great eye. Trisha Biggar and her team were really brilliant. She is so exact and will live and breathe the period, and go off and find these wonderful pieces for us. We had great conversations about Rachel's look. For me, I wanted to make sure that we didn't have anything too floral or curvy for Rachel as I wanted to steer away from anything that looked too sexy, as Rachel was more military in my mind, much more Joan Crawford, tailored suits. I didn't want anything that felt too fun, Rachel is not a fun person. That's the main overriding thing about this woman.
With Rachel's hair and make up, what came up in conversation with Claire Harris (hair and makeup designer) was that we wanted Rachel to be quite pale and unflattering in a way, with a hard exterior. So we looked at Joan Crawford, Bette Davis and Maria Callas and the great faces of that period and the makeup that they used. What they did was quite extreme as it was for black and white film so we needed to update that, otherwise in colour it would look horrifying. It's such a fine balance to not go too over the top. For the 1940s Rachel was a little bit looser, a little bit more humane. Then by the 1950s she became a little bit more restricted in the look. I'm always quite keen to make it not look so set we didn't want it to look that formal. I like that slight imperfection.
There is a heated scene between Rachel and Tina, was that very hard for you Crystal Clarke to play, letting go the way you both do?
I don't think I've ever had to let loose like that before in a role. I like playing tough women but Rachel letting go as she does is on another level. It wasn't easy. It didn't feel great but on the other hand when you are in that moment and concentrate it does all come to you. The cast in this drama were wonderful to play against.
What is Rachel's relationship like with Jack?
Rachel and Jack's relationship is so extreme. Jack sees through Rachel, sees through the deceit and the veneer, and he is rattling her cage. It is incredible to play a character that will suppress their own child at any expense. It's a privilege to act out behaviour that you would think doesn't exist, yet you know people do behave like that. You get to experience that in its full state and when you have another actor to play with that, who is so connected and brave, you know you can really play it to your fullest. With Anthony I can just see it in his eyes and it was a wonderful experience.
What are your thoughts on Agatha Christie's writing and this adaptation by Sarah Phelps?
When I was at school, which was at a convent, we were not allowed to watch TV, but on a feast day they screened Agatha Christie's Miss Marple starring Margaret Rutherford. I loved watching them. They were quite dark in theme and brilliantly made. I got hooked on them from a very young age. What was exciting for me was that I even got to be in a Marple, Murder Is Easy (2008). So I've always enjoyed her writing. I think what is brilliant about this new series of Agatha Christie adaptations is that Sarah writes her characters fully realised, be it a big part or small part. It connects with the child within you that wants to play and create, and gets your imagination working so you are right on the edge of your seat. I think that excitement then transmits to the audience. That to me is great writing and that is where Sarah manages to go into the world of Agatha Christie that we know and love, but then delves into what actually does happen in those moments of death or characters through process. Wouldn't that be great, a meeting of Agatha Christie and Sarah Phelps? I'd love to know what their conversations would be like.
Do the sets influence your character?
The production designer used these very vibrant and deep dramatic colours that actually feel quite modern, and yet she has some quite classical English country upper-class pieces of material. It definitely adds to the way your character embodies a room. There was also a feeling of the Hollywood movie star influences scattered about. The graphics department had some fantastic family pictures around the place. There was real attention to detail that will be a quick flash on screen if the audience see them at all. This is definitely a theatrical and dramatic update of the original. It's gothic and visually pleasing.
What makes Agatha Christie's characters so timeless?
Personally I think there is something about our culture that I feel slightly lacks confidence that we go back over the cannon, but what is key is that we realise that talent is not only in the past. There is so much talent out there and I think it is fantastic that Sarah Phelps has blossomed in this genre. I think we have to adapt and move the stories on and that is just what Sarah has done with this story and with And Then There Were None and The Witness for the Prosecution. There are not many people that can do that but Sarah's adaptations are wonderfully refreshing.
Cast
Bill Nighy... Leo Argyll
Anthony Boyle... Jack Argyll
Anna Chancellor... Rachel Argyll
Morven Christie... Kirsten Lindstrom
Crystal Clarke... Tina Argyll
Christian Cooke... Mickey Argyll
Alice Eve... Gwenda Vaughan
Matthew Goode... Philip Durrant
Ella Purnell... Hester Argyll
Eleanor Tomlinson... Mary Argyll
Luke Treadaway... Dr. Arthur Calgary
Brian McCardie... Bellamy Gould
Frances Grey... Lydia Gould
Sandy Welch... Dr Edwin Morsuch
Sandy Batchelor... Simon
Catriona McNicoll... Young Mary
Rhys Lambert... Young Mickey
Luke Murray... Young Jack
Abigail Coneth... Young Tina
Hayden Robertson... Young Hester
Crew
Writer and Executive Producer... Sarah Phelps
Executive Producers for Mammoth Screen... Damien Timmer, Karen Thrussell, Helen Ziegler
Executive Producers for ACL... James Prichard, Basi Akpabio
Executive Producer for BBC Scotland... Gaynor Holmes
Director... Sandra Goldbacher
Producer... Roopesh Parekh
Director of Photography... John Lee
Production Designer... Catrin Meredydd & Jo Riddell
Costume Designer... Trisha Biggar
Hair & Make Up Designer... Claire Harris
Casting Director... Karen Lindsay-Stewart
Editor, Episodes 1 & 2... Adam Recht
Editor, Episode 3... Jo Smyth
Composer... Stuart Earl
Related Media Centre Links
Related Web Links