Old Jack's Boat
New CBeebies series starring Bernard Cribbins has storytelling at its heart
Old Jack's Friends
Old Jack has some very interesting – albeit sometimes a little eccentric – friends. They always act as the catalyst for the story Jack goes on to tell.
Salty the dog
Salty is Old Jack's faithful companion. She accompanies Old Jack wherever he goes. She listens to the stories Old Jack tells and reacts to them accordingly. She shakes her head when Old Jack tells a whopper, hides her face in her paws when there is a scary moment and is always, always excited when Old Jack mentions food.
Salty is played by Scuzz whose owner, Paul Hawkyard, plays Ernie Starboard.
Shelly Periwinkle played by Freema Agyeman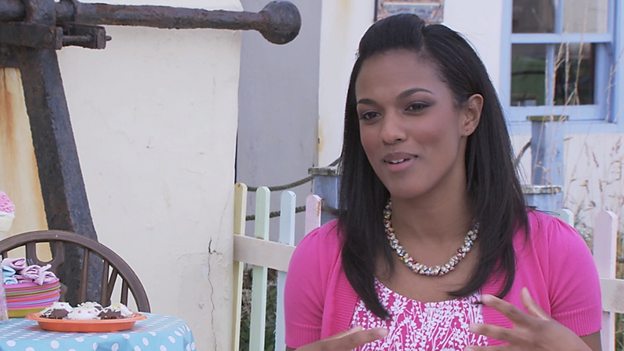 Shelly is the owner of the Mermaid Cafe. She is always sunny and smiling. She mostly serves in the cafe but also travels around Staithes with a basket delivering cookies, cakes and smart advice. Old Jack always casts Shelly as Pearl the Mermaid in his stories and even in her normal life there is something magical and lovely about Shelly Periwinkle. Occasionally when she moves there is a twinkle of fairy mermaid dust in her wake – perhaps she really is a mermaid?
Freema is best known for playing Martha Jones, former companion of the 10th Doctor in Doctor Who, and its spin-off series Torchwood. She has also appeared in BBC programmes Survivors and Little Dorrit and played Alesha Phillips in Law & Order: UK between 2009 and 2012.
Freema explains what motivated her to take on the role of Shelly and how it is very different from the part she is about to play next.
She says: "I wanted to play the part of Shelly Periwinkle purely because of my niece. I've got a two-and-a-half-year-old niece and she is obsessed with CBeebies, we have it on all the time so I'm really familiar with a lot of the programmes and they're high quality, great programmes and so I jumped at the opportunity to be a part of a new one."
Freema says she loves children's television: "I remember when I was young you'd have to wait for the odd episode of the Smurfs or Loony Tunes to come on after Police 5 but now you can get children's programming at a really high quality around the clock. It's important because it's about learning as well as being entertained and I think that CBeebies does that really well."
For Freema, working in children's television is a big change from adult drama. "Primarily because it's so liberating," she says.
"I have not felt this free or this relaxed on set ever. The product is so lovely, the story is so sweet. It's just knowing who your audience is and what would appeal to them - it just gives you the permission to be completely free and open and I'm really enjoying that experience."
The enjoyment of working on Old Jack's Boat doesn't stop at the acting – Freema is a big fan of Bernard.
"It is utterly entertaining working with Bernard Cribbins. He is entertaining on so many levels. On a professional level he's just got a relaxed sort of energy and aura about him and it's just infectious to be around. But equally he's entertaining with all of his stories, songs and anecdotes and jokes, and it just keeps us entertained all the time. He's often so expressive and so wonderful that when I'm watching him I sometimes forget that I have to do my bit afterwards!"
Staithes, where Old Jack's Boat is filmed, is a beautiful town on the North Yorkshire coast – it's a far cry from the bright lights of Manhattan. But straight after filming her Shelly Periwinkle role, Freema is hotfooting it to New York to start work on the Carrie Diaries – the prequel to Sex And The City.
"It couldn't be more different from what I'm doing now but I feel really lucky to have the opportunity to do things that are so opposite. But this is an experience I am utterly enjoying at the moment!"
Ernie Starboard played by Paul Hawkyard
Ernie Starboard is the fishmonger. He has a stall beside the harbour and when he isn't hauling crates of fish around or setting out his lobster pots he is mending fishing nets. He is obsessed with fish. He will turn any conversation to the subject. He is also very accident-prone and is always guaranteed to inadvertently cause some sort of kerfuffle along the seafront. His tales are almost as tall as Old Jack's – when he can remember them!
Paul has a distinguished musical theatre career having starred in Peter Pan at the Festival Hall, Trevor Nunn's South Pacific at The National Theatre and Jesus Christ Superstar at the Lyceum, London. He has also graced our TV screens in a number of roles including EastEnders, Heartbeat, Where The Heart Is and, most recently, Casualty, 2 Pints Of Lager And A Packet Of Crisps and MI High.
For Paul, working on Old Jack's Boat, has meant working with two of his closest friends. His dog Scuzz is Salty in the series. "Scuzz allows me to live with her and run around and be her little personal assistant because she belongs to me or I belong to her, we sort of belong to each other really." he says.
It could have been tricky for Paul working alongside his dog but he says it has, in fact, been 'absolutely fantastic'.
"People have been really helpful as far as the dog is concerned taking over from me when I have got to do some Ernie stuff. So I'm quite grateful for that, but she is so well behaved."
He adds: "Every time we come down the hill to go to work she goes nuts she's screaming and carrying on, wanting to get out doing what she does, she's had a fantastic time."
His other close pal is Bernard Cribbins. Paul explains: "I have known Bernard for a long time we have been friends now for about 20 years. I first worked with him with at Regents Park doing a musical and we became friends and have been ever since, so it's been fantastic for me, I've got my best friend here, I've got my dog here."
When Bernard mentioned to the producer that his friend had a dog who would be perfect for the role of Salty, Scuzz was invited to audition. When Scuzz auditioned Paul did too – and landed the part of Ernie!
He says: "I worked before in children's TV but this has been a completely different experience altogether, I have had such a fantastic time up here in Staithes. I think I have become really goods friends with quite a lot of people do to with it all. This has been wonderful."
Miss Bowline-Hitch played by Helen Lederer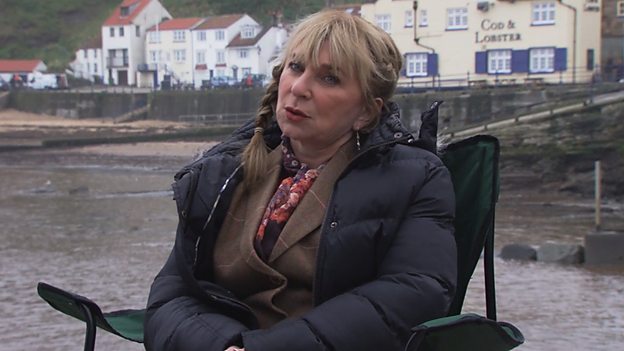 Miss Bowline-Hitch is a kindly, middle-aged lady who cycles through the town doing busy things, organising the lives of the village. She fetches and carries for people, even if they don't really want her to. She is always pursuing her amateur projects – watercolour painting on the beach, vigorous and healthy swimming, watering the town's flowers, planting trees. She is very opinionated, has a bit of a bark but is actually very loving and very caring. She often complains about her role in Old Jack's stories but she always has a jolly good laugh about it afterwards. Jack gets quite exhausted by her energy. She's always 'busy busy busy'.
Helen is one of Britain's best known comedy character actresses. Helen is possibly best known for her role as the dippy Catriona in all five series of Absolutely Fabulous. She has a string of theatre credits to her name including West End productions Educating Rita and Calendar Girls.
Helen describes her character as 'very bossy' but that she 'has a heart of gold'. And, though she thinks she's very busy, she actually - every so often - gets caught napping.
She says she particularly like the role because of the 'tricycle work' she gets to do! "I think that's a marvellous opportunity to show people just what you can do on a tricycle and she does love riding her tricycle!"
Like Freema, Helen is also delighted to be working with Bernard Cribbins. "He's a legend!" she says. Helen loved Bernard in The Railway Children and has enjoyed chatting to him about his film career – not to mention Googling images of him!
She says: "We talk about films he's been in and all the lovely, friendly people that are working on this together and we just find images of him from films that he has done before!"
Helen describes herself as a 'bit of a child' so has fitted right in with Old Jack's Boat.
"Working on children's programmes is fun because its very warm and friendly and tells a story in a different way from, say, if you're trying to do a comedy and you're having to come up with jokes that you have to think about quite a lot. This is a very direct way of getting a story out there, hopefully in a good way. I love children, I'm a bit of a child myself and I do especially have a connection - I'd like to think - with what young people like and therefore I do like to be a part of it."
Emily Scuttlebutt played by Janine Duvitski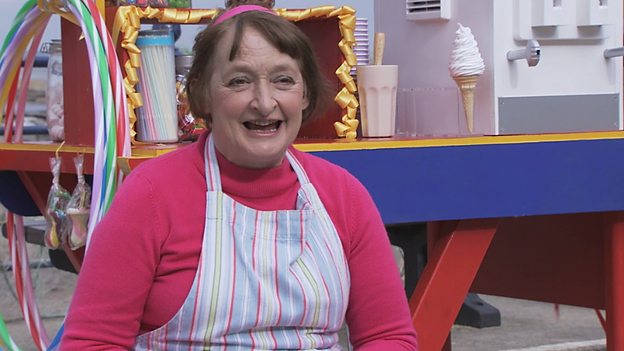 Emily Scuttlebutt runs the ice cream van that parks up beside the beach. From her stall she can survey the sea and watch out for the changing weather (something she always, always has an opinion on). She is also a great gossip and a great pal of Jack's.
Janine has many television credits to her name including mega-hit shows One Foot In The Grave and Benidorm. She also played the role of Angela in Mike Leigh's acclaimed play Abigail's Party.
Janine reveals the secret to Emily being able to predict the weather. She says: "She has great friends, which are the seagulls, and they tell her all of this information so she can talk to them and find out about the weather and tell everybody what's going to happen."
"She's very well meaning, kind and generous. She's quite obsessed with these seagulls."
Janine is pleased to be involved with children's programming and feels it is important to keep the art of storytelling alive.
She says: "I haven't worked on children's for a bit. I've got lots of children so for a long time that was all that was ever on at home. And I love children's books and reading to children so this combines all of that.
"I think the imagination of children means that it can go anywhere and it's exciting and I've never been as thrilled with stuff as a grown up as I was when I was a child."
After filming Old Jack's Boat Janine is planning a holiday. To Benidorm? "No, no, I'm going to Morocco, but I will be going back to Benidorm next March and I'm doing another series playing someone who is a bit eccentric in that."
Does she normally get eccentric parts? "Yes, or slightly odd people like in Benidorm or I used to usually always play ugly, blind dates so yes, anything like that really!"
Sam Spinnaker played by Nadine Marshall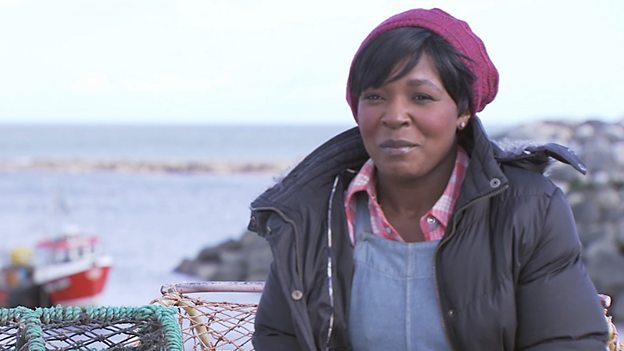 Sam runs the boatyard. She can turn her hand to virtually any job. She is always seen hammering, bashing, painting and fixing. Usually her work is unfinished – or falls apart. This doesn't thwart her. She is one of life's enthusiasts and she is always upbeat. She talks fast and is very excitable – always getting caught up in the events in the town and in Old Jack's stories.
Nadine has a string of theatre credits to her name including Debbie Tuker Green's Random along with TV appearances including a TV version of Random - for which she won a BAFTA - Casualty and Criminal Justice.
Nadine says she has learnt a lot from working on Old Jack's Boat, in particular from Bernard, who she describes as a 'legend'.
"He is lovely, really, really lovely. He's a bit of a legend so I was a bit nervous at the beginning but he was lovely. I've learnt so much from him. It's hard not to learn so much from him.
"He was always talking to me about pace because I'm a bit quick. I think that might be nerves that makes me go a little bit quick and he'd say 'you're going like the clappers, slow down'. So he was always reminding me about pace and that was really helpful because sometimes you can forget and end up rattling through. With kids TV you have to be careful of that because the kids might switch off a bit!"
Nadine says that working on children's programmes is very different to the intensity of adult dramas and that it is a much more tranquil experience. "You still need the same amount of concentration; you still need the same amount of focus," she says.
"With drama it tends to be a little bit more intense so there's not that much room to relax. Whereas with children's TV you can kind of let your hair down a little bit more. It's not so intense. You've still got to focus but you can have so much more fun and that's why I love it; because it's fun from beginning to end."
So what is next for Nadine? She got a couple of new comedy series coming up but says she would love to do more children's TV. And with three boys of her own, there's 'cooking, cleaning - how about that?!'
Search the site
Can't find what you need? Search here