Old Jack's Boat
Bernard Cribbins marks his return to children's television in a brand new series for CBeebies, Old Jack's Boat.
Published: 14 January 2013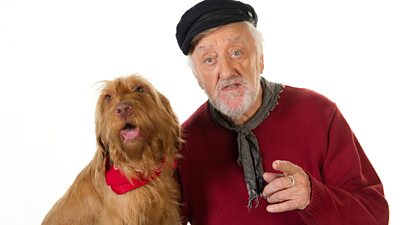 He stars as Old Jack, a retired fisherman who tells tall stories from his time at sea from inside his old fishing boat, The Rainbow. Using a mix of live action and animation, Old Jack is able to wander along the seabed, visit tropical islands and fly high in the air on balloons.
His faithful dog, Salty, always accompanies him as he wanders through the streets of Staithes, North Yorkshire, meeting his friends along the way.
Each episode, two of which have been penned by Russell T Davies, begins this way with Jack saying good morning to everyone until he bumps into one of his friends - who is usually embroiled in something that sparks an idea in Jack's head for a story.
The Rainbow is where he heads and the moment Old Jack and Salty step aboard it magically transforms from a dilapidated boat into its glorious former self.
Below deck, among the clutter he has collected through years of travel, Old Jack settles down to tell a wondrous story – helped by the ever eccentric inhabitants of his fishing town home.
The story always begins the same - with 'Once upon a twinkly time, the Rainbow set off from Staithes, waved goodbye to Whitby and disappeared over the horizon….'
Then the storytelling comes into full force. Jack tells an increasingly tall tale that features him as a central character. Using props scattered around him, he acts out dramatic moments from the story that mixes live action and animation. He could be under the sea or floating high in the air but wherever he is he always meets interesting characters along the way. And they are often very familiar – very much like his friends from the town.
At the end of the story he and Salty leave the boat and walk back through Staithes. They again bump into the friend they met earlier and the story that was set up at the beginning of the episode is resolved. Then, Old Jack sets off back through the town to the Mermaid Cafe for a well-earned cup of tea or back to his house at the top of the hill.
Storytelling is at the heart of Old Jack's Boat and CBeebies will be launching a series of interactive stories for Old Jack's Boat online at bbc.co.uk/cbeebies. Voiced by Bernard Cribbins, each story is taken from an episode featuring Jack's animated friends. In each story users will be able to read along and then join in by clicking on different objects in the story to bring them to life. There will also be a touch screen game that allows children to join in one of Old Jack's adventures by helping him (and Salty) find all of their good friends hiding under the sea in a game of hide and seek.
JC4/KW
Music in Old Jack's Boat
The score is recorded by The BBC Philharmonic Orchestra, a first ever for a CBeebies series, and is composed by The Composer Works' Paul Honey. Paul has scored music for Brum (BBC) and additional music for Boohbah (CITV) and he recorded the arrangements for In The Night Garden. His other recent BBC score is for the forthcoming BBC period comedy production, Blandings.
Paul explains the background to writing the music for Old Jack's Boat and how the orchestra became involved: "Both producer Dominic MacDonald and I are of an age where we go all misty-eyed at the thought of The Wombles and Jackanory, and we really wanted to create something a bit special and different for Old Jack's Boat.
"When we were considering initial ideas for the score, we thought at first that its general tone should perhaps be rooted in sea shanties, traditional music, etc. Dominic is a musician himself, so he was very open to my ideas. I don't tend to treat writing music for children any different than for adults and as there is such a breadth of characters and dramatic situations in the stories that Jack relates, it became obvious that our initial ideas would work well for the opening song but might have been a little too restrictive musically for the rest of the score. I wanted something that would be bound together by an orchestral texture but with elements of all sorts of styles - from Indian music to mainstream swing.
"As the BBC Philharmonic Orchestra and CBeebies HQ are based at MediaCityUK, I suggested the idea to Dominic of recording it with the orchestra. He approached them, the outcome of which is a score for the series in large part recorded by a 40-piece orchestra."
Related Media Centre Links
Related BBC Links
Tagged: