The BBC micro:bit partnership
Conceived and convened by the BBC, the BBC micro:bit has been made possible by a pioneering partnership of 29 organisations. It is unprecedented in its scale, ambition and dedication to help a new generation get creative with technology and take advantage of the opportunities a career in science, technology, engineering and maths offers.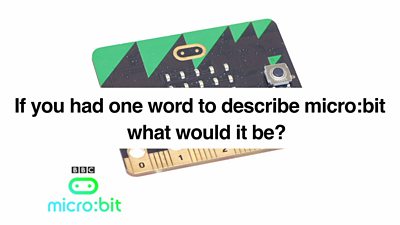 The BBC micro:bit's formal product partners have led on the software, hardware, design, manufacture and distribution of the device, whilst our formal product champions are playing a vital role in supporting the device through additional support, services, outreach, engagement and educational resources.
Product Partners
The BBC micro:bit's web-based coding environment, TouchDevelop, was provided by Microsoft, ensuring that children can code anywhere, on any device, and choose from a range of editors to match their skill level.
ARM provided the BBC micro:bit's technical design and managed its build and manufacture, working closely with Technology Will Save Us, who were responsible for the device's appearance, aiming it at children and families, element14 on the device's manufacture and sourcing of parts, Nordic Semiconductors, who donated the main Cortex M0 microprocessor chip, and Freescale, who donated the accelerometer, the magnetomer compass and another Cortex M0 microcontroller chip to manage the device's micro USB connection. Lancaster University created the micro:bit's runtime - the essential core code that makes it work.
The BBC micro:bit can also communicate, control and be controlled by other devices - either physically connecting to them via crocodile clips or banana plugs, or wirelessly via Bluetooth Smart Technology. To support development on mobile devices Samsung is creating the app that allows the micro:bit to connect to Android devices, Microsoft is creating the Windows Phone app, and ScienceScope is creating the iOS app as well as distributing the micro:bits to all year 7, or equivalent, children in the UK.
Barclays have been a core supporter of the BBC micro:bit, helping to support the overall product delivery as part of their campaign to grow digital skills and capabilities in the UK.
The role of each of the product partners is listed below:
ARM
The BBC micro:bit was created using the ARM mbed hardware and software development kits (HDK and SDK) and compiler services. The project builds on the organisations' collaboration on the original 1981 BBC Microcomputer.
ARM mbed software enables Lancaster University's micro:bit runtime solution and the Microsoft programming interface sits on top of mbed's professional-grade cloud compiler service, converting users' programmes into BBC micro:bit code. These files are 'flashed' onto the device over USB or Bluetooth Smart Technology for the board to run. The ARM mbed developer tools (developer.mbed.org) are available for students to take their microbit experience to the next level to develop low level programming skills.
Simon Segars, CEO ARM says: "Technology is now as much a part of childhood as riding a bicycle or kicking a football, but going from user to innovator is something we still need to encourage. The BBC and Acorn Computers, where ARM technology was first created, came together 35 years ago to develop the BBC Micro and that inspired the engineers now at the forefront of shaping our increasingly connected world. The new BBC micro:bit has even greater potential because it can inspire boys and girls toward a career in technology at a time of unprecedented demand for science and engineering skills across all areas of the global economy."
Barclays
Responsible for supporting micro:bit and outreach activities.
"We want to inspire children across the UK to get into coding, programming and digital technology - that's why we've partnered with the BBC on its Make it Digital initiative. 
We're helping the BBC to manufacture and distribute a million micro:bits to 11-12 year olds across the country.
We'll be incorporating the BBC micro:bit into our digital education programmes with the help of our 15,500 Digital Eagles across the UK. They are already helping people get online with initiatives such as such as Code Playground, where children, parents and teachers can learn coding online or in branch.
LifeSkills created by Barclays has created tools for teachers to help students learning to code with the BBC micro:bit. The guides will help release its full potential as a springboard for learning new skills. Find out more at www.barclayslifeskills.com "
Steven Roberts, Director of Strategic Transformation, Barclays: "We firmly believe that Barclays has a commercial and social responsibility to ensure that no one is left behind on the digital journey, so we are on a mission to help and enable people to understand and embrace coding and the new digital revolution - whether they're 7 or 107. We are proud and privileged to be supporting BBC Make it Digital and the launch of the BBC micro:bit . Working alongside the other partners of this very important initiative, we also see this as an opportunity for our business and corporate customers to become engaged in the digital revolution we find ourselves in."
*This content was updated on 21/03/2016
element14
Responsible for sourcing the components and managing the manufacturing of the BBC micro:bit in their factories in China.
element14 has worked closely with ARM on the component requirements and ensuring that the devices can be built cost effectively at their manufacturing plants. They are working closely with ScienceScope on delivery of BBC micro:bits for distribution into schools.
Laurence Bain, CEO, element14 says: "BBC Make It Digital is set to play a critical role in inspiring and educating the next generation of engineers, and element14 is proud to be part of the initiative. With our unique experience in designing and manufacturing products for the world's leading technology brands, we are ideally placed to deliver the BBC micro:bit to students and teachers across the UK. We have already seen our customers across the world develop fantastic products for the Internet of Things, and can't wait to see what the micro:bit can enable for the engineers of the future."
Freescale
Responsible for supplying the accelerometer, the magnetometer, and the Micro-USB controller.
Freescale has worked on the hardware of the BBC micro:bit. They have provided the microcontroller that manages the micro:bit's USB connection. This allows the users to connect the micro:bit to their computers. Once connected the micro:bit will appear in a similar way to a USB drive. Users can then drag their compiled code file onto the micro:bit and run it.
Freescale have also provided the sensors (accelerometer and magnetometer) that enable the BBC micro:bit to react to motion and the direction it's facing. These will allow children to create exciting new applications based on position and whether they shake, turn or tilt their micro:bit.
Geoff Lees, Senior VP of Microcontrollers at Freescale Semiconductor, says: "The Internet of Tomorrow is bringing almost limitless possibility to interact with the world around us and the new BBC micro:bit with its unique ability to detect and measure both movement and direction, as well as sensing location and surroundings, should truly encourage more young people to get involved and to experiment and create in the digital world. The BBC Make it Digital initiative is set to play a critical role in helping to unleash imagination and creativity within the next generation technology innovators and visionaries of tomorrow, and this aligns perfectly with our own commitment to world-class education in science, technology, engineering and math (STEM)."
Lancaster University
Responsible for creating and writing the BBC micro:bit runtime.
This is the essential core code that makes the BBC micro:bit do all the amazing things it does. Like a miniature 'operating system', the runtime is a powerful yet simple library of code that languages like Touch Develop use to control all the capabilities of the device - from the buttons and display to the tilt sensors and Bluetooth. Each programme a user writes is sent to the ARM mbed compiler, where it is linked with the micro:bit runtime and 'compiled' into the machine code the micro:bit understands. The micro:bit runtime is built on top of the ARM mbed SDK.
The University will also develop curriculum aligned, motivational teaching materials for the BBC micro:bit and organise research into how effective the micro:bit is being, helping to improve its effectiveness.
Lancaster University's Pro-Vice-Chancellor (Education) Professor Sharon Huttly. "Lancaster University has an excellent track record in Computer Science research, teaching and public engagement. BBC Make it Digital and the BBC micro:bit provide us with the opportunity to combine these strengths and reach out to every Year 7 child across the country to inspire and motivate the next generation of scientists. We are delighted to be part of the team involved in such a dynamic and far-reaching project, alongside our industry partners, at a time when the school curriculum from primary to A-level is developing to recognise Computing as the new fourth science for Schools."
Microsoft
To bring the BBC micro:bit to life, Microsoft has developed a bespoke version of their popular Microsoft TouchDevelop web application and hosting service.
This means the BBC micro:bit has its own dedicated website, Microsoft Azure, hosting for all one million micro:bits and a range of online code editors available on any device, on any operating system. The micro:bit website hosts the code editors, stores all the programmes written by the users and hosts all the resources built for the micro:bit. Microsoft has also supplied two coding languages: Microsoft TouchDevelop, a text-based language, and Microsoft Blocks, a graphical coding language.
The Microsoft TouchDevelop web app holds  all the code editors built for the BBC micro:bit, runs the micro:bit simulator, sends the code to the ARM compiler and brings back the compiled files to be sent to the micro:bit. Microsoft has also brought in a number of learning resource providers to supply learning resources, and producing a getting started guide for teachers and students.
Michel Van der Bel, UK CEO, Microsoft: "The simple truth is, being a maker matters. Real computing, doing not just consuming, will drive a creative revolution in this country. That's why as a key partner in BBC Make it Digital, Microsoft is helping to give a programmable BBC micro:bit device to every year seven child in the country."
Nordic Semiconductor
Responsible for supplying a single wireless chip on the BBC micro:bit that enables Bluetooth® Smart Technology (previously called Bluetooth Low Energy) wireless communication with smartphones, tablets, computers, and other micro:bits, and also embeds the micro:bit's main processor computer 'brain' (an ARM Cortex M0).
Nordic is passionate about inspiring young people to see that the BBC micro:bit can actually support 'real' products and applications - it's a seriously clever and capable piece of hardware.
Geir Langeland, Sales & Marketing Director of Norwegian wireless chip company Nordic Semiconductor, says: "Traditionally there have been very significant barriers to entry when it comes to young people getting involved with genuine technology development. But with the advent of modern smartphones, tablets and apps there has been major shift towards making technology easier and simpler to use in general: not just for users - but also for developers. And this opens up the door to young people and all their creativity too, if they have the right basic skills. That's why we are proud to be a partner of the BBC micro:bit initiative."
Samsung
Samsung is connecting the BBC micro:bit to phones and tablets, so that they are able to communicate with each other. By enabling the micro:bit to tap into the functions of our everyday digital devices, it opens up a limitless possibility of imaginative uses. For example, young people could code their micro:bit to launch their phone camera remotely to take a 'selfie' at the push of a button or they could code their micro:bit to act as a remote control to play music on their phone.
Samsung will also publish an app that will support the BBC micro:bit coding environment from mobile devices, allowing young people to program on-the-go.
Developing student projects and teacher resources for the BBC micro:bit, Samsung will help introduce the Internet of Things and the future of connected technologies into the classroom.
Andy Griffiths, President of Samsung Electronics UK & Ireland: "At Samsung, we're very excited to bring the BBC micro:bit to life with the BBC. Our engineers are enabling the micro:bit to communicate with everyday digital devices such as phones and tablets to allow young people to code inside and outside of the classroom. It's a great way to showcase the capabilities of this technology and we're looking forward to seeing how creative people can get with coding, whether that's programming their micro:bit to take a 'selfie' via their phone camera or coding it to flash when they get an incoming call, the possibilities are limitless."
ScienceScope
Responsible for leading the distribution of the BBC micro:bits to schools and development of the iOS App.
ScienceScope have been heavily involved in the development of the BBC micro:bit, including inputting on the design and testing of the device. They are managing the packaging and delivery of the micro:bits, ensuring that all of the schools receive their supplies. They are also working on the teacher engagement element of the project, building on their expertise of working with schools. ScienceScope will be building the iOS application to enable users to programme the micro:bit from their phones.
David Crellin, CEO, ScienceScope, says: "In a world where technology is transforming lives across the world our young people need to become experts in how this technology works. BBC Make it Digital, and the BBC micro:bit, will create a generation of young people who will learn how to solve problems using their own technology, using coding and electronics."
Technology Will Save Us
Responsible for engaging the curiosity and interests of young people through the design and first experiences of the BBC micro:bit.
Technology Will Save Us has been the user-centric design lead responsible for the physical design, first experiences (including packaging and out of box), and a key contributor to the electronic engineering of the device. Collaborating with other partners to ensure the physical, visual and technical aspects of the BBC micro:bit worked together to create a simple and delightful experience for children, teachers and families.
Bethany Koby, CEO and Co-Founder of Technology Will Save Us, says: "Every day my team and I help young people find creative ways to solve problems with tech. It is thrilling to partner with the BBC on what feels like a shared mission - to help us all become active shapers of our world, rather than passive consumers. The BBC Micro propelled the UK to the forefront of the Digital Revolution. The new micro:bit is set to do the same by growing the community of digital makers – people who creatively use tech to express themselves and change the world around them."
The Wellcome Trust
The Wellcome Trust is excited to work with the BBC micro:bit to show how important and meaningful coding is when used across all sciences. Through direct initiatives to schools, and working with the National Science Learning Centre, Wellcome Trust will provide exciting real life contexts for teachers and learners around the UK to use the micro:bit.
Hilary Leevers, Head of Education and Learning at the Wellcome Trust, says: "We will only be able to learn from increasingly large and complex scientific data sets if there are people who know how to gather and analyse them. In order to address many of the health challenges we face today - from achieving sustainable diets to providing people with medicines best tailored for them - we must equip our future workforce with passion and skills for coding. The Wellcome Trust is excited to work with the BBC micro:bit to help bring coding to life through real-world, scientific applications."
Product champions
The BBC micro:bit provides a hands-on learning experience that can help children grasp the new computing curriculum in ways that other software and traditional classroom learning can't.
The response from teachers and children in our trials has been overwhelmingly positive, and we want to ensure as many teachers as possible have the same experience.
Our formal product champions have played, and will continue to play, a vital role in providing additional support, services, outreach, engagement and educational resources.. This will help teachers and parents get the most out of the micro:bit, enabling children to unleash their creativity whilst develop their complex thinking, analytical and problem-solving strategies.
The BBC micro:bit's formal product champions include; Bluetooth Special Interest Group, Bright Future, Cannybots, CISCO, Code Club, Code Kingdoms, CoderDojo, Creative Digital Solutions, CultureTECH, MyMiniFactory, Institution of Engineering and Technology, Kitronik, London Connected Learning Centre, Python Software Foundation, STEMNET, TeenTech, and Tinder Foundation.
Bluetooth SIG
The Bluetooth Special Interest Group has been working with the BBC micro:bit partnership and designed the Bluetooth Smart Technology profile for the micro:bit in addition to providing general advice and guidance relating to Bluetooth Smart Technology. They have also worked with the partnership to help to register the micro:bit's Bluetooth Smart Technology feature.
Bright Future
Bright Future will provide pupil and trainees engagement events and activities, focusing on the use of the BBC micro:bit to create challenges and educational resources.
Bright Future's apprentices will develop example and engaging programmes that will meet the requirements and needs of micro:bit users. They aim to produce sample commercial-quality projects that can be used and adapted by the user to generate interest and knowledge of coding. Bright Future will host hackathons, supervised by a team of qualified trainers and apprentices, that will offer extensive hands-on software programming exercises that will inspire young enthusiastic children to become the UK's digital coders of the future.
Cannybots
Cannybots are 3D printable toy robots that introduce kids to programming, digital making, technology and art. Cannybots can be used in a number of engaging real world gaming scenarios like high speed racing, maze solving, sumo wrestling, jousting and duelling. They can be programmed and controlled remotely from phone, tablet, PC or Raspberry Pi . We are creating a 3D printable toy robot that uses the advanced features of the micro:bit such as the led matrix to display information and built in accelerometer and compass for autonomous navigation.
Robotics is an ideal platform to inspire and engage kids with technology. It incorporates all aspects of technology, such as programming, electronics, mechanics and design. 3D printing is helping children to easily design and create physical objects limited only by their imagination. By combining robotics, 3D printing and micro:bit we are creating a compelling educational tool.
Cisco
Cisco are working with STEMNET to support the BBC micro:bit. Cisco will be providing staff volunteers to STEMNET to help with the rollout of the device, as well as creating learning activities and getting started webinars.
In November Cisco will launch the Little BIG Awards 2016, an IoE challenge for years 7-9, designed to drive and inspire technical innovation within the nation's school children. The micro:bit will be key to this year's IoE challenge, helping students develop new ideas and applications that could make their lives easier, by connecting everyday things together.
Code Club
Code Club is a nationwide network of volunteer-lead after-school coding clubs for children aged 9-11. Code Club are creating a set of learning resources to help children harness the power of the BBC micro:bit and to see the impact that programming can have on their day-to-day lives. Children will learn introductory programming and computational thinking concepts, and apply them in making a range of fun programs for their micro:bit.
Code Kingdoms
Code Kingdoms will be working with the micro:bit team to build a code editor, which will enable children to write programs and then load them, once compiled by the ARM compiler, onto the micro:bit. Code Kingdoms will create learning resources to support the use of the editor.
CoderDojo
CoderDojo will host a number of standalone BBC micro:bit events across the UK to focus on using and learning with the device. In addition they will integrate the use of micro:bit into CoderDojo sessions and will encourage the community to build challenges for the micro:bit that includes interfacing with a range of other devices.
Creative Digital Solutions
Creative Digital Solutions will be helping to develop teaching resources for the BBC micro:bit, as well as working across the partnership to help design activities for outreach. Creative Digital Solutions will be running workshops for hands-on interdisciplinary teaching and learning and to foster collaboration and sharing across the communities. We will be supporting the creation, sharing and re-use of learning design resources.
CultureTECH
The BBC micro:bit is a brilliant opportunity to help connect the expertise of the technology sector with young people across the country. CultureTECH will be working with schools throughout Northern Ireland to deliver introductory workshops, supported by volunteers from across the NI tech sector.
Individual makers, developers and industry professionals will also work together to design real-world projects that challenge young people to showoff their technical and creative skills. The whole thing will kick-off with a series of events during the CultureTECH Festival this September.
MyMiniFactory
MyMiniFactory will be showcasing how 3D printing and open source design can be used to create objects that can be combined with the micro:bit to innovate, make new products and inspire the future generations of 3D designers. They will host versions of a case for the micro:bit on their platform that students will be able to print themselves in the classroom. Additionally MyMiniFactory will host competitions and campaigns encouraging students to engage with computer aided design and 3D printing in general.
Institution of Engineering and Technology
Computers and Technology are at the heart of everyday life. Today, and in the future, engineers will be essential to develop and create solutions for an ever-expanding global population. The Institution of Engineering and Technology education team will be working on this exciting project to produce a range of teaching resources, including text-based and video-based materials, both curriculum and cross-curriculum focused; hands-on practical events; and teacher CPD sessions to promote this coding device and encourage its use both in school and at home.
The events will include a series of off-timetable STEM challenge days in schools across the UK as well as a number of larger regional events for parents and families that will include some training on the micro:bit devices, as well as encourage creativity, team working, problem-solving and the application of the technology to real-life situations in order to inspire the next generation of engineers and technologists.
Kitronik
Kitronik will be working with the BBC micro:bit to showcase how it can be expanded, via connectors to create new and exciting projects. They will be giving away 5,500 e-textile sewing kits, with conductive thread, to Design and Technology teachers. This will highlight how the micro:bit can be used to control other items, including additional LED lights.
London Connected Learning Centre
London CLC, an award-winning, education technology organisation supporting schools in the innovative use of new technologies, will be creating resources for pupils, teachers and parents. The CLC is delighted to be partnering with the BBC to deliver its Make it Digital initiative. They will be working with pupils and teachers to generate a plethora of original ideas for using the BBC micro:bit in the classroom and beyond. They will create user-friendly, accessible teaching materials which will link to both to the computing curriculum and cross-curricular work within school.
The CLC will also be providing support for parents and carers, enabling the use of the device beyond school and encouraging families to engage in learning together.
Python Software Foundation
The Python Software Foundation will be working with the BBC micro:bit to provide a code editor that will help to teach children the Python programming language. They will be working with the Python development community to produce resources and activities that children can build using Python.
STEMNET
30,000 inspirational STEM Ambassadors volunteer as career role models that young people can identify with, as more than 60 percent are aged under 35 and more than 40 percent are female. Selected STEM Ambassadors will enthuse young people to explore the incredible possibilities of the BBC micro:bit, showcase relevant careers in STEM (science, technology, engineering and maths) and help spark the creative potential of the micro:bit in young minds.
STEMNET's 45 local STEM organisations support teachers in all UK schools and nine out of ten teachers say their pupils are more aware of STEM subjects and their real world applications after engaging with STEMNET's programmes. www.stemnet.org.uk
TeenTech
TeenTech will be providing inspiring videos, online HangOuts and events which help young people see how programming the BBC micro:bit is just the first step on a very exciting road.
From robotics to aeronautics, the future of food to the future of entertainment, global companies to start ups, they will help students understand where an interest in technology can take them. Parents, students and teachers can also access materials and expert advice on how to get the very most from their BBC micro:bit from TeenTech Clubs running across the UK in Maplin stores from September.
The Tinder Foundation
The Tinder Foundation will mobilise their 5000 learning centres to help promote the BBC micro:bit with parents and the wider community. They will provide learning resources and support the rollout of the micro:bit via social media communications with their vistors and UK Online centre users.