Small Axe - Mangrove
Mangrove is the first of BBC One's Small Axe anthology series, which comprises five original films by Academy Award, Bafta and Golden Globe-winning filmmaker Steve McQueen (Hunger, Shame, 12 Years A Slave, Widows). It premieres on BBC One and BBC iPlayer on Sunday 15 November.
Published: 10 November 2020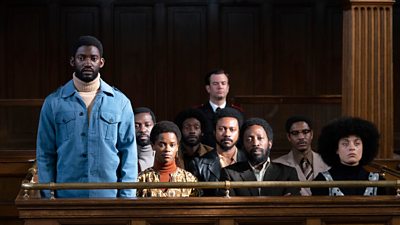 Small Axe refers to a West Indian proverb that means together we are strong. To me, it is a love letter to Black resilience, triumph, hope, music, joy and love as well as to friendship and family.
Set from the late 1960s to the mid-1980s, the films each tell a different story involving London's West Indian community, whose lives have been shaped by their own force of will, despite rampant racism and discrimination.
Even though this collection of films is set some decades ago, the stories are as vital and timely today as they were for the West Indian community in London at the time. Small Axe is a celebration of Black joy, beauty, love, friendship, family, music and even food. Each one, in its own unique way, conveys hard-won successes, bringing hope and optimism for 2020.
A Note from the Director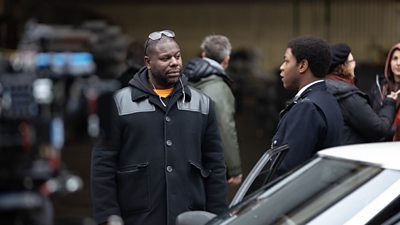 The seed of Small Axe was sown 11 years ago, soon after my first film, Hunger. Initially, I had conceived of it as a TV series, but as it developed, I realised these stories had to stand alone as original films yet at the same time be part of a collective. After all, Small Axe refers to a West Indian proverb that means together we are strong. The anthology, anchored in the West Indian experience in London, is a celebration of all that that community has succeeded in achieving against the odds. To me, it is a love letter to Black resilience, triumph, hope, music, joy and love as well as to friendship and family. Oh, and let's not forget about food too!
I recall each of these stories being told to me either by my parents, my aunt, and by experiencing racial discrimination myself growing up in the 70s and 80s. These are all our stories. I feel personally touched by each and every one of them. My five senses were awoken writing with Courttia Newland and Alastair Siddons. Images, smells, textures and old customs came flooding back.
All five films take place between the late 60s and mid 80s. They are just as much a comment on the present moment as they were then. Although they are about the past, they are very much concerned with the present. A commentary on where we were, where we are and where we want to go.
When the Cannes Film Festival selected Mangrove and Lovers Rock earlier this year, I dedicated both to George Floyd and all the other Black people that have been murdered, seen or unseen, because of who they are in the US, UK and elsewhere. As the proverb goes, "If you are the big tree, we are the small axe." Black Lives Matter.
Steve McQueen
Production information
Mangrove tells the true story of Frank Crichlow (Shaun Parkes), whose West Indian restaurant, Mangrove, a lively community hub in London's Notting Hill attracted locals, activists, intellectuals and artists. In a reign of blatant racial discrimination, Crichlow finds himself and his drug-free business the brunt of relentless police raids. In a bid to stop the discrimination and ruination of their community base, Frank and his friends take to the streets in peaceful protest in 1970, only to be met by police aggression.
As a result, nine men and women, including Frank, leader of the British Black Panther Movement Altheia Jones-LeCointe (Letitia Wright), and activist Darcus Howe (Malachi Kirby), are wrongly arrested and charged with incitement to riot and affray. A highly publicised trial ensues, leading to a hard-fought win.
Letitia Wright (Black Panther), Malachi Kirby (Roots, Black Mirror) and Shaun Parkes (Lost In Space) star alongside Rochenda Sandall (Line Of Duty, Talking Heads, Criminal), Jack Lowden (The Long Song), Sam Spruell (Snow White and the Huntsmen), Gershwyn Eustache (I May Destroy You), Nathaniel Martello-White (Collateral), Richie Campbell (Liar), Jumayn Hunter (Les Miserables), and Gary Beadle (Summer Of Rockets).
Executive producers are Steve McQueen for his Lammas Park, Tracey Scoffield and David Tanner for Turbine Studios, Lucy Richer for BBC One and Rose Garnett for BBC Films, with Amazon Studios co-producing in the US. The production team includes director of photography Shabier Kirchner (Bull, Skate Kitchen), production designer Helen Scott (A Very English Scandal, Fish Tank), costume designer Lisa Duncan (Been So Long, The Dark Mile), hair and makeup designer Jojo Williams (Yardie, Broadchurch) and co-editors, Academy Award-winning editor Chris Dickens (Slumdog Millionaire, Les Miserables) and Steve McQueen.
Mangrove was co-written by Alastair Siddons (Tomb Raider, Trespass Against US) and Steve McQueen.
About the production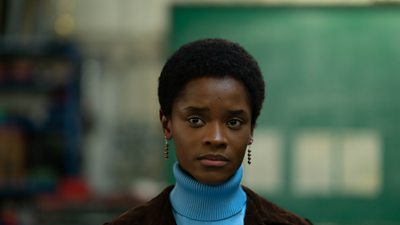 The telling of a story such as Mangrove - a significant juncture in British race relations history, that marked a tremendously successful win at the Old Bailey Court that has been forgotten by many - carries a great responsibility.
McQueen explains: "This is a story that I grew up knowing through my parents, my dad was friends with one of the Mangrove Nine. it was crucial to me that my co-writer Alastair Siddons and I put all our effort into research and to retelling this story with as much accuracy and care as possible."
McQueen says: "Alastair is very particular. He is an innate researcher and likes to get to the nitty gritty. The minutia. We worked together in tandem, digging and refining as we went along on this journey."
So, let's begin with some background.
Frank Crichlow opened the Mangrove in 1968 in Notting Hill's All Saints Road, only the Notting Hill of 1968 was a very different one from the one portrayed in movies of recent years. The construction of the Westway Motorway meant that cheap rent could be found, and many people who arrived from the West Indian islands from 1948-1971, known as the Windrush communities, sought home and community in the area.
The Mangrove quickly became a sanctuary to the islanders. Frank himself was Trinidadian-born and simply wanted to run a good business. The cosy restaurant was dimly lit and served delicious West Indian fare, such as spring chicken with rice and peas, to an eclectic mix of fellow migrants, intellectuals, activists and artists: Nina Simone, Vanessa Redgrave, Diana Ross and Jimi Hendrix are known to have frequented the café, as well as Bob Marley, who played football nearby and would come to the Mangrove afterwards to eat.
The restaurant was much more than a late-night haunt for artists - it provided a home base for the Black community to support each other. It's where people came for advice about housing and job applications, it was their anchor, until the local Kensington and Chelsea Council removed Frank's license from 11pm, when much of his trade happened after midnight. Frank made a formal complaint of unlawful discrimination, as the Council cited criminal patrons and activity such as prostitution as reasons for revoking the license, but the police continued to turn up and raid the premises looking for drugs and causing havoc. The harassment became untenable. Frank was losing business and the locals were losing the heart and soul of their community.
Frank Crichlow's (Shaun Parkes) first resistance in this triumphant story was resisting his leading role as a community activist. After all, he just wanted to run a great restaurant. Eventually, the Mangrove became a makeshift hub of community activism spread across three floors. Frank and his friends planned to protest on 9 August 1970, but first they wrote an open letter to Prime Minister Edward Heath to explain how they were forced to protest, "as all other methods have failed to bring about any change in the manner the police have chosen to deal with black people".
As Executive Producer Tracey Scoffield explains: "One hundred and fifty marchers turned up and 300 policemen, which gives you some idea of what the police thought of the whole thing."
There are reports that over 500 police attended the march as well as undercover policemen. While varying accounts exist of how the initial altercation with police initiated, we know that bedlam ensued, and that numerous protestors and police were injured. In the aftermath, the police charged Frank and eight others, Altheia Jones-LeCointe (Letitia Wright), Darcus Howe (Malachi Kirby), Barbara Beese (Rochenda Sandall), Rupert Boyce, Rhonan Gordon, Anthony Innis, Rothwell Kentish and Godfrey Millett. They became known as the Mangrove Nine.
One of the most shocking facts about the trial was the court in which the nine were tried, the Old Bailey, a high court reserved for the most serious crimes. Three of them, including Altheia Jones-LeCointe and Darcus Howe, represented themselves so they could speak directly to the jury. But even then, the defendants used their right to question and dismiss potential jurors. Sixty-three were rejected. The final selection included two Black people.
Lawyer Ian MacDonald was a formidable and profoundly inspirational figure in the establishment of anti-discrimination and anti-racist laws in the UK. It was his commitment to equality and race relations that led to his successful defense of the Mangrove Nine, some of whom attended his 80th birthday in 2019 and spoke of his eagerness to present their account of mistreatment and injustice. MacDonald passed away in November 2019 during Small Axe production. He was working on immigration cases at the time of his death.
The trial led to an historic ruling whereby the jury acquitted all of the nine of incitement to riot. Five were acquitted of all charges against them. The remaining four - Rupert Boyce, Rhodan Gordon, Anthony Innis and Altheia Jones-LeCointe - received suspended sentences for a selection of lesser offences, including affray and assaulting police officers.
Nonetheless, it was Judge Edward Clarke's closing comments that cemented in stone the most significant hard-won triumph.
He concluded: "What this trial has shown is that there is clearly evidence of racial hatred on both sides."
The Mangrove closed in 1992 and Frank Cricklow died in 2010.
Up until now, the story has remained relatively unknown in the UK. 2020 is the year to tell it.
Parallels to modern and past struggles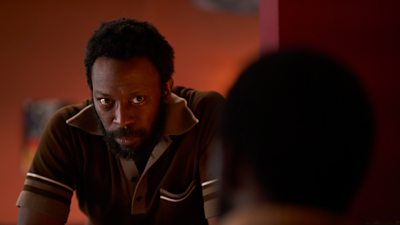 "Great men make history, but only such history as it is possible for them to make. Their freedom of achievement is limited by the necessities of their environment. To portray the limits of those necessities and the realisation, complete or partial, of all possibilities, that is the true business of the historian."
When Trinidadian author, historian and journalist C.L.R. James wrote these words in 1938 in the first edition of his book The Black Jacobins, he had no idea what would befall the Mangrove Nine nearly four decades later in London. However, James, a mentor and friend to some of the nine, did know that men, women and children of the African diaspora would have to fight long and hard for their rights in the Western world.
Shaun Parks (Frank Crichlow) explains: "It's more important to get these stories out now than ever before, because I'm not altogether too sure that people see the truth as much as maybe they used to even 30-40 years ago."
Actor Letitia Wright, who plays leader of the British Black Panther Movement, Altheia Jones-LeCointe, says: "I think it's really important that this story is being told today. I wish it had been done sooner, but God bless Steve for wanting to honour our elders. Their stories are now being told and brought to the forefront.
"As a young person, I didn't know the majority of the things that we are speaking about in this project. I feel really ashamed that there was so much fight for us, and that young people in our generation today do not understand the hard work and the love that's gone into fighting for our rights to housing, our rights to education, and our human rights to be respected.
"We are educated on the African American side. But many haven't heard our side of things here in the UK. Mangrove and Small Axe as a whole is brilliant because we are able to educate the rest of the diaspora and the rest of the world about what was happening in the UK, much of which was hidden."
For Rochenda Sandall, who plays activist Barbara Beese, the lines between past racial tensions and current ones are constantly blurred because not enough change has taken place: "People will watch this film and see the struggle in this story, and they'll think about the repeat history."
Capturing the era on Film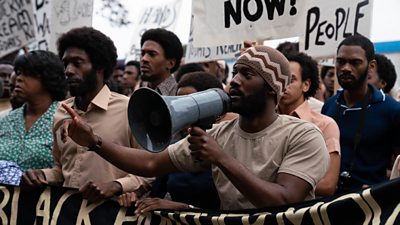 The visual terrain of Mangrove varies vastly from scene to scene. In one shot, there are innocent people in a cafe who are attacked by police while eating. In another, 150 actors and extras are protesting in the streets of Notting Hill. There are multiple court scenes with the Mangrove Nine in the dock, as well as more intimate scenes of principal characters in their homes.
McQueen explains: "My longtime cinematographer, Sean Bobbitt, wasn't available so I decided to look for an up-and-coming new talent. When I saw Shabier's showreel, I was very struck by his work and felt an immediate affinity with it. It was only later that I learned he was from Antigua."
Cinematographer Shabier Kirchner, who has shot the entire Small Axe anthology, adjusted to the ever-changing landscapes.
"Steve's shot all his movies on film, and also all of his artwork on film, so that was a natural part of the conversation," Kirchner says. "We settled on a 35mm 2-perf aspect ratio because it would give us a lot more grain, something that felt more tactile, but at the same time allowing a longer sort of aspect ratio."
McQueen continues: "Each of the five films have their own look as we didn't want to work to a stencil. I was much more interested in exploring what each of the stories demanded, so Shabier shot on 35mm for Mangrove, 60mm and digital for the others as well as various frame ratios. At the end of the day, it's all about the story."
In order to do justice to the story, McQueen and his casting director, Gary Davies, spent years collaborating.
"Gary was one of the first people involved in Small Axe 11 years ago. We had many conversations over the years and started talking to Letitia before she made Black Panther even. Gary and I wanted to find brilliant young Black talent in the UK, actors who hadn't had the opportunity to work. There's something quite magical and interesting about working with up-and-coming talent, a very similar situation to discovering Michael Fassbender and Lupita Nyong'o. We just need to give people a chance."
McQueen found in Shaun Parkes his perfect actor to play the legendary Crichlow: "I can't think of anyone else to play Frank. Shaun has this ability to carry the weight of the world, you just see it on his face. He's like a silent movie star. I often liken him to a young Al Pacino. There's not much he has to do with his face to convey emotion and depth. He's mesmerising."
Parkes (Frank Crichlow) says he was drawn to Steve as a truthful storyteller, who wanted to unearth an inspiring story about London's West Indian community: "The more people understand about the whole story, the more they'll be able to use their critical thinking and their hearts to receive. Steve brings an energy that he cares, something I haven't seen on a set for a long time."
Wright says of McQueen: "What I love about working with Steve is that he is very sensitive, it's about the feeling of something for him. If it doesn't feel right, he wouldn't go ahead. He gives you the freedom to feel it, his only objective is to tell the truth. I feel like he asks you to remove all the layers, take away all the faff, you know, the acting stuff, strip it all off and get down to the truth. That's been really refreshing for me because when I go to set, I'm challenged to just tell the truth."
Filming the court scenes proved to be challenging for many of the actors.
Wright explains: "We were placed in the dock and as it's a very confined space, the pressure and the heat and the frustration started to creep in."
For Kirby, his most challenging scene was Howe's closing speech, that took place from the dock. "On paper, it's a three or four-page monologue. But it wasn't the amount of words, but getting the understanding of why he chose those words and what he was referencing.
"There was something about that speech that felt very timely. I felt the weight of the possibility of those words. Not just how the speech would affect the court at that time, but how it may affect the world and the audience listening to it now."
Kirby also hopes audiences will feel as inspired as McQueen made him feel.
"Working with Steve McQueen has been a dream that I didn't know I had," the actor says. "It's been intense, it's been terrifying, but it's also been very nurturing. I think if I could use any word to describe working with Steve, I would say liberating. As an artist, as a human, as a storyteller, he has empowered me, given me the freedom to express and the guidance to express articulately."
Turning back the clock with costumes, hair and props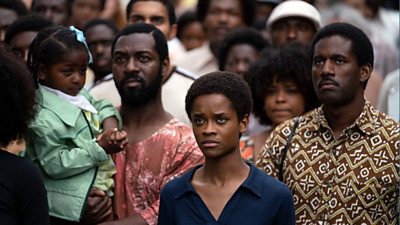 Production designer Helen Scott says: "Steve and I discussed the nature of this story, that at its centre was an unheard voice and one enormous cultural and social clash. We chose to convey this graphically, using the written word like posters and graffiti, and a limited but contrasting palette. I wanted that sense of urgency, unambiguity and clarity in the design."
Jonathan Barker's desaturated photographs of West London in the late 60s provided a reference and starting point for Helen.
Helen goes on to explain: "The photos no longer represent reality of course, so the challenge was in finding locations that hadn't been developed, crowded with buildings and trees, where there should really be gaps left from the bombings. Ultimately, we had to construct our own version of that era. Steve was very hot on research and, once he was sure we were working with the facts, and with a strong steer from him, he seemed happy to let us out of his sight. For example, the shops you see on All Saints Road are pretty much what was there at the time."
To recreate the look for the actors, McQueen turned to costume designer Lisa Duncan (Chimerica, Been So Long). With each black turtleneck or brightly colored frock, Duncan armed the cast with the ability to channel that period in palpable ways.
"When I first read the script, I was completely blown away," Duncan says. "It was just so moving, it felt like a world that I was very familiar with. The stories that I read reflected a lot of the stories that I'd heard from my family."
For Duncan, those familial bonds proved invaluable.
"My mother came from Portugal and my father from the Caribbean, so many of the characters reminded me of family members, like my grandmother and her friends and aunts," she adds. "I used that a lot in the design and was able to pull from family photographs in my research and to ask stories about how they dressed and what they remembered from that time."
Duncan also turned to book, video and photographic research. She and her team rented some of the clothes and accessories, purchased at vintage markets, and had others made to create multiple ensembles for what turned out to be quite a sizeable cast. For instance, when she put together Jones-LeCointe's look for Wright, she went for practical pieces that reflected the time and worked for Wright's frame.
Executive producer Tracey Scoffield says: "Lisa had a very large number of costumes to find in terms of the scale of this film, as we had a large ensemble and many extras. Lisa and her assistant scoured every charity shop and eBay for original pieces. We wanted the actors to wear clothing which looked well worn, which is correct for those times. Soon, deliveries from all over the South of England filled our production office."
Parkes (Frank Crichlow) says he appreciates Duncan's sartorial authenticity and collaborative style. "The most important thing for me is the idea that Lisa really cares about the truth. When you're wearing these clothes it's just another way, a useful tip, to get into character. It's very helpful."
"It was such an incredible feeling, wearing the outfits and our beautiful Afro hair," Wright says. "The costume, hair and makeup teams did impeccable work to make everything as real and tangible as possible. It really brings you back into that time."
Hair and makeup designer Jojo Williams describes her role as providing "authenticity throughout. It had to look real and it had to look of the period and that is challenging."
"I think Jojo did an extraordinary job," McQueen adds. "Hair at that time was very political and the fact that everything had to be so on point is a tribute to the hard work done by Jojo and her team."
Sounding like the real thing
The range of accents of the characters in this story authentically illustrates how West Indians were defined as one assimilated group by the British, but how in fact their culture, language and identity vary. Crichlow's Mangrove helped bring islanders together.
Accurately capturing the characters' distinct West Indian accents mattered a great deal, says Malachi Kirby, who stars as the late Trinidadian-born revolutionary Darcus Howe.
"The Trinidadian accent is one that I had attempted before and always struggled with, because there's so many different sounds in there. I felt like Howe's identity was based so much in his culture, so I felt that I really needed to get this right and do his sound justice.
"And it's not just a Trinidadian sound, because Darcus was very well educated, so he spoke with a regal-ness that wasn't working-class Trinidadian. There was a specific sound to Darcus, so my research began with trying to access that sound."
Wright says she had similar challenges when portraying physician and former British Black Panther leader Jones-LeCointe. The pressure increased when Wright met with and talked to Jones-LeCointe, she admits. Like Crichlow and Howe, Jones-LeCointe is a Trinidadian native.
"I was trying my best to honour where she came from," Wright says of Jones-LeCointe. "And that meant getting together with the amazing Hazel Holder, who's been my vocal teacher since 2014, someone who I really trust. Hazel is from the Caribbean, so getting together with her to explore the accent and finding a melody, I was able to eventually find a rhythm. I also watched a lot of documentaries about Trinidad."
Related Media Centre Links
Programme Information