BBC Make it Digital season
Major content season and new digital initiatives across TV, Radio and Online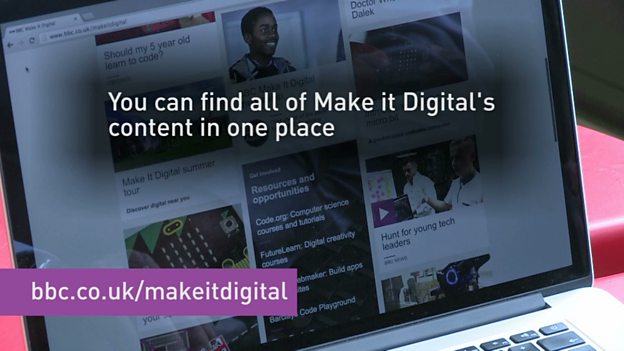 BBC Make it Digital launches major content season
[BBC Make it Digital is] another great example of the BBC I believe in – an open BBC, working closely with others to achieve something far greater than we could on our own: to inspire the nation to get coding and get digital.

Tony Hall, Director-General, BBC
Date: 08.09.2015
Last updated: 09.09.2015 at 19.25
The BBC today launched a major content season for BBC Make it Digital across TV, Radio and Online; a new platform for digital creativity aimed at teenagers called mixital; and BBC Make it Digital Matchr, a collaboration with Google and the Tech Partnership to help young people across the UK find the right resources to develop their digital skills.
The BBC also announced a new programme and digital influencer list in partnership with BBC 5Live - BBC Make it Digital Ones to Watch - with a judging panel that includes Maggie Philbin, CEO of TeenTech and former Tomorrow's World presenter; Emma Mulqueeny, founder and CEO of Rewired State; Phil Smith, CEO of Cisco and Chair of the Tech Partnership; and BBC Technology Correspondent, Rory Cellan-Jones.
Featuring over 35 programmes across TV and radio and a further 26 online, the BBC Make it Digital season aims to celebrate Britain's digital heritage, inspire audiences to take their first steps in the digital world, and give people the tools to get creative and build their digital skills - either through the BBC or one of many partners. The season runs from now until 26 September. Highlights include:
Tony Hall, Director-General of the BBC, says: "Our country has led so many of the world's tech and digital innovations, and BBC Make it Digital will help give us the skills we need to succeed in the future. It's another great example of the BBC I believe in – an open BBC, working closely with others to achieve something far greater than we could on our own: to inspire the nation to get coding and get digital."
Britain faces a critical digital technology skills gap, and the BBC and its partners aim to inspire a new generation of coding and digital creativity which will help create the next wave of pioneers. Figures released today from the Tech Partnership highlight the sheer size of the opportunity:
The number of tech specialists in the UK is forecast to grow at almost four times that of the workforce as a whole between 2014 and 2024
The jobs most in demand include programmers, developers, and web design and development staff, which are predicted to increase by more than 40 per cent over the same period
And computer games publishing is predicted to rise by 25 per cent
This major content season and new digital initiatives mark the next wave of BBC Make it Digital activity to address the skills gap, having already kicked off its BBC Make it Digital Traineeship to create up to 5,000 digital trainees, and a nationwide tour to help put digital creativity in the spotlight that has reached over 110,000 people so far in 10 cities. In addition, the BBC and partners have previously announced plans to give up to 1m BBC micro:bits to every child in year 7 or equivalent across the UK.
Jessica Cecil, Controller of BBC Make it Digital, says: "This is a hugely impressive season of programmes and content across BBC TV, Radio and Online, and it's fantastic to see so many of our best-loved brands putting digital creativity in the spotlight. There's something for everyone, with so many great stories about Britain's role shaping the digital world, and we hope to inspire our next generation of digital pioneers."
DT
Search the site
Can't find what you need? Search here
Related Media Centre Links
Related BBC Links