Make it Digital
BBC launches flagship UK-wide initiative to inspire a new generation with digital technology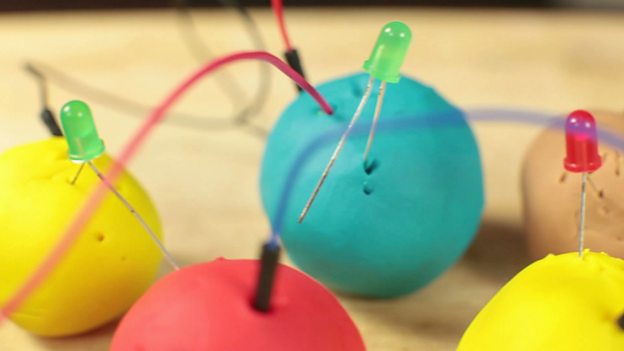 Partnerships
Date: 12.03.2015
Last updated: 02.06.2015 at 08.53
Partnerships are the lifeblood of BBC Make It Digital and we will work with organisations across the UK to shine a light on and amplify our vibrant digital landscape, develop new initiatives and inspire a new generation to get creative in today's digital age.
We are working with around 50 organisations in this first wave of partnerships. These include:
Major organisations such as ARM, Barclays, BT, Google, Microsoft and Samsung
Organisations with a focus on inspiring young people, such as Apps for Good, Code Club, CoderDojo, TeenTech and Young Rewired State.
Education partners like Codecademy, Decoded, Digital Business Academy, Freeformers, FutureLearn, General Assembly, Technology Will Save Us, and University of London's Queen Mary College.
On our new BBC Make it Digital Traineeships, we are partnering with the Department of Work and Pensions and Skills Funding Agency, and a host of other organisations.
Important convening and enabling institutions such as Nesta, Nominet Trust, Tech City Uk and Tech Partnership.
The British Computing Society and Computing at School, as well as the Duke of York and Nominet Trust's 'iDEA' (inspiring digital enterprise awards initiative) and the Founders4Schools.
A full list of our partners and supporting quotes are below.
These partnerships will:
Amplify and showcase the great work the vibrant digital world is already doing. One of the ways we will do that is via our new online hub launched today.
Create and launch the Micro Bit - a landmark digital product that will help children develop digital and coding skills across the UK working with some of the most exciting tech industry and tech education companies in the UK.
Help parents, teachers and young people navigate the complex ecosystem of digital skills learning opportunities both online and offline with a digital resource finder we are developing with Tech Partnership, Google and Nesta, with input from the widest possible range of stakeholders across industry, schools, and key bodies such as CAS and BCS - see online brands
Act as convener, bringing together groups of partners to create initiatives and resources together; and open up opportunities for partners and the industry. For example through Apps for Good we have already established a coalition of coding and programming organisations to share ideas and collaborate.
Launch the new BBC Digital Traineeship for up to 5,000 young unemployed people to help them boost their digital skills and get a foot on the jobs ladder - a major partnership between the BBC, Department for Work and Pensions and Skills Funding Agency, with support from a range of other organisations including the Federation of Small Businesses and Tech Partnership.
Build learning journeys though our partnerships and help to demystify coding and programming, for example our partnerships with BT and Barefoot Computing will create materials for primary school children using popular CBBC brands that they can relate to like Hacker from Hacker and Dodge, and Dick and Dom's Appsolute Genius.
Provide resources such as BBC Game Maker our Doctor Who game which teaches children how to code, as well as BBC staff volunteers to support initiatives such as Code Club's after school clubs, and organisations like Apps for Good, CoderDojo, Freeformers and TeenTech and Young Rewired State.
Mentor 14 to 25 year-olds to develop successful digital business ventures and earn accredited BBC Make It Digital skills badges online that young people can then add to their CVs and online profiles, together with HRH The Duke of York and the Nominet Trust as part of the iDEA inspiring digital enterprise award initiative.
Run events to explore key themes in digital education, such as with Google for teachers in the run-up to the introduction to the new National Curriculum in England in Computing; and with Barclays who have a long-term commitment to digital skills building in Britain with their Digital Eagles and Code Playgrounds. TeenTech will also be running its 2015 Manchester and Birmingham events on BBC campuses at BBC North and BBC Birmingham and we are in discussions with our other partners about other collaborations.
And impact across the UK by working with organisations and audiences across the country, including:
Scottish start up Rab C++ to bring The Hackstage Pass game to Radio 1's Big Weekend
Involving Code Club in Wales to help with our Doctor Who coding game
Running the Northern Ireland BBC Make it Digital festival which attracted almost 5,000 visitors to BBC Belfast this spring and showcased the work of over 20 partners - see Content Season
But the partnership story for BBC Make It Digital doesn't end there. Together with our partners, we will make a lasting impact this year and ensure people can continue making digital journeys through the BBC long after 2015.
Partners and supporting quotes
Apps for Good
Debbie Forster, UK Managing Director, Apps for Good: "Apps for Good works to grow a generation of entrepreneurs and digital-makers. We are delighted to see these goals reflected in those of BBC Make it Digital and proud to be a partner."
ARM
Simon Segars, CEO ARM: "Technology is now as much a part of childhood as riding a bicycle or kicking a football but going from user to innovator is something we still need to encourage. The BBC and Acorn Computer, where ARM technology was first created, came together 35 years ago to develop the BBC Micro and that inspired the engineers now at the forefront of shaping our increasingly connected world. The new BBC Micro Bit has even greater potential because it can inspire boys and girls toward a career in technology at a time of unprecedented demand for science and engineering skills across all areas of the global economy."
Barclays
Steven Roberts, Director of Strategic Transformation, Barclays: "We firmly believe that Barclays has a commercial and social responsibility to ensure that no one is left behind on the digital journey, so we are on a mission to help and enable people to understand and embrace coding and the new digital revolution – whether they're 7 or 107.
"We are proud and privileged to be supporting BBC Make it Digital and the launch of the Micro Bit. Working alongside the other partners of this very important initiative, we also see this as an opportunity for our business and Corporate customers to become engaged in the digital revolution we find ourselves in."
BCS, The Chartered Institute for IT (encompassing Computing at School and Barefoot)
Bill Mitchell, Director of Education, BCS, The Chartered Institute for IT: "We know at BCS that children from the age of 5 are good at computing, enjoy computing, and develop better all-round thinking skills from doing computing. That's why we're pleased to be a partner of the BBC Make It Digital initiative, which will help an entire generation of children and their parents learn how to create and explore their own digital worlds, whilst also starting to develop computational thinking skills along the way."
Bright Future
Carl Jones, Director of Training Bright Future: "As a provider of training to a range of young people, we see the Micro Bit as filling a gap in the education of software developers. Its hands on approach to coding allows for a more interactive experience and enthuses the users to delve more deeply into coding"
BT
Clive Selley, BT Group CIO and CEO of BT Technology, Service and Operations: "We're delighted to support BBC Make it Digital. Helping young people develop an interest in, and understanding of, STEM subjects is critical to the future of the UK's economy. This is why BT is proud to be backing the Barefoot Computing programme, helping teachers deliver the new computing curriculum and impart valuable skills that will underpin the UK's future as a technology leader."
Cisco
Phil Smith, Chief Executive, Cisco UK & Ireland: "Twenty years ago computer programming was an art that very few had mastered or even understood the impact of. Today, it's shaping every industry – from fashion and the arts, to science and professional sport. It's vital that as businesses, national institutions and individuals we recognise our role in digitally skilling those who will shape our future, which is why we are delighted to be supporting BBC Make it Digital in this initiative to provide fun and accessible ways for students to enter the world of networking and programming."
Code Club
Clare Sutcliffe, CEO Code Club: "Code Club is very excited to be part of the BBC Make it Digital initiative. It's so important that all groups of people learn about programming and how to use computers as a creative tool to build their ideas. What better organisation to work with on spreading this message than the BBC?"
Code Kingdoms
Daniel O'Sullivan, Code Kingdoms: "We live in an age where kids as young as five know more about technology than a significant portion of adults. Giving them the tools to move from being consumers of technology to creators not only presents an opportunity for them to explore fun and creativity, but is as essential as learning to read and write. For many, the Micro Bit represents the exciting first step in developing the digital skills they will require for modern society."
Codecademy
Rachel Swidenbank, Codecademy International Lead "Programming is becoming the language of the 21st century: "Anyone, anywhere should have access to be able to learn these skills. At Codecademy, we are excited to be supporting BBC Make it Digital to help provide this education to even more children and adults in the UK."
Code.org (Hour of Code)
UK Lead Avid Larizadeh "We are delighted to be partners of the BBC Make It Digital initiative. We both share the same vision to inspire more children and adults to learn digital skills and computational thinking."
CoderDojo
Mary Moloney CoderDojo Foundation, Global CEO: "We're delighted to support important initiatives such as BBC Make it Digital to help reach youth across the UK and encourage them to learn coding!"
Computer Science for Fun (Queen Mary)
Professor Paul Curzon, Co-founder of Computer Science for Fun: "Computer Science is lots of fun. We need as a country to inspire lots more people to become computer scientists, and also for everyone to understand what it is all about and why it is so important. The BBC are clearly in a brilliant position to inspire young people and demonstrate how exciting it really is. BBC Make It Digital is going to make a massive difference for a long time to come."
Creative Digital Solutions
Dr. Patricia Charlton, Co-founder and Director of Creative Digital Solutions and Senior Research Fellow at UCL/Institute of Education: "The Micro Bit will inspire not just students but communities to engage and to take ownership of computer science, humanities and engineering and to learn first-hand the connections. The impact of such collaborations between schools, industry and research has the potential to develop creative interdisciplinary entrepreneurs."
CultureTECH
Mark Nagurski, Chief Executive of CultureTECH in Northern Ireland: "We are delighted to be part of this project and hugely excited about working with the BBC and other partners to bring Micro Bit to Northern Ireland. Enabling young people to be creative with technology is a huge driver of what CultureTECH does both through our festival and outreach activity; Micro Bit will do exactly that and we have some hugely exciting plans for Micro Bit events across Northern Ireland this September."
Decoded
Kathryn Parsons, co-founder and co-CEO Decoded: "There are lots of intelligent, energetic young people out there but only a fraction are learning to code on the web - we desperately need this pipeline for the UK to be a global player in tech now and in years to come. It is essential that coding is brought alive in not only in the classroom but also by integrating this new literacy into our everyday lives - the future is written in code - which is why the BBC Make it Digital is so important."
DigitalMe (open badges)
Tim Riches, CEO: "DigitalMe is committed expanding the use of Open Badges in order to make sure all learning can be recognised, rewarded and used to unlock opportunities in life and work. The aim of BBC Make it Digital—to help children and young people learn digital creativity and coding skills—is an important part of this goal. We are delighted to take this new partnership with the BBC going forward and we expect Open Badges will help to enhance BBC Make it Digital."
Department for Work and Pensions (encompassing Jobcentre Plus)
DWP Permanent Secretary Robert Devereux said:
"This pioneering partnership between DWP, the BBC and the SFA will provide opportunities for young unemployed people to learn new skills that businesses need. The scheme has been tailored to help participants move into work, training or to find an apprenticeship.
"Digital skills are increasingly important to many employers and these traineeships will provide young people with an excellent starting point for many different careers."
element14
Laurence Bain, CEO, element14: "BBC Make It Digital is set to play a critical role in inspiring and educating the next generation of engineers, and element14 is proud to be part of the initiative. With our unique experience in designing and manufacturing products for the world's leading technology brands, we are ideally placed to deliver the Micro Bit to students and teachers across the UK. We have already seen our customers across the world develop fantastic products for the Internet of Things, and can't wait to see what the Micro Bit can enable for the engineers of the future."
Founders4Schools
Sherry Coutu, CBE. Chair, Founders4Schools: "Founders4Schools is delighted to be partnering with BBC Make it Digital. There's no better organisation to raise awareness of everything digital to audiences in the UK. We too are dedicated to ensuring that students flourish in this digital era by providing a free service that connects school students with leading business founders, many operating in the digital sector. We look forward to an exciting year ahead and the positive impact and legacy this campaign will no doubt have."
Federation of Small Business
John Allan, national chairman of the Federation of Small Businesses "The BBC's Make it Digital Traineeship represents a great opportunity for young people to get hands-on experience that will boost their employability. Our research shows that one in five vacancies exist because of a skills shortage. Training young people will improve business productivity, support businesses in meeting their skills needs, and enhance the life chances of countless young people.
"The focus on basic employability skills is a particularly important issue for the FSB. Whilst specific talents are an asset to many firms, all businesses require skills like communication, team work and good self-management. Nearly 30 per cent of firms have to train these skills because they find young people unprepared. This then impacts on the amount of advanced training that can be delivered, and reduces business confidence in the education system. Teaching these skills early on will improve the career prospects of students and reduce the training burden on businesses themselves."
Freeformers
James Kitto, Freeformers: "Freeformers are delighted to be partnering with the BBC, and bringing their digital expertise and creative energy to BBC Make it Digital."
Freescale Semiconductor
"Freescale Semiconductor is a strong supporter of the BBC Make it Digital and Micro Bit initiatives because they align perfectly with our corporate commitment to enable the next generation of innovators in science, technology, engineering and math (STEM) with world-class education and technology," said Geoff Lees, Senior Vice President and General Manager for Freescale Semiconductor's Microcontroller Group. "We are pleased that Freescale Freedom Development Boards and our highly advanced motion sensors will play a critical role in helping to unleash imagination and creativity within the technology innovators and visionaries of tomorrow."
FutureLearn
Simon Nelson, Chief Executive of FutureLearn: "As technology continues to touch and transform so many aspects of our everyday life, it's essential that people feel empowered to use it to their best advantage whether they're at work, studying or simply exploring the world around them. Free online courses on FutureLearn not only give people the chance to learn vital digital skills from educators at some of the world's leading universities, but also provide a way for them to explore in much greater depth the topics raised as part of BBC Make it Digital."
Google
Eileen Naughton, Managing Director, Google UK: "Nowadays, coding isn't just a skill useful for working at a technology company. Whether it's interior design, medicine, architecture or music; learning how to code will help the next generation prepare for the jobs of the future. BBC Make it Digital campaign intitiative is a great initiative to inspire people to get creative with coding, programming and digital technology.
"There are so many great partners providing coding lessons to children and teachers across the country but until now it has been difficult to know where to start. That's why we're partnering with the BBC and Tech Partnership on the digital resource finder so you can easily find out what's going on that's relevant to you."
General Assembly
Jake Schwartz, co-founder and CEO of General Assembly, said: "Our mission is training individuals of all backgrounds in business, tech and design and helping them find work they love. At our campuses in London and 12 other cities, we are proud to be helping people of all ages create the next generation of digital innovation. As General Assembly grows globally, we will continue to seek out partnerships – such as this one with BBC Make it Digital - and cooperation to provide greater access to digital skills and the tools for success in the 21st century workforce."
Institution of Engineering and Technology
Nigel Fine, Chief Executive of the IET: "The digital world is evolving all the time - and with it, the demand for more young people with coding and digital skills. It's great to be supporting BBC Make it Digital to promote the world of digital creativity and inspire the next generation to get involved with what is fast becoming one of our most exciting and creative industries."
Kitronik
Geoff Hampson, Director, Kitronik: "One of our key aims at Kitronik is to get young people involved in electronics and coding so we were delighted to be able to work with BBC Make it Digital to help generate resources and promote the project."
Lancaster University
Lancaster University's Pro-Vice-Chancellor (Education) Professor Sharon Huttly. "Lancaster University has an excellent track record in Computer Science research, teaching and public engagement. BBC Make it Digital and Micro Bit provide us with the opportunity to combine these strengths and reach out to every Year 7 child across the country to inspire and motivate the next generation of scientists. We are delighted to be part of the team involved in such a dynamic and far-reaching project alongside our industry partners at a time when the school curriculum from primary to A-level is developing to recognise Computing as the new fourth science for Schools."
London Connected Learning Centre
Julia Lawrence Deputy Director, London Connected Learning Centre: "Getting children, young people, teachers and parents discovering the world of digital in this creative and engaging way is really exciting. We're delighted to a part of BBC Make it Digital, the partnership that makes the ambition a reality."
Microsoft
Michel Van der Bel, UK CEO, Microsoft: "The simple truth is, being a maker matters. Real computing, doing not just consuming, will drive a creative revolution in this country. That's why as a key partner in Make it Digital, Microsoft is helping to give a programmable Micro Bit device to every year seven child in the country."
National College of Digital Skills
Tom Fogden, Director and Cofounder: "The National College for Digital Skills is a proud partner of BBC Make It Digital. Increasing the digital skills of people across the UK is essential to opening up a world of creativity and life-long learning. These skills are also increasingly important to accessing a broad array of exciting career opportunities across all business sectors."
Nesta
Helen Goulden, Executive Director, Nesta: "Digital is now a part of everyday life for many of us, but our research shows that while over 80 per cent of children and young people are keen to make and create things using digital technologies, there's a fundamental lack of opportunities for them to learn how to do so. For every child learning to make things using digital technology, over 60 are being left behind. The BBC's Make It Digital initiative will be a huge help in bridging this gap."
Nominet Trust (iDEA)
Dr. Leila Walker, Head of Partnerships, Nominet Trust and iDEA Programme Director says: "We all have a role to play in supporting young people to develop the skills needed to succeed in the future. But if they are to prosper in this digital world, then we must find new ways to develop their confidence and understanding of technology. By making technology more relevant to the interests and aspirations of young people, the BBC Make It Digital aims to inspire a generation. With its unique reach, the BBC and its partners can create unique opportunities for everyone, young or old, to get involved and acquire vital digital skills. And once young people understand how to bring their ideas to life that's when it gets really exciting. The BBC have shown considerable support for HRH The Duke of York, KG and Nominet Trust's iDEA programme, which equips young people with entrepreneurial, digital and employability skills. Working together, we hope to offer millions of young people the opportunity to drive change and improve their life chances while creating a skilled and employable workforce that can drive the UK economy forward. I can't wait to see what ideas people come up with and the things that they will make."
Nordic Semiconductor
Geir Langeland, Sales & Marketing Director of Norwegian wireless chip company Nordic Semiconductor: "Traditionally there have been very significant barriers to entry when it comes to young people getting involved with genuine technology development. But with the advent of modern smartphones, tablets and apps there has been major shift towards making technology easier and simpler to use in general: not just for users – but also for developers. And this opens up the door to young people and all their creativity too if they have the right basic skills. That's why we are proud to be a partner of the BBC Micro Bit initiative."
Open University
Andrew Smith Lecturer in Networking, Open University: "The Open University see Micro Bit and BBC Make it Digital as an exciting and novel way of way of engaging young students in the exciting world of computing and technology."
Python Software Foundation
Nicholas Tollervey Python Software Foundation Fellow: "Education is a fundamental aspect of the continuing development of the Python programming language. The Python Software Foundation (PSF) and wider Python programming community fully support BBC Make it Digital's efforts to encourage, engage and inspire the programmers of tomorrow. The Micro Bit is a fuse to ignite an explosion in digital creativity and we're delighted to be a partner in such Python programming pyromania."
Raspberry Pi Foundation
Lance Howarth CEO, Raspberry Pi Foundation "We're really pleased to see this announcement from the BBC, and we're very happy to support the BBC Make It Digital initiative. Getting kids excited about computing and making is crucial; it's central to the mission of Raspberry Pi. It's great to see the BBC and other organisations coming together to tackle this challenge. BBC Make It Digital will add to the range of affordable and accessible tools for kids everywhere. We look forward to developing educational resources to support the initiative."
Royal Meteorological Society
Professor Liz Bentley, Chief Executive of the Royal Meteorological Society: "The Society is delighted to be partnering with BBC Make it Digital in this fantastic initiative, the Weather Watchers Club. This is a unique opportunity for the public to find out more about this most fascinating and topical of subjects – the weather. Anyone can get involved and, who knows, we may discover the next generation of meteorologists or find the next Carol Kirkwood."
Samsung
Andy Griffiths, President of Samsung Electronics, UK & Ireland: "At Samsung, we are dedicated to bridging the UK skills gap through digital training and teaching programmes. We are so proud to be partnering with The BBC 'Make It Digital' initiative, which will engage and inspire millions of young people. Our engineers will be working with the BBC to enable the Micro Bit to communicate and interact with our everyday digital devices such as phones and tablets allowing young people to enjoy coding on-the-go. We hope to show young people the possibilities of connected technology and encourage them to discover their own world of the Internet of Things."
ScienceScope
David Crellin, ScienceScope: "In a world where technology is transforming lives across the world our young people need to become experts in how this technology works. BBC Make it Digital will create a generation of young people who will learn how to solve problems using their own technology using coding and electronics."
STEMnet
Kirsten Bodley, CEO at STEMNET: "Developing technology skills broadens young people's opportunities, offers concrete skills for their futures and also supports the UK's future competitiveness. STEMNET supports the BBC Make it Digital and Micro Bit in finding new ways to open young people's eyes to how exciting and crucial technology is."
SVC2UK [Silicon Valley Comes to the UK]
SVC2UK is delighted to be partnering with BBC Make it Digital. To have such a well-respected media brand promoting digital innovation can only help the UK high growth companies to scale up and be successful. We look forward to an exciting year ahead and celebrating the positive impact that this campaign will have.", Janet Coyle, Managing Director, SVC2UK
Tech City UK encompassing Digital Business Academy
Adiba Osmani, Head of Digital Business Academy, Tech City UK: "With 1.46 million people employed in digital businesses across the UK, Tthere can be no doubt that technology is the lifeblood of our economy. Tech City UK is dedicated to accelerating the growth of digital businesses across the UK and we are delighted to partner with BBC Make It Digital. Today's young people are the driving force behind our digital growth journey. If we want to inspire the creativity that produces the incredible inventions of the future, we must ensure our young people have the foundational toolkit - and the access to opportunities - to make their idea a reality. Not only is it significant from an employment perspective, it teaches young people vital cognitive skills, creating a generation of solution-oriented problem solvers. The future is bright for UK tech and BBC Make It Digital will contribute greatly to this nationwide success story."
Technology Will Save Us
Bethany Koby, CEO and Co-Founder of Technology Will Save Us: "At Technology Will Save Us, our aim is to inspire a new creative generation to see technology as a tool for problem solving and creation. It's thrilling to partner the BBC on what feels like a shared mission - to help us all become active shapers of our world, rather than passive consumers.
"The BBC Micro propelled the UK to the forefront of the Digital Revolution. It can achieve similar again by shining a spotlight on a community of digital makers - like us - who are bringing creativity, problem solving and computational thinking to a new generation."
TeenTech
Maggie Philbin Founder and CEO TeenTech CIC: "I am very proud to see the BBC embark on a mission to make a very real difference to the future of young people in the UK. Over twenty five years ago, on the iconic Tomorrow's world I stood next to the Satellites at Goonhilly and pronounced 'we are in the dawn of a digital era'. That era is well and truly with us and it's so important to ensure that everyone has the skills to take advantage of the many opportunities it brings. BBC Make It Digital is bringing together people and organisations who have been working hard to make this happen and with the support of the BBC we will be able to do so much more together. The BBC has done a huge amount in recent years to broaden the general understanding of science - it's really heartening to see that it is now doing the same for the world of digital."
The Tech Partnership
Margaret Sambell, Strategy Director for the Tech Partnership: "It's fantastic to be part of BBC Make it Digital to help inspire future generations about the amazing opportunities a digital career can create for them. The Tech Partnership employers look forward to sharing their expertise to motivate young people to get creative with coding, programming and digital technology."
Tinder Foundation
Anna Geraghty, Tinder Foundation, Head of Marketing, Communications and Training: "Tinder Foundation are delighted to be supporting Micro Bit. As big advocates of digital inclusion, we're looking forward to seeing the huge impact the Micro Bit and BBC Make it Digital can have, and are looking forward to involved our network of community venues, UK online centres, in the project."
Young Rewired State
Ruth Nichols Managing director Young Rewired State. "Young Rewired State are really excited to be a part of BBC Make it Digital and the opportunity it represents to reach out to young people across the UK and get them fired up about the creative potential of coding!"
Search the site
Can't find what you need? Search here