Jamaica Inn
Daphne du Maurier's classic gothic novel Jamaica Inn has been adapted by Emma Frost (The White Queen, Consuming Passion) and directed by BAFTA-winning director Philippa Lowthorpe (Call The Midwife, Five Daughters). It has been produced by Origin Pictures for BBC One.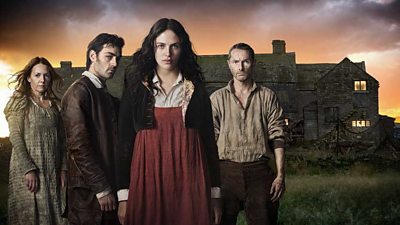 Starring: Jessica Brown Findlay (Downton Abbey, Labyrinth) as Mary Yellan, Matthew McNulty (The Paradise, Room At The Top) as Jem Merlyn, Sean Harris (The Borgias, Southcliffe) as Joss Merlyn, Joanne Whalley (The Borgias, Gossip Girl) as Aunt Patience, Ben Daniels (Wiper's Times, House Of Cards) as Francis Davey, and Shirley Henderson (Southcliffe, The Crimson Petal And The White) as Hannah.
Set in 1821 against the forbidding backdrop of windswept Cornish moors, the story follows the journey of young and spirited Mary Yellan who is forced to live with her Aunt Patience after the death of her mother.
Despite pressure to marry local boy Ned after her mother's death, Mary refuses to compromise. Though Ned is kind to her, she doesn't love him and won't marry without love. Mary declines Ned's proposal, and journeys to Jamaica Inn in Cornwall.
Mary arrives at the isolated Inn to discover her Aunt is a shell of the carefree woman she remembers from her childhood, and instead finds a tired and anxious woman who is firmly under the spell of her domineering husband Joss.
Joss is the head of a gang of men who smuggle all along the stretch of the Cornish coastline. It's dangerous and violent work and when Joss isn't smuggling, he is drinking heavily to forget all that he has seen.
To complicate matters further Mary finds herself drawn to the enigmatic Jem Merlyn, but Jem is her uncle's brother and therefore not to be trusted in Mary's mind - although her heart may say otherwise...
Life at Jamaica Inn challenges Mary's black and white perceptions of morality as she finds herself living among smugglers in a lawless land where no one is quite who they seem. When she thinks she has witnessed a murder, Mary wonders at what cost she will stay silent.
Daphne du Maurier's son, Kits Browning, says: "My Mother had always hoped that a film company would remake her story for television and I know that she would be so pleased with Emma Frost's three-part adaptation of her book. There have been countless scripts in the past few years by writers who have tried to change the plot, drop characters from the book, invent new ones, and generally dig holes for themselves and so wreck what is a very good story. The du Maurier Estate is delighted with Emma's scripts and we sincerely hope that it will be a great success for the BBC in the spring."
This 3x60 adaptation of Jamaica Inn was made with the support of the MEDIA Programme of the European Union and Screen Yorkshire through the European Regional Development Fund. The executive producers for Origin Pictures are Ed Rubin, Joanie Blaikie and Hilary Heath and the producers are David Thompson and Dan Winch. The executive producer for Screen Yorkshire is Hugo Heppell. The executive producers for the BBC are Sarah Stack and Stephen Wright.
The drama was commissioned by Controller of BBC Drama Commissioning Ben Stephenson, and former Controller of BBC One, now Director of Television, Danny Cohen.
RN
Related Programme Information
Related BBC Links
Related Web Links
Tagged: