Steve Brown Q&A
BBC One continues its commitment to the Invictus Games with more coverage on the channel than ever before, a presenter line-up of all Paralympic and/or Invictus Games Sport experts, and a 1x60 documentary which shines a light on four of the Invictus Games Toronto 2017 competitors from the UK Armed Forces Team.
Published: 12 September 2017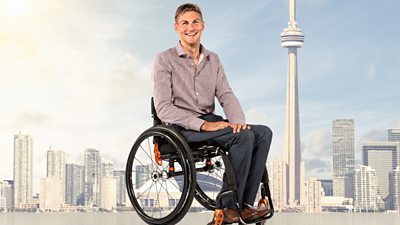 I've had the privilege of watching people bond and go from being individuals with things in common to being part of a team.
What does the Invictus Games mean to you?
I've been fortunate to see the behind the scenes at the Invictus Games, watching Prince Harry and the team learning to play Wheelchair Rugby. So what the Invictus Games means to me is being united and that togetherness. I've had the privilege of watching people bond and go from being individuals with things in common to being part of a team. Developing confidence and well-being and effects that this has, whilst coming together through sport. That's what it's all about.
Which games will you be covering?
I'm pretty sure I'll be involved in the Wheelchair Rugby again. I've been privileged to be involved with the Invictus Games twice already and both times I've covered the Wheelchair Rugby, so I'm really looking forward to doing it again.
Invictus is a turning point for lots of people, can you tell us about turning point in yours?
After my injury I went down to watch Wheelchair Rugby being played, because I was very sporty before my injury as well as after. That, for me, was huge. When I got down there, I was watching people with far worse disabilities than mine - and they were more confident, they were more driven and they just generally trying harder, so in turn they were happier. And they became my role models - I wanted to be like them, I wanted that drive and to have that determination and passion about something in my life. And to go from them inspiring me to me being their Captain at London 2012 - I owe it to the people in the team, that I managed to achieve that.
Which former competitor or Invictus story has inspired you the most?
I don't think that the Invictus games is about any one person standing out, its about being humble and a team and that in itself is inspiring. Of course each competitor has their own story and they are all remarkable but when it come to the games they don't want to be defined by that - Their attitude, sportsmanship and wanting to help their team triumph is the inspiration of the Invictus games.
What's your most memorable highlight from Invictus Games' past (any games)
My highlight has to be the Wheelchair Rugby final at the Copper Box in 2014. I was commentating court side and watched Captain Charlie Walker score with just 36 seconds remaining to claim a 13-12 win over USA. It was like a film ending.
Related Web Links