Nabhaan Rizwan (Raza Shah)
Nabhaan Rizwan will make his television debut in Informer, his credits include Little Revolution for the Almeida Theatre and The Undergrowth for the Royal Court's The Boys Project.
Published: 4 October 2018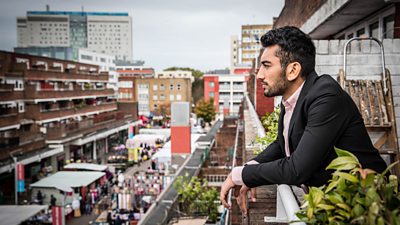 Raza goes through a turbulent and crazy experience in the series. He goes from zero to a hundred and back on more than one occasion.
Can you describe Raza?
Raza is a young dude from East London. He lives just off Watney Market, near Shadwell, in the family home. When we are introduced to the family, it is clear to see that Raza has outgrown this house. He is quite a sharp-witted guy who works in a factory, but is aware of 'the system'.
Raza has been raised by his dad (Hanif) who is an anti-establishment leftie and a bit of a retiring drunk. Raza has to take the role of father figure in the family, but as the series develops we see that Hanif played an important part in his upbringing. Raza's attitude towards his father moves between anger, frustration and sadness as he watches his old man wither away on the couch.
He is really good friends with his mum, Sadia, and is close with his younger brother, Nasir, who Raza sees as a younger version of himself. He wants Nasir to succeed and to embrace opportunities that Raza didn't have.
How would you describe Informer?
Informer is a thriller, but not in the way you would expect. There is a lot of humour in the script. Essentially the show is about this guy who is living an ordinary life, gets taken into custody and gets stuck in the system. It's set in a world that is changing all the time, a world that is constantly inundated and bombarded with masses of information and a world that shifts day to day between communities.
How did you find this experience since it was your first television role?
It was like being thrown into the deep end. I still remember the first day of filming where we were on the street in Brick Lane. The camera was right there and I had to make it look like I was walking naturally at my own pace, looking at everyone around me. That feels like an awfully long time ago now. I've been involved in the project since last summer when I first auditioned and I have learnt so much since then.
I really liked filming in interesting locations. The wedding scene was shot in a quaint country house in Orpington, which was wonderful and very different to all the council flats and estates we used.
Did you do any research for the role?
There was a lot in the script that gave me the impetus to do further research. There are quite a few real locations in London where Raza grew up, his old stomping grounds. I went to visit some of them, which really helped me. Altab Ali is mentioned in one of the first scenes and it's really important to the characters. It is quite an historic landmark for the Bangladeshi and Asian communities in Whitechapel. Just breathing the air of the place and trying to predict where the camera was going to be was so helpful.
How does Raza become an informant?
Holly and Gabe are on the hunt for an informant. Holly has just started the job so she is keen to impress and wants to find a reliable informant early on. She does some dirty background research and finds a deep family secret to do with Raza's mum and uses it as leverage. Raza is picked up by the police for a minor offence and is subsequently sucked into the world of undercover policing.
Raza is quite versatile as a person due to his upbringing, natural charm and intelligence. He's a chameleon, which is a desirable quality in an informant and something Holly identifies when she first spots him. He deals remarkably well in some of the situations Gabe puts him in, but he doesn't like the work, he does not want to do it. He has qualities that help him in the most dangerous and complicated situations, but he absolutely resents it.
Describe the relationship between Raza and Gabe.
Raza's relationship with Gabe is complicated - it's not plain sailing. Raza wants nothing to do with Gabe, who is not particularly nice to Raza when they first meet. He's a cop, which is really dangerous for Raza, especially because of how he was raised. Raza goes through a turbulent and crazy experience in the series. He goes from zero to a hundred and back on more than one occasion. Raza's hand is forced many times and he faces big consequences if he doesn't comply.
The relationship never completely softens and a rapport doesn't come quickly or easily, but as they meet each week they develop a working relationship and understanding.
Related Media Centre Links
Related Programme Information
Related Web Links